The real Joe Gelhardt - Wigan Athletic head of academy Gregor Rioch
Wigan Athletic head of academy Gregor Rioch gives an insight into Joe Gelhardt - the player and the person - to mark the Young England striker's 18th birthday.
Monday, 4th May 2020, 2:08 pm - 2 min read
Updated
Monday, 4th May 2020, 6:48 pm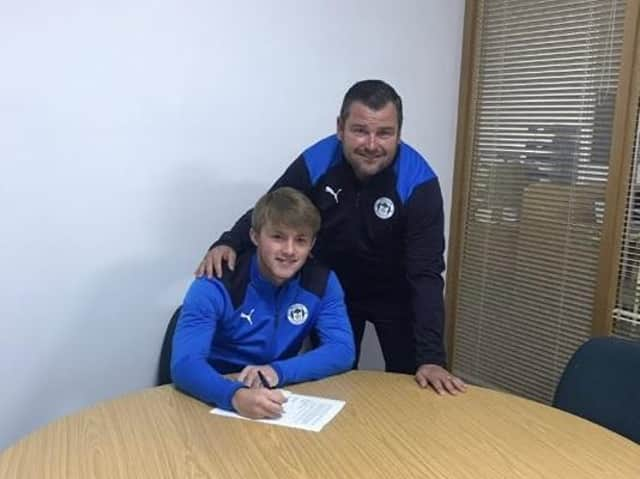 Gregor Rioch and Joe Gelhardt
"I think Joe had a look at a couple of clubs when he was seven or eight years of age, but we picked him up at the age of 11.
"Kenny Williams was the one who spotted him, I joined the club the following year, and we've enjoyed his progress through the years.
"He's always been able to find space in tight areas, he's always had a fantastic ability to beat players in a one-v-one situation.
"And the one thing he's done throughout his time is score goals – which catches the eye.
"The thing about Joe is he's not just a wonderful player, he's a wonderful boy, a wonderful man, man as well.
"That's always been one of the aims of the Academy – not just to produce Premier League players, but also Premier League people.
"He certainly comes into that category, and he's a fantastic role model for the rest of the lads in the Academy who want to emulate him.
"Joe has that absolute love for the game, which sets him apart from so many players – a real passion and desire for the game.
"I've known Joffy to finish a youth-team game here on a Saturday morning, and go straight home to a game on the local park with his pals.
"He's been caught doing that a few times! But that's just his sheer love for the game.
"And it wouldn't have surprised me if he'd wanted to do the same after getting home from Hull, after he scored his first senior goal, he's that kind of lad, so humble.
"He comes from such a close-knit family, his parents have provided unbelievable support – not just for him but for us as an Academy.
"I know Joffy has had plenty of opportunities to go elsewhere, but he's chosen to put his trust in this club.
"Another of our younger players has also turned down the chance to move to another north west club, and that tells me the environment we have here is right.
"Joffy knows he's still got a long way to go, he admits it himself.
"But he's in the right hands and at the right place.
"To be able to train day in, day out with the senior professionals at Euxton, he'll be gleaning so much experience from that.
"We can't do any more for them, it's up to them to make the next step...and Joffy's grabbing it with both hands."