RSPCA officers rescue three swans in two days from disused canal lock near Wigan
Three swans were brought to safety after getting stuck during two separate incidents on the Leeds and Liverpool Canal near Wigan.
Published 10th Mar 2023, 16:30 BST

- 2 min read
Updated 10th Mar 2023, 16:38 BST
An adult swan was reported to be trapped late on Sunday night (March 5) at an old lock on a stretch of water near Gathurst Lane in Shevington.
Three days later, members of the public spotted another two birds - believed to be a mating pair - who had got themselves into the same predicament.
The incidents were reported to the RSPCA and officers from the charity attended.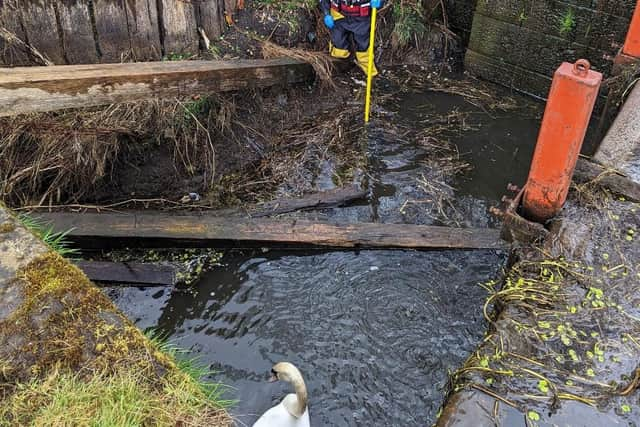 In both cases the swans appear to have dropped down about five feet (1.5 metres) into the water between a section of the old canal wall - which has collapsed - and then been unable to get themselves back out again because of the steep sides.
RSPCA animal rescue officer Alison Wilford attended the first rescue on Monday morning, along with her colleague, inspector Deborah Beats, who put on a dry suit to enter the water and reach the swan who was released unharmed on a nearby stretch of the canal.
On Wednesday morning Alison was called back to the same location again by concerned members of the public, this time with inspector Anthony Joynes, who also put on a dry suit to catch a further two swans using a special pole and hook. Both birds were also uninjured.
Alison said: " Although the water there isn't deep at this location, it's dirty and thick with silt, debris and other bits and pieces of rubbish, so it wasn't a pleasant area for the swans to be marooned in.
"The banks of the canal were too steep for them to be able to get back out again. Swans also need a long run before taking flight and there just wasn't enough space for them to be able to do that.
"We understand the relevant authority is aware of these incidents and will hopefully be taking steps to ensure that further birds cannot access this area in the future.
"As RSPCA officers we're used to getting our hands dirty from time to time and we're just glad to have been able to release the swans unscathed, and our thanks go to the people who reported their plight to us."
In line with the UK Government's advice, if you find a sick or injured bird do not approach or handle the bird yourself due to the ongoing and severe UK-wide avian flu outbreak which is continuing to spread through bird populations. For more information visit Defra's website.