New campaign for Wigan township's railway station to be reopened is picking up steam
Campaigners are making fresh calls for one of Wigan's long-lost railway stations to be reopened.
Published 27th Feb 2020, 08:44 BST

- 3 min read
Updated 27th Feb 2020, 08:44 BST
They are demanding the Government delivers locally on high-profile pledges to develop public transport across the North by relaying the platforms at Standish, demolished when services were withdrawn more than 70 years ago.
New transport secretary Grant Shapps has announced a £4bn fund for the region and a £520m national fund for reopening old stations or building new ones - and is now being challenged to deliver here.
In its steam age pomp, Standish station, which was open for more than a century, enjoyed eight stopping trains in each direction each day - including a Saturday-only parliamentary for MPs.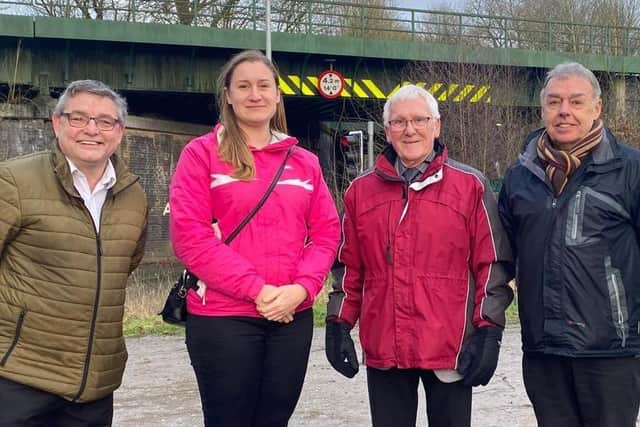 In 2017, Transport for Greater Manchester included its possible reopening in a strategic review of the future development of improved railway services across the county.
Laura Flynn, Wigan Labour's community officer, who has been chosen to fight the Aspull, New Springs and Whelley ward seat when Coun John Hilton steps down in May, said that reopening the station was a "really big issue" for the residents.
She explained it was something that frequently came up when she took part in community canvassing in the area.
She challenged the Government to make good on the pledge, particularly as the population of Standish is set to increase by more than a quarter since the station was closed.
Laura said: "Reopening the station at Standish will bring connectivity back to Standish so we welcome and wait for Grant Shapps to deliver on his promise. We've started a petition and ask everyone to show their support by signing it on change.org: A Station for Standish."
Coun Hilton, now retired after approaching half a century as a train driver including the royal train, remembers well passing through and stopping at Standish station to pick up passengers in the steam age.
He said that potential operational objections to reopening the station could be "easily" overcome, if the political will was genuinely there from the Boris Johnson Government.
He said: "This is a bit of nostalgia to me, I drove on this track many times, so fingers crossed it can be delivered.
"My message is, 'come on Boris, put your money where your mouth is!'
Standish station was opened on the West Coast Main Line by the former London and North Western Railway, then known as Standish Lane station, in 1838.
It passed into the hands of the London, Midland and Scottish Railway in 1923 and then, with nationalisation, came under British Rail custody in 1948, surviving just one more year before being closed, despite protests, in 1949.
A spokesman for Standish Voice said: "Standish Voice has championed the cause of a reopened station at Standish for a number of years and have had meetings with Wigan Council and Transport for Greater Manchester to push forward this issue.
"We understand the problems with a new station being on the West Coast Main Line, but the logic in creating a stop at Standish - with its huge increase in population and current poor public transport connectivity - is obvious.
"A report for Wigan Council in 2013 also said a station here could provide value for money.
"We will support any help in pushing this on locally and nationally and look forward to working with this new campaign.
"We believe it is crucial to secure the backing of Wigan Council in this matter as we are sure the local authority will be vital in driving this forward with TfGM and government."
The petition can be found here