Wigan businesses to miss out on virus cash aid
Small businesses in Wigan could go under because they slip through the gaps in the government's coronavirus support scheme, it is feared.
Published 27th Apr 2020, 09:35 BST

- 2 min read
Updated 27th Apr 2020, 09:44 BST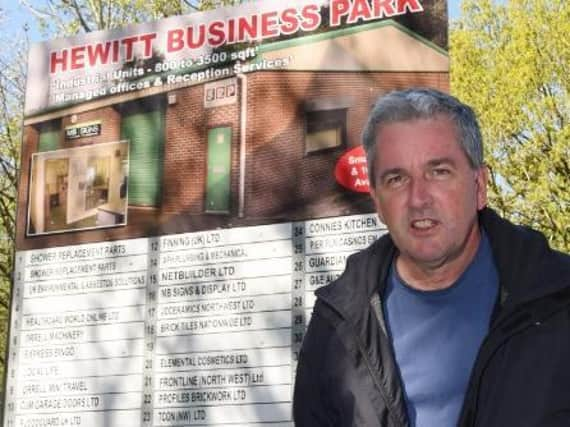 Peter Hewitt, who runs Hewitt Business Park in Orrell, says firms which operate from managed offices are currently entitled to no help because of the way the grants are being given out.
Companies which qualify for Small Business Rates Relief get a £10,000 payment to cover the current unprecedented circumstances.
However, Mr Hewitt says that if a business is in managed or shared premises they do not sort out their own business rates and therefore miss out.
Around 20 of the 50 or so firms operating from a mixture of shared spaces and industrial units at his Winstanley Road site are in this position.
And he says there is real concern that without urgent help the companies currently falling throuh the cracks in the support system will struggle to re-open when the current crisis is over.
He is so concerned about the gloomy outlook for them that he has emailed the office of Chancellor Rishi Sunak pleading for a second look at how support is being given.
Mr Hewitt said: "There must be tens of thousands of businesses facing this across the country.
"Businesses which rent small offices or are in shared premises don't pay the rates themselves. They've been given nothing at all even though business has dropped off a cliff. It's ridiculous.
"Small Business Rates Relief is an incredibly blunt instrument to use to decide what is a small business and what is not.
"Collectively the tree needs shaking but I can't get through to anybody in officialdom.
"These little businesses are all just going to disappear. They are furious because they are being ignored."
Mr Hewitt says businesses employing 10 or fewer people make up the vast majority of the UK's firms, describing them as the backbone of the national economy.
Some of the companies being starved of handouts have had premises on his Orrell site for more than a decade.
His letter to the government has so far failed to produce a meaningful response, he said.
He has also raised the point with Wigan Council but was advised the companies renting office space would need to get in touch individually.
The local authority said it understands the problem and is trying to assist.
A spokesperson said: "We're aware of several sites in the borough that are omitted for these reasons - it's a national issue - and are looking if there are ways we can provide support.
"Based on the government qualifying criteria there does need to be a business rates liability in place on March 11 2020 to qualify.
"The business engagement team continues to respond to an extremely high number of emails but requests are being logged and officers are getting in touch directly with companies."
The Treasury has also been contacted for a comment but has not yet responded.