Wigan councillor recalls Prince Philip's sense of humour on visit to borough
The Duke of Edinburgh's death was confirmed on Friday (April 9) by Buckingham Palace
Saturday, 10th April 2021, 12:44 pm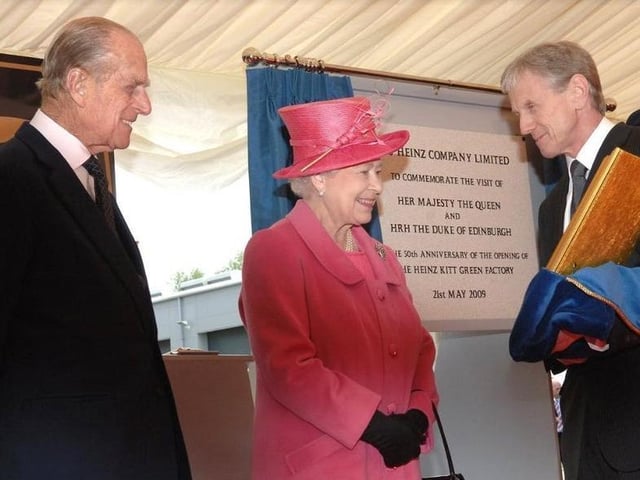 The Queen and Prince Philip visit Heinz in Kitt Green
A Wigan councillor who met Prince Philip twice has spoken fondly about his time meeting him.
Coun Chris Ready said his first meeting with the late Duke Of Edinburgh was at a Royal Garden Party in 1997 just after he had been elected as a councillor.
Then in 2009, he met the duke along with The Queen when they officially opened the prestigious Leigh Sports Village and visited Wigan's Heinz factory.
Recalling his two meetings, he described Philip as a man of "real charm" and who had a "sense of humour".
Coun Ready, cabinet member for communities and culture at Wigan Council and a councillor for Aspull, New Springs and Whelley, said: "I was working in PR and leisure for the cabinet then and I was introduced to The Queen and Duke.
"The Queen shook my hand and then I had some chit chat with the duke.
"He asked me what I did and I said I was doing PR, of which he replied 'good luck with that, you'll need it'.
"We then had a meal at Leigh Sports Village and The Queen and duke were on a table nearby.
"All of us were drinking red and white wine but he had a pint of northern bitter.
"He was just a man of real charm who had a sense of humour."
Then he went on to recall his time where he briefly met Philip at the garden party.
He said: "I had been elected as a councillor in 1996 and in 1997 I was invited to one of the Royal Garden Parties.
"He spoke to me briefly at the party to say hello, but he just come across as a really funny guy.
"He would talk out of context and say what he was thinking at that time with a real glint in his eye.
"There was Royal protocol to follow but he would break it and make you feel really at ease.
"When he was speaking to people at the party, he had composure and made you feel relieved, and he was as normal a person as you can expect considering his position.
Coun Ready went on to say that the duke's death was "really sad" and that he would like a service or event to remember him when the Covid restrictions allow.
He added: "The duke did big things for the country and put a lot into it.
"His death is really said.
"I don't think he would want a big state funeral right now, as we have to abide by the rules, and he wouldn't want to be different to anyone else.
"He'd want a quiet affair instead but when things get back to normal, it would be great to do something properly to remember him. "
Thanks for reading. If you value what we do and are able to support us, a digital subscription is just £1 for your first month. Try us today by clicking here and viewing our offers ...