Whistleblower's allegations of Wigan bin collection chaos are denied
A whistleblower has given a damning verdict on Wigan's controversial three-weekly black bin collections.
Published 27th Jul 2018, 15:20 BST

- 4 min read
Updated 27th Jul 2018, 16:22 BST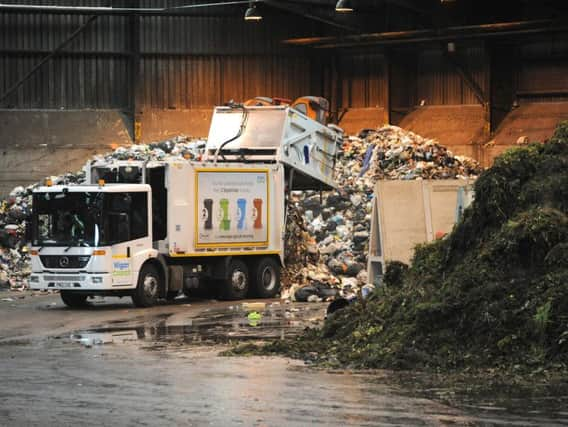 The employee spoke of hundreds of shifts being too rushed to collect all the bins, waste bags full of rotting food and maggots being collected and other town hall staff having to go out on additional days to get all the work done.
Morale at the depot is plummeting, sickness rates are rocketing and other local authority jobs such as keeping the streets clean are not being done as staff have to be drafted to help with bins, the letter to the Wigan Observer also claimed.
The three-weekly collection rota caused a lot of debate when it was brought in, with the council proceeding despite hundreds of objections from residents.
In its response to the letter Wigan Council said the system was largely working well, denied problems with uncollected bins were as bad as portrayed and celebrated the environmental benefits of keeping rubbish out of landfill and recycling more.
It also said staff were always encouraged to give their views and problems should be put forward so they can be addressed.
The whistleblower said refuse collectors were now working 10-hour shifts from Tuesdays to Fridays and suggested management had bullied them into accepting the new arrangements.
The letter said the writer was going public "as it is about time you and people of Wigan know what is really happening" with bin collections, describing the current situation as a "mess".
The whistleblower said: "The rounds sometimes can't be finished because they are too big even though everything was supposed to be worked out by the managers.
"It ends up with hundreds of missed bins and loads of bags of rubbish left in the backs that people can't fit into their bins and we have to pick up all of them. The bags are full of rotting food and maggots.
"Every Monday four bin wagons are sent out for eight hours to collect the hundreds of missed bins but these are manned by the cleansing workers who should be driving roadsweepers.
"Instead of being able to keep the town's streets clean they have to secretly do the bin men's work on a day that is not really for bin collections.
"The biggest joke is that bin men with families who want to work an extra day for overtime money are not allowed to.
"When they have asked why, they have been told cleansing have to do it so I think this is just to cover up how bad the move to three-weeklies has been.
"The morale of the staff is the lowest I have ever known it to be and no-one wants to be here. Bin men are off sick all the time injured and exhausted by the massive rounds.
"When the three-weeklies started we had to use agency staff manning an extra four vehicles every day for months just to get through all of the work. A few weeks ago there wasn't enough drivers so as well as using sweeper drivers we had to get HGV drivers from highways.
"The people of Wigan didn't want three-weeklies and we didn't either.
"The managers and senior bosses don't want anyone to know just how many complaints there are because it will show how bad it really is."
The negative view, however, was not shared at the town hall, which tried to emphasise the positive aspects of the move and disputed strongly how many black bins were being left on the street.
Paul Barton, director for environment, said: "Since the changes were brought in our recycling rate has increased from 43 per cent to more than 50 per cent which is brilliant news for the environment and we want to thank residents for their support and for recycling more, recycling right as part of The Deal.
"We always knew there would be a bedding in period for three-weekly collections, as there would be for any major service change of this scale affecting 140,000 households, and we want to thank residents for their continuing support.
"Overall the changes have gone very smoothly and we are recycling more than ever, which does sometimes mean our recycling bins are heavier, however we do have robust contingency plans to deal with these situations.
"As part of helping people get used to the changes we are still returning for every missed bin which is reported to us and this is to help residents manage their waste as much as we can.
"We don't want people panicking if they have missed their collection.
"The number of missed bins is very low, less than one per cent, and we have actually seen a reduction since the changes were first introduced as residents and our crews get used to the changes.
"In the first three weeks of new collections 0.25 per cent of bins were missed and in the last three weeks only 0.11 per cent of bins were missed.
"With £160m taken from the council's budget there are no easy decisions of how to save that money but The Deal is all about us working together to deliver local services in these challenging times.
"The changes to collections have boosted our recycling rate, we are sending less waste to costly landfill, we are on track to make our saving each year and we are all doing out bit to look after the environment.
"We also take the views of our staff very seriously and will always work with them to understand their concerns and to listen to their ideas. We are currently in the middle of a large staff engagement exercise where we have encouraged all members of staff to have their say and express any views they have directly with us so they can be addressed.
"We do appreciate the hard work they put in each week to carry out such an essential service for our residents."