Tom Aspinall sets out goals after latest UFC win
Tom Aspinall admits he was surprised with the way he claimed his third straight UFC victory.
Published 22nd Feb 2021, 09:28 BST

- 2 min read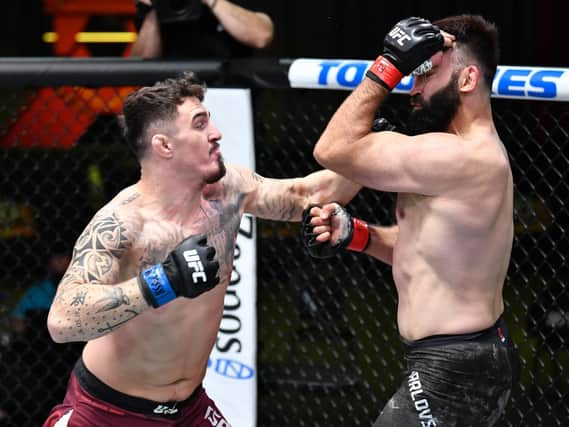 The 27-year-old has built up a reputation for his dynamite striking after opening round knock outs in his previous two fights.
But against former heavyweight champion Andrei Arlovski in Las Vegas, he forced the veteran to submit through a second-round rear naked choke.
And Aspinall, of Atherton, said: "I didn't expect to finish him with a submission. That's the last thing I expected. I thought it was going to be a quick knockout or I'm going to beat him on points."
Aspinall had forced the Belarusian-American up against the cage with a double leg takedown before sinking in a rear naked choke, 1:09 into the second round.
"Brits can wrestle," tweeted his proud Team Kaobon pal Mike Grundy, the Wiganer who switched from elite-level wrestling to MMA.
Aspinall, who is 3-0 in the UFC and 10-2 overall in MMA, says he learned a lot from fighting someone he had watched and admired from afar.
"I'd like to fight some more veterans, to be honest. When you fight someone who's been in there with everyone, it rubs off on you," he said.
"My striking was not on point. Maybe that's because he's a veteran and the shots weren't there as easily.
"I feel I learned a lot in there and I'm going to be better next time because of it. I've got a lot to work on, but I've got a long time to work on it."
Before lockdown, Aspinall taught Jiu Jitsu at Wigan's Elite Fitness Factory, the gym owned by Grundy, who had to withdraw from a UFC fight last month when one of his team tested positive for Covid-19.