Wigan Athletic: The 12th Man - 'There are lots of characters who have come and gone in the last eight months, few of them with the best interests of Latics at heart...'
Our panel of Wigan Athletic experts look back on one of the most historic weeks in the history of the club...and the massively important first step on the long way back...
Published 19th Mar 2021, 12:50 BST

- 12 min read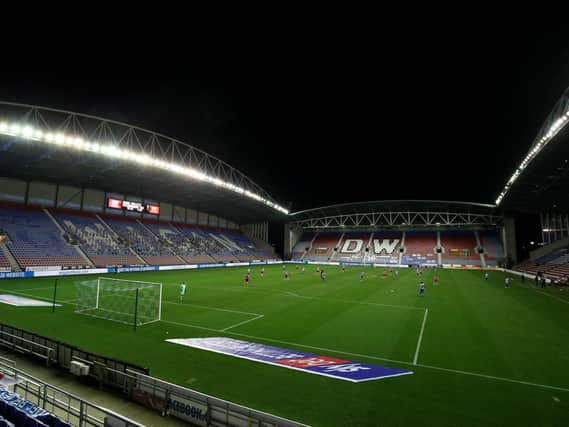 Ah, it's like having a boil lanced, or so I'm told. Within a matter of weeks, or even days, we'll be under new ownership, and the stench of Begbies will be nothing but a bad memory. Mind you, if someone offered me a job where I could make more in commission than the actual sale price of the thing I was selling, I'd be laughing all the way to the bank, too. I'm absolutely sure that they have acted entirely properly in all this from a legal point of view, what with Paul Stanley being an officer of the court and everything, but their final fees just leave a nasty taste in the mouth. Unfortunately, once administrators are appointed to any business, they can pretty much set – and then pay – their own fees from whatever assets might still be available to them. In this case it was Sharpy's and Euxton. Any money received from the sale of those two sites was always going to go straight into Begbies' account. I get that they, like any service provider, want to be paid, but an hourly rate approaching £400 is, in anybody's book, obscene. And don't give me the old "it's a seller's market" or "market forces" rubbish. The fact is that administrators in any situation, by the nature of what they do, are little better than the people who stockpile essential goods and then hawk them out for a massive profit to people who desperately need them. At that point, what choice does anybody have? Administrators have everyone by the danglies by then, and they literally make the rules as they go, all geared towards making sure they get their pound of flesh out of the business. Yes, they need to generate funds to ensure the business can keep running until a buyer is found, but it's the other assets that will be sold for pennies in the pound. The assets which don't pay their fees, that is. But, of course, we also need to look at the EFL's role in all this. It started, once Choi had cut and run, with a points deduction that was totally unwarranted, and which risked plunging us into oblivion. It wiped millions off the value of the club and its players, and meant we had little or nothing to sell that was of any real value. We didn't have a single payment that was overdue at the time of administration, and yet we were punished for it anyway. Sheffield Wednesday, an absolute wreck of a club just strolled on by, avoiding any kind of points penalty thanks to the EFL simply looking the other way and ignoring the clear and obvious financial shenanigans going on around the sale – or not – of Hillsborough. But little old Wigan, well, we were fair game. There are lots of characters who have come and gone in the last eight months, few of them with the best interests of Latics at heart, but the Bahrainis do give us some cause for both relief and even celebration. They seem fully committed to the club getting back on an even keel and progressing and, as bankers, can surely see that we're not Manchester United in terms of revenue potential. Yet still they are willing to buy us. For that, we should be grateful. At the end I, for one, won't be waving Begbies off with anything but two fingers.
Lots of positives this week, and we've not said that for a very long time! No hiccups, touch wood, in the Bahraini bid, and things looking up on the pitch. The whole aim for these last 11 games is staying up, a position we're only in because of the amazing efforts by everyone at the club. Of course, it's the players who will ultimately decide our fate, but it cannot – and must not – be overlooked what's been done off the pitch by Leam and his team, while having everything ripped from under him week on week. Seven points from the last three games, and it could've so easily been nine, have got us out the relegation zone and confidence must be up. A special note on Curtis Tilt regarding confidence, he's been absolutely immense recently at the back, showing he's bang up for the fight ahead (obviously he'll have a nightmare now I've said that) and if Lang's injury isn't serious, we'll be a lot more potent up front. He really is an annoying nuisance - and that's great to see. Plenty hard games are coming up but, with our tails up and new owners just round the corner, I can only see one outcome...Champions League winners in five years! Right, I'm off losing my house at Cheltenham on 'Blackbow'... UP THE TICS!
July 1st is a date that I will not forget for the rest of my life. It is my mother's birthday after all, and I would like to think of myself as a good son. It will also serve as the anniversary of Wigan Athletic entering administration – a moment that will go down in infamy for the club. For the past nine months, many fans have pondered a future with many negative outcomes for Wigan Athletic. A future in League Two. A future in non-league. A future where we are liquidated and cease to exist. The events of March 15th will hopefully ensure that none of those dreaded outcomes ever come to being. Our takeover is (nearly) complete! Very few, if any, Latics fans would choose to relive the past nine months if given the option. We've suffered heartbreak on the pitch in two different leagues. We've lost beloved players, coaches, and essential staff who put their heart and soul into making Wigan Athletic a magnificent club on the rise in English football and a proud symbol for fans across the globe. We were wooed by admirers from Spain; only to be devastated when they broke things off after getting cold feet about our relationship becoming "official". We felt unwanted and carried doubt that there was any prospective buyer out there who would save our club during this season. There is still much to learn about this Bahraini-funded group that is finalizing their purchase. It's very encouraging to see how well they are being received by all of the important players involved with the takeover. Everything (so far) has checked out on their end with the EFL, which is crucial considering all of the snags that were hit during our last takeover attempt. Our new chairman, Talal Al Hammad, has reinvigorated our fanbase through cordial interactions on social media. I selfishly will be advocating for another preseason tour of the USA to occur within the next few years. At the moment, my Twitter account is one of 32 that Talal Al Hammad follows, so I would like to think there are good odds that he sees my not-so-subtle requests over the coming months. The dreams we've suppressed for so long can now come to the forefront of our conversations again. However, priority number one under our new owners will still be League One survival. Tuesday evening's draw saw us gain a crucial point against a Wimbledon side who we could not allow to take three points from the match. With 11 matches remaining, we find ourselves just a nose ahead of four competitors in a six horse race, and we need to place. This means we will likely need to obtain somewhere in the area of 15 points across our last stretch of games to even have a chance at safety, yet alone guarantee it. It will be a tough task considering many of the sides in our remaining fixture list are still competing for the play-offs/promotion. Our fate is in our own hands now. We no longer have the looming threat of a 15-point deduction hanging over our heads. We will have the means to re-sign many players from this current squad if we happen to stay up. Hopefully we will make Leam Richardson "an offer he can't refuse" to stay on with the team after this season. How wonderful would it be to stretch our current unbeaten streak out for another couple weeks and keep this celebration going into the spring. If all goes according to plan, years from now, we will dwell less on the tragedies that followed 1 July 2020 and more on the triumphs we experienced after 15 March 2021.
Fabulous news this week regarding the takeover of Wigan Athletic. Thank you to Mr Al-Jasmi and co for stepping in and saving us at what felt like the 11th hour, and ending this nightmare.
It's been bleak but, despite the despair and anguish that administration brought, this past nine months have made me proud to be a Wiganer. The togetherness, the strength, the tenacity of the people fighting to save the club has made my heart swell. People both in and out of the limelight have stood up and been counted, from six-year-old Jacob doing his garage sale, people struggling through the pandemic chipping in, and of course former players such as Reece James, Victor Moses, James McClean and many more donating to the fund. Heroes such as Jonathan Jackson, Lisa Nandy and Caroline Molyneux spilling blood, sweat and tears, the Supporters Club, Emmerson Boyce and untold others fighting to keep the Latics alive. The staff and players that have remained at the club, Leam Richardson, Gregor Rioch, Ash Houghton keeping the heart of the club beating. Reading updates in the Post and online, Paul Kendrick being our eyes and ears and reporting what he could. I am so proud of all of you and, yes, we still have a club at the end of this journey. What a journey it has been with many bumps, disappointments and fears along the way. I have seen first-hand how it has affected the people who eat,breathe and sleep Wigan Athletic. I have witnessed the cloud descend and no light able to get through. But now the sunshine has broken that darkness. And please don't ever take our sunshine away. So to everyone named, and the thousands that haven't been named... who worked, donated, supported, cried, worried, had sleepless nights, but most importantly stood and fought for what we love... I am so proud of you all. From a very proud and emotional Wiganer.
Well it's finally over – the misery, the pain, the suffering – and the takeover is here. What an eight months it's been. Let's hope we never see anything like it again. Get the club stabilised and moving forward now. I don't know what a gentleman from Bahrain sees or wants to be involved in Wigan Athletic, but I'm happy he does. His motivation can be scrutinised another day by other people. On the pitch, a hard-earned point and out the bottom four. We have a chance. It's not going to be easy, but we are fighting. So now let's do what we do best – get behind the team and look to a bright future fingers crossed. Stay Safe.
Where it began, I can't begin to knowin';
Since Thirty two an' still goin' strong
In Seventy Eight, Elected, we'd finally made it
The league at last had come along
Reachin' out, Singin' YAMS and huggin' you
Sweet Wigan Tics, Good times always seemed so good
Choii and Yeung are gits, They nearly killed us but we would
...Cold winter nights, Ah they don't seem so lonely
We fill 'em up with evening games
And when I hurt, Hurtin' runs off my shoulders
How can I hurt when I've watched Reece James?
It's awreet, I s'pose, but it's not Gall-o-waaaaaays.
Sweet Wigan Tics, Our name is written on that cup,
We're all Bahrainis now, Sin Miedo and Believe
Is the nightmare nearly at an end? Is there light at the end of the tunnel? Will there be sunshine at the end of a cloudy day? It feels too good to be true, we've been burnt too many times in the last year – it feels like it still can't be real. But real it is and although not 'officially' signed off we're closer than we have been throughout all of this. What a turnaround it's been over the last few weeks, after the defeat to Charlton at the start of the month it felt like that could well be it. On the pitch we were struggling for a consistent run of form and off it lead administrator Paul Stanley implied that the takeover trail had gone very cold indeed. What happened in the last couple of weeks seems nothing short of a miracle considering where we were, or rather it was always going to happen like this. Despite what Paul Stanley had led us to believe the Bahrain consortium were farther on in their approach for the club than the administrators would like to admit as the Supporters Club clearly stated at the beginning of March. On the pitch we weren't far away from putting together a run of form to help us to edge away from the drop zone. Indeed that's exactly what has happened. The relief on Monday night as the takeover was announced was palatable, anyone with even a passing interest in Wigan Athletic will know the pain that the last twelve months has caused. Not knowing if there would indeed be a club at the end of this whole wretched period. Through a mixture of the callousness of Choi/Yeung, the incompetence of the EFL and Begbies it felt like we may not get there. Indeed as recently as January when the four months wasted on the Spanish bid finally came to a head it looked as though there wouldn't be the happy ending we craved. But blissfully it looks like there may be a happy ending after all. It's not finished yet but in some of our darkest moments this year I don't think many would have imagined a takeover being complete by the end of March and a real chance of us remaining in League One. Thanks to some herculean efforts that's a real prospect at the moment. There's a lot of people who deserve thanks and recognition through this. The Supporters Club and Caroline Molynuex who at times have faced some unfair criticism provided the platform for the club to first complete the season and secondly provide a safety net if we had faced the worst scenario and a takeover couldn't be completed. Jonathan Jackson who despite being made redundant worked constantly to save the club and also worked unpaid until the autumn to ensure the club was in the best shape it could possibly be. Their efforts both publicly and behind the scenes in negotiating for our future really deserve praise. Every fan who donated to, organised or simply helped to promote the fundraisers and keeping Latics plight in the public limelight. The ongoing pandemic has made all of this ten times harder than it would usually be and everyone's efforts will be remembered as Latics continue to fight another day.
So what of our new owners? Well we've heard more from Talal Al Hammad our new chairman than we ever did Stanley Choi and although it's far too early to pass judgement yet the first impression has been very good. That confidence may turn out to be misplaced but let's have it right A) They literally can't be any worse than the previous lot and B) The approach of the Phoenix 2021 group has been completely different from the Spanish who came in speaking about further redundancies and salary cuts. On the pitch we couldn't quite make it three wins in a row against Wimbledon but ahead of Saturday's trip to Accrington we remain outside of the bottom four, that's exactly where we need to be, come the end of the season. What a boost it would be for everyone in the town if we can do that ahead of the anticipated return of supporters in August 2021. The pain of what happened to Wigan Athletic over the last nine months will never go away, we'll never forget what was torn away from us but, as we emerge from the pandemic, we have a real opportunity to write another famous chapter in our history. Who would bet against us repeating 15/16, 17/18 in 21/22? But all of that is a long time away, first we need to ensure we stay in League One. With the boost of the takeover and hopefully some settled futures for players and staff alike it will be enough of a confidence booster to get us across the line. On July 2nd last year I wrote the following, "So now I feel a pain like no other, and pray someone somewhere wishes to take a punt on a little football club in Lancashire like Dave Whelan did 25 years ago. "And if not for my sake for my little boy, that little boy of five like I was when I went with my Dad to watch my football team play at Springfield Park. I pray he can experience what I did with my Dad and a buyer can be found to save us and for us to continue to upset the odds." Thankfully it seems that little boy will be able to go to watch his football club with his dad again.
Get 20% off our sports subscription package and stay up to date with all the latest Wigan Athletic news with a year's subscription to WiganToday for less than 9p a day. Use promo code TRANSFER20