Wigan Athletic: The 12th Man - 'Wigan is a unique town, full of unique people, and we need owners who recognise this...'
Our panel of Wigan Athletic are still basking in the excitement of a pre-Easter miracle...an end to administration and the dawn of a new era...
Published 5th Apr 2021, 09:35 BST

- 14 min read
Updated 6th Apr 2021, 12:24 BST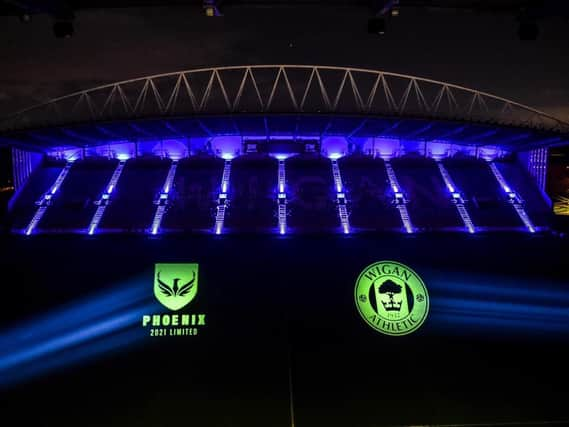 People always say they remember where they were when John F Kennedy was shot, or when man first set foot on the moon, or when the first plane hit the North Tower of the World Trade Center. And we now have our own 'I know where I was when…' moment. Okay, it's not the global life-affecting event those three were, but there have been few occasions of bigger significance for Latics since 1932 than what happened at 20:21 on Tuesday, March 30, 2021. After a day of huge tension and desperate longing, we had confirmation the takeover was done. The nightmare of being stripped bare by a trio of chancers was finally over. They can take their £2.2million in fees from a sale actually worth little more than that, and shove it as far up themselves as it'll go. And I hope it's a very long way. What started with Stanley Choi was eagerly and enthusiastically progressed by administrators that didn't care for anything other than protecting their own wallets. Promises of 'no fire sale' soon turned into a raging inferno as the asset stripping began in earnest. Paul Stanley gave an interview with 'The Athletic' last week, in which he took credit for all but developing the Covid vaccines. Had the takeover process gone on any longer, we'd probably have seen him claiming those as well. Despite his unrelenting commitment to his own PR, Stanley did not save our club. The fans saved it, the staff saved it, the players saved it, Gregor Rioch and Leam Richardson saved it. What Stanley and his mates did was see a sweet pay packet from not really caring whether Latics survived or not. By his own admission, his sole intention at the end of it all this was to get paid. That's not caring, that's exploiting. But now we move on. We put the vultures at Begbies behind us and we look to what we all hope will be a bright future under Talal Al Hammad, Mal Brannigan and the rest of the team. Al Hammad has been very visible on Twitter over the past few weeks. So visible, in fact, that most people didn't believe the account was real. It is fitting the first tweet from the club's official account included a video from the man himself confirming that it really was him all along. Latics has always been pretty unique in their engagement with the fans. Wigan is a unique town, full of unique people, and we need owners who recognise this. The initial signs are positive, it has to be said, and all the right noises are being made by the owners to make me think the takeover is a good thing, even leaving aside all that has happened since last July. The first time we're all back in the stadium will be a joyous one, whatever league we're in. We might not be many, but we can't half make a noise when we need to.
Thank God for that! After the worst nine months in Wigan Athletic history...'Hallelujah', it's the Bahraini Men that have finally got the keys to our great football club. And first impressions look good - a brilliant welcome message from Mr Al-Jasmi, saying all the right things. First of all stabilising the club – very much needed – and then becoming a solid Championship outfit. A massive thank you to him for putting his money and – even more so - his trust into our club. What looks like our new cult hero Talal, with his great Twitter account, also said a few nice words about us. Yes, as you'd expect he would, but they felt genuine. 'We must earn your trust' is a great line to hear after the debacle of the other lot, whose names will never be forgotten as much as we'd like to. And the off-field the team they're setting up here to oversee our journey to winning the Champions League looks solid as well. All football brains with years of experience, and it's also nice to see an old Wigan head still here in Richard Bramwell. I do hope there's a position for Jonathan Jackson later down the line in all of this, though. His work (for free) over the nine months shouldn't – and won't ever be – forgotten by the fans. The rebuilding of the club will obviously take time, we're at rock bottom now, but the will to keep our club alive from EVERYONE associated with us during the last year proves we'll get there. There's no doubt about that from anyone I speak to – THE TICS ARE BACK! It would take too much time to thank everyone for what they've done for Wigan Athletic just to keep the club breathing. But again, they'll never be forgotten. Get yourself a BIG drink, you've all earned it. The lads on the pitch now have eight games to perform the perfect encore to this story and keep us up, which would be an absolute miracle. But guess what, we're Wigan Latics, we do miracles on a regular basis, so come on Leam, pull us another one out the hat! I'm just so glad this horror show we've all been part of for nine months is finally over, because I did have days – as many of us also did I expect – thinking we wouldn't see our club again. We've been given a second chance by Mr Al-Jasmi, and now it's our turn to show him what WE are all about. Let's all get off our backsides and get some serious numbers inside the stadium (when we're allowed) and repay the faith put in us. We, as fans, have been to the very edge of the abyss, people, and it wasn't nice. We mustn't let this happen again, it's our club, let's look after it.Right, I'm off buying a crate of 'Bow for Talal, and getting the Weather Girls on full blast....all together now 'BAHRAINI MEN, HALLELUJAH, BAHRAINI MEN'!
The ink is dry, the cap is firmly in place on the new chairman's head, and the parties are continuing well into the Easter weekend. The whole sorry saga has now come to an end, and we can start to believe again. What can we hope for in the remaining weeks of the season though? We have the playing staff we have. We can't bring anyone else in, nor perhaps should we. We have a team that have gelled, and have turned out some great performances without the reward at the end. Everyone has played their part in ensuring we are not a huge way adrift at the foot of the table. We are still just a few wins away from safety, and that is nothing short of miraculous – or rather a gold-plated team spirit. But what we can perhaps hope for in the remaining weeks of the season is stability, and an increase in backroom staff. Leam and Gregor have been ploughing on without a raft of backroom staff, and our favourite Doc, Jonathan, has faced an uphill struggle with only a little support. Hopefully (and this all of course depends on how Leam views it) we can get more coaching staff in who can work on a more individual basis with players, or with defensive groups or such. The staff we have in place are doing a sterling job, but some help is surely needed. We can get more physio staff in, and fitness staff, and so on. I'm not sure what the analyst situation is, and I always had less than complimentary words in general for the men with the iPads (well, perhaps not them themselves, but how managers in the past relied on them too much). But analysis is needed, not just of our own performances, but mapping out in advance how the opposition may play, and provide feedback through the game. Leam and Gregor can only do so much themselves. And that is, in my very untechnical opinion, how the change of direction can be put into place. The rest is for next season – no matter which division we are in. We can just rejoice it will be in the EFL. Playing squad will be for the manager, whoever that is, to decide. The appointment of a permanent manager will be high on the agenda. Leam has done brilliantly and, if he wants the job, he'd be a popular choice. Once we can get crowds back in, then look at sprucing up the stadium, because it's starting to look its 20-plus year age. Those seats are rather faded. Christopher Park can become one of the best facilities in the country, in attracting players. But all of that is for another day. Right now we can breathe again.
Well, what a nine months! Having moved away from the North West a couple of years ago, and being a 'Tic born and brought up in Bolton (sorry!), this past year has made me properly understand what it means to support Wigan Athletic. Apart from on social media, the only contact I have with other Latics fans is on a match day and when speaking to my dad. Coming back to watch a game and being around people experiencing the same joy (and mostly despair) is something I think I've taken for granted and, looking back in hindsight, something which I will treasure forever more. Being away from the area, fellow fans and the media has meant sometimes it felt like I was on a one-man crusade to spread the word of how bad things have been throughout the Midlands, to people who either had no clue what was happening or simply couldn't care less. Looking back at what we've all been through, I spent an hour re-visiting all the madness, confusion and sliding roofs, and kept asking the same question: "What was the reason?" I doubt we'll ever know the full truth of what led to the circus coming into town, but I think it's important we look mainly at ourselves and those in the stadium every week at what we've achieved. We always get jeers and sniggers at our support, but the heartbreak we've felt has reaffirmed to me that we – as a bunch of mad, lyrically creative and tapas loving fans – are among the most loyal around. Although we've not had loads to cheer about on the pitch, the way this group of players and management have conducted themselves is testament not only to their professionalism in still having a fighting chance when many others would be dead and buried, but also what it means to be a part of Wigan Athletic FC. As we look forward now to a group who, from the outset, look just as delighted to be here as we are to have them, we can all, both on and off the pitch, hold our heads highly. The only thing really left to say is, the 'Tics are back, baby!
Nine months after the nightmare began, when the sun came out on the hottest day of the year, and at 20:21 the nightmare finally ended. The EFL, the body that had done so little to prevent the nightmare, confirmed Wigan Athletic were no longer in administration. Phoenix 2021 Ltd, the ownership body set up by Mr Abdulrahman Al-Jasmi, with Talal Al Hammad as incoming chairman, completed the purchase of our club. And we had our first glimpse of our new owners, with videos released across social media in a coordinated approach that also confirmed the mystery Twitter account was indeed run by Al Hammad. It was difficult to gather my thoughts on Tuesday night, everything with this wretched pandemic is difficult.
In times such as these, your first instinct is to celebrate, and to celebrate among fans – but obviously we can't do that. So although my mind was back in Wigan and the Anvil, my body was most definitely not. It's part of what's made this situation far more difficult to bear for us fans. No-one ever expected when we walked out of the DW after the 0-0 stalemate with Luton over 13 months ago it would be the last time we saw the team, let alone see our friends and in some cases family. That's why administration has been so much more painful. In normal times, football clubs still function as well as can be expected. Supporters still go, games are still played, revenue is still generated, and potential owners can see what clubs can offer. We've had none of that, we haven't been able to go and shout our encouragement to the side. Display our anger with those who put us in this situation and those that have profited from our misfortune. So on to Tuesday, as all of that came to an end. I was unsure exactly how to feel, I think the realisation we have survived and will live to fight another day – no matter what division we're in next season – will eventually come. I also had an overriding feeling of anger. Anger for everything we've been put through, anger for those people who were made redundant through no fault of their own. Those people who have lost their livelihoods – and it was all so unnecessary. The pain of the last few months will never go away, the pain of knowing what's happened and what we've lost. But if it can help to shape the club and make us appreciate what we have more than we did, well that's a good thing.
The first impressions for our new owners are very good. There is clearly money available, but that will be tempered. The aims from Mr Al-Jasmi (who it must be said has an amazing desk in his office) were sensible. Building on our academy and aim to return to the Championship. That is exactly what we need to aim for. With football finance experts Tom Markham and Oliver Gottman on the board, alongside Mal Brannigan and Wiganer Richard Bramwell, there is an experienced leadership team there who will be looking at how best to build on our academy, and the hard work put in place by Gregor Rioch and the team over the last few seasons. Whether our rebuild will come in League One, or whether we drop back to the level we were when Dave Whelan took over when we started our journey up the leagues back in 1997, remains to be seen. Wednesday's match with Gillingham was as frustrating as they come. We dominated for long periods, created a number of excellent chances we failed to take, and Gillingham scored with their one real chance to take all three points. I wasn't expecting anything from the game, but to lose in that fashion once we had performed so well was frustrating. We've eight games left and probably need four wins to stay up. It isn't an impossible task by any means, but it's extremely difficult. Especially when you look at a lot of the sides we have to face over the next few weeks. That starts with a buoyant Portsmouth on Monday. We took all three points when we travelled to Fratton Park in September. What I'd give for the same result on Monday. We simply have to start picking up wins, no matter how they come. What a boost for all of us if we can manage to turn this around and stay in the division. However we can do it, give the lads your support – they need it more than ever now.
Relief and joy and free from pain, is why we all now love Bahrain.
The hurt has gone, it is no more, not since Talal walked through the door.
And Begbies, now, you've had your day, so pack your bags, be on your way.
We've no more need for all your guff, no need to tell how it's been tough.
Cos we all know, we felt it too, a gestation period's what we've been through.
Nine months of hell, for what it's worth, until finally, we gave new birth
To a Phoenix. An awesome bird. A result far better than we'd dared.
To hope. And yet, the anxiety's not done, we've still some games left to be won.
So heads down lads, there's no quick fix, and up the new Bahraini 'Tics!
I've always said that we go through ups and downs in life as well as football, and that's certainly been true these last 12 months. Latics go into administration in July, lost dad in November, in and out of lockdown...this year has been a test. However, the news this last week has been the best. The takeover confirmation on Tuesday was unbelievable, and to then hear from our chairman and owner was lovely to see and hear. To talk about stability was all we could ask for, and our future is hopefully secure for a few more years yet. Eight games to go, will we manage to avoid the drop? I will always be positive when it comes to Latics, so I am going to say yes – by the skin of our teeth. Just how we like it! Up the Bahraini 'Tics!
The documents have been signed, the funds have been transferred, and everyone of importance with at least one hand attached to their body has signaled a 'thumbs up'. The deal is DONE and Phoenix 2021 Limited are officially the new owners of Wigan Athletic. The announcement brought immense feelings of joy to our fanbase, and was widely recognised throughout the footballing world as a major news piece. For the first time in nine months, my vision for the club has shifted completely forward. Administration has taken a wrecking ball to our club, but it has not destroyed our foundation. There are fans who were kept out of the stands, players who were taken off the books, and staff who were made redundant that represent the fallen pieces of an attempted demolition. There is now genuine hope we can rebuild with many of those same pieces and collectively come together to reach new heights as a club. Our new chairman, Talal Al Hammad, has made the strongest of first impressions possible. Emerging from the shadows of being a 'faceless mystery man' behind a newly-created Twitter account, he has finally spoken out over video. As an American, I was immediately won over by the sight of him donning a Latics baseball cap. The words that followed quickly expressed an understanding of the club's value and acknowledged the struggles we have had to endure in our journey for triumph. As someone who is asked to explain why I love Wigan Athletic on an almost daily basis – by friends, family, and strangers – I could easily identify the passion behind Talal Al Hammad's words. He has made a believer out of me. Regardless of whether we play in League One or League Two next season, we know we now have the backing to climb our way up the professional football pyramid again. After getting knocked down incessantly this season, the idea of 'smashing' League Two to mark the start of our ascent does not sound like the discouraging step 'backwards' it once did not too long ago. However, it is way too early to become complacent with a future in League Two. The staff and players have fought too hard to lose our confidence and belief. Eight cup finals remain this season, and the path to survival has become more difficult over the course of this past week. We delivered two commendable performances against play-off contenders, Ipswich and Gillingham, only to be let down by an inability to convert in front of goal. Leam Richardson is trying every combination of attacking players on the pitch, and the lads have not disappointed anyone with the efforts displayed over the past several 90-minute shifts. The team will now have the weekend to rest and prepare for another side, Portsmouth, that is fighting for a return to Championship football after a decade away from the second tier. There is no reason why our next great run of form shouldn't start on Monday. My son celebrated his fourth birthday on Tuesday – the same day the takeover was completed. As he develops some of his first permanent lifetime memories over this next year, I hope some of those may involve a positive introduction to the club. We have entered a new era in our long and storied history. Regardless of the result of our next match, or the one after that, we are in a much better position for long-term success. For that reason, we will continue the celebration that started on Tuesday. As Talal Al Hammad profoundly stated, 'Up the Tics!'
Get 20% off our sports subscription package and stay up to date with all the latest Wigan Athletic news with a year's subscription to WiganToday for less than 9p a day. Use promo code TRANSFER20