Leam: Why I chose different 'plan' with Wigan Athletic over Paul Cook reunion
Leam Richardson has revealed his thought process behind plumping for a shot at full-time management with Wigan Athletic ahead of a reunion with old pal Paul Cook at Ipswich.
Published 22nd Apr 2021, 21:17 BST

- 2 min read
Updated 22nd Apr 2021, 21:18 BST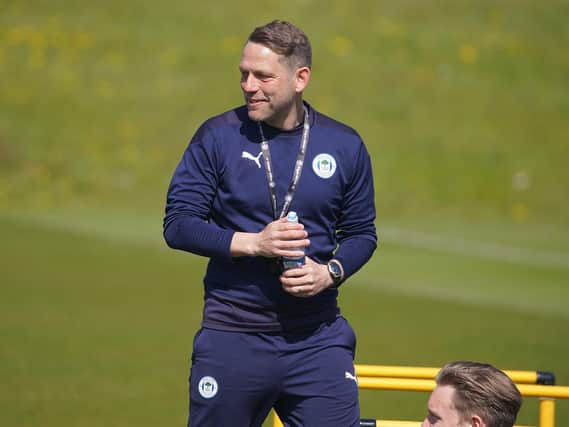 Many had expected Richardson – Cook's No.2 at Chesterfield, Portsmouth and Wigan – to follow his long-time colleague to Portman Road this summer, after seeing out the most troubled of seasons at Wigan.
But the lure of proving himself as a No.1 – and the ambition set out by new owners Phoenix 2021 Limited – led to Latics confirming him as their full-time manager on Wednesday.
And Richardson – who admitted as recently as last week his mind was still not made up on his future – admits it wasn't a decision he came to easily.
"I think it's the same with anything, you set out with a plan, and it rarely ends up following that plan," he acknowledged.
"I've been really fortunate in my career, in having a sound grounding under the likes of Roy Hodgson (at Blackburn), Sam Allardyce (at Bolton), even and John Coleman at Accrington.
"I've also had a fantastic basis – and I can't stress this enough – in management, and working alongside Paul Cook
"That's allowed me to be as prepared as I can be, although I still have a lot to learn and a lot to achieve, to the levels I want to get to.
"And I firmly believe Wigan Athletic can match that while I'm the manager."
On the big decision to go solo after a decade as an assistant, Richardson says it came purely down to gut feeling.
"I genuinely am not a status-driven person, or a financially-driven person," he said.
"I just love what I do, and all I want to do is represent my family and the football club as well as I can.
"There was always going to be speculation (about my future), and it really is quite humbling to be wanted in such a tough industry.
"I know it hurt Paul a lot leaving Wigan, and I've probably spoken to him every single day since.
"He's been very supportive of me in certain situations, even including him moving on with his own career.
"It's no secret he did want me to go down there and work with him again – and I can't thank him enough for that.
"I wish him well for the future, and I do consider him one of the top managers in England.
"I thoroughly enjoyed my time working with Paul, and I've learned so many things about myself – on and off the pitch – that I'll take with me."
Get 20% off our sports subscription package and stay up to date with all the latest Wigan Athletic news with a year's subscription to WiganToday for less than 9p a day. Use promo code TRANSFER20