ROLEX sends letter to children's clock business Oyster & Pop demanding it rebrand over 'misleading' name
Luxury watchmaker, ROLEX, has written to UK children's clock business, Oyster & Pop, demanding  it changes its 'misleading' name.
Watch more of our videos on Shots!
and live on Freeview channel 276
Visit Shots! now
Luxury watchmaker ROLEX has sent a letter to a UK children's clock business, demanding it rebrand over a 'misleading' name. Oyster & Pop, which sells a collection of colourful wall clocks and charts designed to help children to tell the time, has been accused of having a similar name to their line of watches, 'Oyster Perpetual'.
Oyster & Pop was set up by sisters Emma Ross-McNairn and Sarah Davies and is named after Oyster Bend in Torbay, Devon - where they grew up. ROLEX is claiming their wall clocks, which sell for around £20, could "confuse" customers of the giant company, whose timepieces cost thousands of pounds.
The company argues that the "average, reasonably well informed consumer" would likely call the Rolex line of watches to mind when looking at the Oyster & Pop logo. The letter added: "Consumers will inevitably be misled into thinking that your products emanate from Rolex."
As a result, the lawyers have demanded the firm, based in Teignmouth, Devon, change its logo, website domain and name to avoid further action. Director Emma, 46, said the situation was "nonsense" and that the lawyer's letters had been "bullish".
Emma told the BBC: "If someone says oyster to me, the first thing I think of is the Oyster Card on the tube, not Rolex watches. I don't think anyone could confuse our clocks as coming from Rolex."
Emma, who founded the business during lockdown in 2020, says that the rebranding would 'crush' their small business. She has since launched a petition to try and stop the legal action by the company. She wrote: "The idea for Oyster & Pop was borne out of a desire to create a business that made fun, useful products for families.
"In the 2020 lockdowns we used our savings to set up a small business to help support our families.''We chose the name Oyster & Pop for our clocks because we were born and raised on a road called "Oyster Bend'' right by the beach in Devon. We wanted to connect the company's identity to our family roots.
"We don't think that ROLEX should be allowed to stop us from using a name that is not only substantially different from theirs but has personal connections to us as the founders of a small business.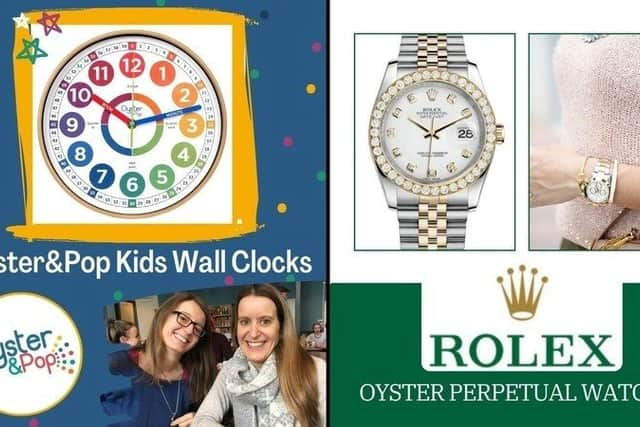 "We have invested our savings in creating Oyster & Pop, including branding, stock, our website, packaging and marketing. If we were made to re-brand then the company would not have the resources to start all over again. We believe that there is no risk of anyone confusing us with ROLEX."
Their online petition has now gained more than 70,000 signatures since it was first posted on January 10. Oyster & Pop now have until January 30 to file a defence and counter statement in response to the trademark application objection. Rolex has been approached for a comment.