Tesco Finest Valentine's Day dinner for two to return for £12 for Clubcard holders - see full list of items
With a whole host of favourites returning for Tesco Finest Valentine's Day dinner for two, new additions such as six Raspberry Royale Profiteroles have been added - see the full list of items on offer
For Valentine's Day this year, Tesco is offering customers a fine dining experience in the comfort of their own home with the return of the Finest Valentine's Dinner for Two which is available to customers who have a Clubcard.
The exclusive deal will launch a few days before Valentine's Day, on Thursday, February 9. With an array of options to choose from, such as a selection of meat, fish and vegetarian dishes, there'll be something for everyone to enjoy.
This is set to be Tesco's best and biggest Valentine's Day deal. For the first time ever, the award-winning Tesco Finest Prosecco has been added to the meal deal drinks offering this year, meaning customers can celebrate love in style.
As well as a romantic meal for two, Tesco is also offering deals for dogs, and an array of gifts for loved ones and friends. There's also a 'Bestie Box' available, for those partaking in 'palentines' - Valentine's Day for your mates
In what looks an enticing deal for vegetarians, the Tesco Finest Vegetable Moussaka which layers a lentil and courgette ragu with aubergine and potatoes and is finished with bechamel sauce and a ciabatta style crumb has also been added.
Items available for Tesco Finest Valentine's Dinner for Two
Mains
Tesco Finest Vegetable Moussaka
Tesco Finest Ranch Steaks Plus Garlic & Herb & Peppercorn Butter
Tesco Finest Smoked Salmon Gratin
Tesco Finest Chicken in Cabernet Sauvignon
Tesco Finest Tomato, Mascarpone and Basil Risotto
Tesco Finest Chicken Legs Mushroom White Wine & Tarragon
Tesco Finest British Beef Burger Kit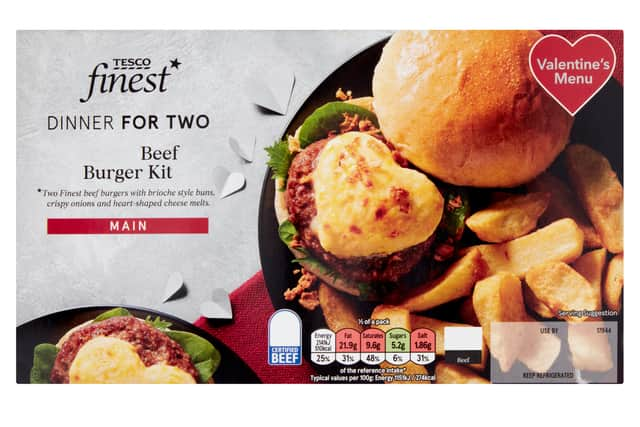 Tesco Finest Beef Bourguignon Pies
Finest Duck Breast Portions with a Raspberry Hoisin Sauce
Sides
Tesco Finest Green Vegetable Selection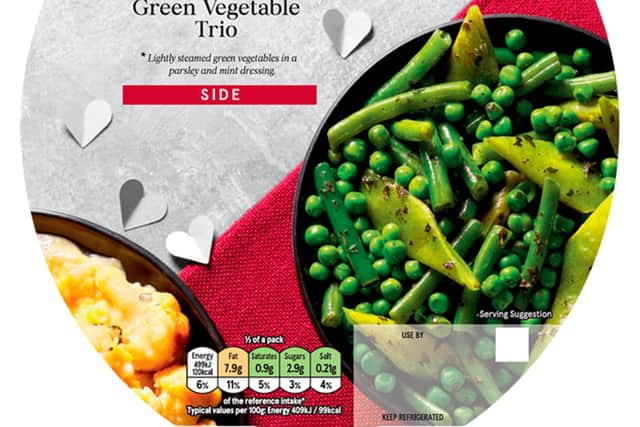 Tesco Finest Creamed Spinach
Tesco Finest Chunky Chips
Tesco Finest Potato Dauphinoise
Tesco Finest Truffle Mac & Cheese
Tesco Finest Heart Shaped Potato Croquettes with Black Pepper and Parsley
Dessert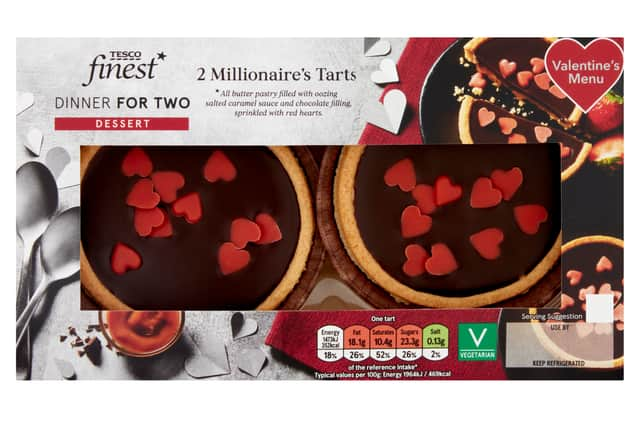 Tesco Finest 6 Raspberry Royale Profiteroles
Tesco Finest Chocolate Brownie Heart
Tesco Finest 2 Millionaires Tarts
Finest Belgian White Chocolate and Raspberry Pots
Tesco Finest 2 Caramel Melt in Middle Puddings
Tesco Finest 2 Lemon Meringue Cheesecake Slices
Drinks
Tesco Finest Prosecco Valdobbiadene Docg
Peroni Nastro Azzurro Lager Beer
Tesco Finest Pink Lady 2 Pack Apple Juice & Still Lemonade 750Ml
Tesco Finest South African Malbec
Tesco Finest South African Sauvignon Blanc
Tesco Finest South African Cinsault Rose