Council CEO confident Wigan Athletic 'back on track' after 'very worrying time'
'Survive and then thrive' - that's the blueprint for Wigan Athletic under their new Bahraini owners.
Wednesday, 24th March 2021, 3:54 pm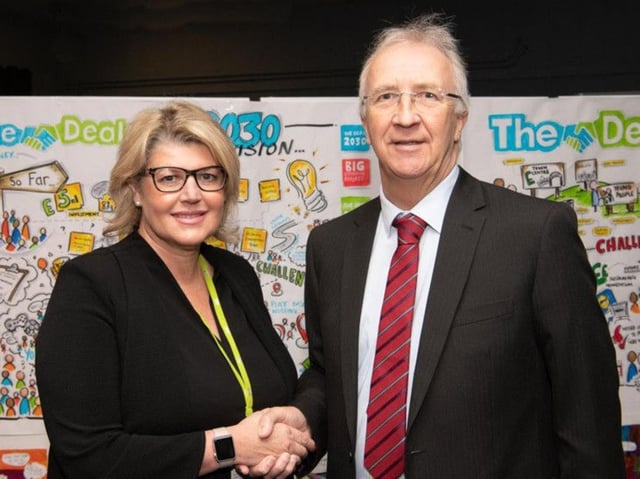 Alison McKenzie-Folan (left), CEO of Wigan Council, with Leader of the Council David Molyneux
So says Alison McKenzie-Folan, chief executive of Wigan Council, who is confident Latics have a very bright future after 'a very worrying time' over the last nine months.
"All we want is for the football club to survive and then thrive," she told Wigan Today.
"And from all the conversations we've had with the Bahrain group, it appears to be a group of people who want to build a solid base, and a sustainable club in the long-term.
"Obviously that's going to take some time, but I think they're in the right place to be able to do that.
"Get it sustainable, get it successful, and just get it back on track."
The takeover still needs official ratification, with final agreement expected 'by March 31 at the very latest'.
But the mood in and around the club is already a world away from the doom and gloom that engulfed the club on July 1 last year.
"It's obviously been a very worrying time for us as a council," Ms McKenzie-Folan acknowledged.
"We've been involved in that many discussions with that many potential buyers, we're just so pleased we've got one now nearly over the line.
"We've only got to know the Bahrain team in the last month or so, but it's all been completely positive, they're very frank and honest people.
"They've obviously got plenty of belief in the club and the team, and I'd say very grounded and pragmatic as well.
"Of course it's nice to have big ambitions, but it's also about stabilising the future and getting back on solid ground to start with.
"There's been a very healthy response in terms of what needs to happen, and from the meetings we've had we've all come away with a very positive feeling.
"Obviously there's still a few things to work through but, as a council, we've worked as quickly as we can to do everything we can."
Ms McKenzie-Folan admits the new owners have already confirmed their desire to play a key role in the wider community, as part of a town rightly proud of its sporting heritage.
"We've had those conversations about working together in the future, and the opportunities for both the club and the town," she added.
"The two sporting clubs in Wigan are vital to everything we are as a town - as well as the (Leigh) Centurions as part of the wider borough.
"Sport is a massive part of our DNA and our culture and our heritage.
"This town has produced so many amazing athletes across so many different sports, and it couldn't be more important.
"And we have been so conscious that, when you add the pandemic to what's happened to Latics, it's had such a massive impact on people's mental health.
"Everyone's been trying to support each other as best they can, and hopefully we can see some hope and some positivity on both scores coming in the not-too-distant future."
Ms McKenzie-Folan also says the Council were ready to support the proposed 'Plan B' option - using money raised by the Supporters Club - if no suitable buyer had come forward.
"We've always remained in regular contact with Caroline (Molyneux) at the Supporters Club, discussing alternative plans in case we couldn't find a buyer," she added.
"Those parallel conversations were always happening.
"But obviously we all wanted 'Plan A' to work if at all possible before considering 'Plan B'."
Get 20% off our sports subscription package and stay up to date with all the latest Wigan Athletic news with a year's subscription to WiganToday for less than 9p a day. Use promo code TRANSFER20