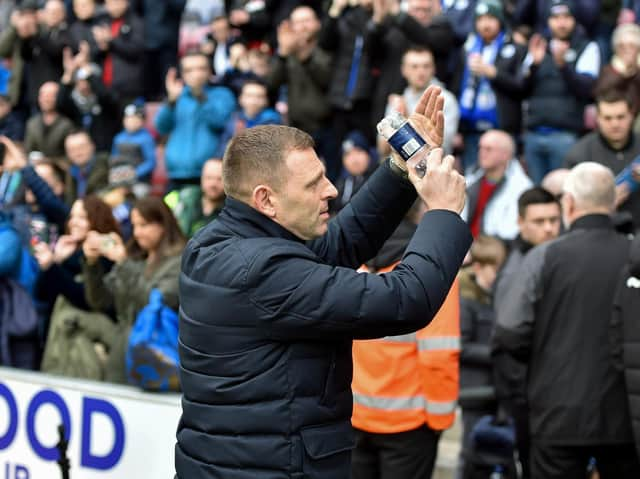 Graeme Jones was given a fabulous ovation when he returned to the DW with Luton in March
Jones is currently out of work after leaving Luton in April, having laid the platform for their eventual great escape at the end of the season.
And it's understood he has already been sounded out by some of the parties interested in buying Wigan Athletic – a process which should speed up after Tuesday evening's EFL appeal decision.
It's also believed the 50-year-old – whose place in Latics folklore is already assured thanks to his exploits as a player and as Roberto Martinez's No.2 – would jump at the chance of a return.
Jones, who parted company with Martinez and Belgium after the 2018 World Cup, has previously spoken of his 'love' for Wigan – and his desire to one day come back as manager.
Prior to his return as West Brom assistant manager in October 2018, Jones said: "I love Wigan, Wigan's my club, that'll never change.
"It's hard to explain for people who don't understand the football club. They don't get it, they don't understand it.
"I was accepted from day one by the Latics fans...it led to me regarding the town as home for me.
"And I still feel I've got unfinished business at Wigan.
"It's just never fell for me where I was in a position to become a number one, and give it a good go.
"One day, hopefully in the not-too-distant future, I will be...and who knows? That's the plan.
"But I would love nothing more, that's the truth. And you have to get offered it..."
For the moment, Paul Cook's long-time No.2 Leam Richardson has been placed in charge, having remained at the club despite the manager leaving at the weekend.
The Latics squad is scheduled to report back for training next week.