Leam Richardson's instructions to Wigan Athletic ahead of run-in
Leam Richardson has warned there is no place for self-pity in his Wigan Athletic squad as they hurtle into a seven-game home straight.
Published 10th Apr 2021, 06:57 GMT

- 2 min read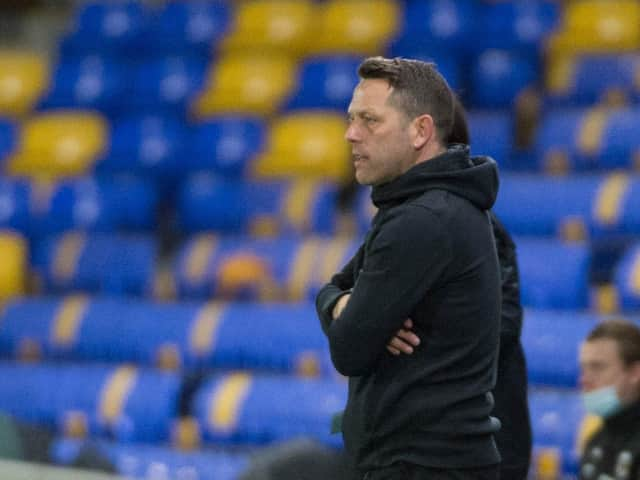 Latics have seven games to try and propel out of the relegation spots – starting with today's trip to Doncaster
Since winning at Plymouth a month ago they have picked up just two points from five games. Yet those seeking positives can point to the fact they have conceded just twice in their last three matches.
And while Richardson is looking for a more clinical touch in front of goal he has no doubt about his players' attitude and commitment.
"The next seven games, if we give a good solid account of ourselves and be as honest as we can, we'll get to where we need to be," he said.
"This group has only been together for 11 or 12 weeks, there are seven games left, huge games, nobody will be feeling sorry for themselves.
"We will fight for the last seven games. We've only go a couple of lads contracted for next year, all of these lads have been thrown together so to speak, and they've come in and rolled their sleeves up and given a real honest account of themselves.
"Nobody is going to feel sorry for us. There's only us in the football club who can help each other.
"We'll need honesty, energy, endeavor with every person – we've had to galvanise ourselves, we've been through so much together, and why not see it through and take it to the finish line? You have to stay calm and your habits have to stay quite consistent because if you let emotion run away with it you can make poor decisions. We know where we're at and where we're lacking."
Latics' battling qualities have been typified by Viv Solomon-Otabor, one of several playing through the pain barrier.
The 25-year-old had initially been ruled out for season with floating bone fragments in his knee, but has started the last three games.
"He's getting his knee drained most weeks, and at any point Viv could be out for the season and he's well aware of that," said Richardson.
"He's rolling his sleeves up and he wants to be a part of it, fair credit to him, and there are certain individuals who are having injections so they're available to play.
"If it was mid-table they probably wouldn't be playing."
Richardson, meanwhile, has had some encouraging talks with the new owners and directors but senses there frustration they're unable to help his side in the run-in.
"We've been through some dark days and now they feel they have some good leaders to pull the club forward which is fantastic," he said. "The frustrating thing is they can't give us any help on the pitch, so it's up to us to fight on.
"I've had a couple of conversations with (new CEO) Mal Brannigan, he seems a nice fella and very experienced. He wants to not only put plans in place for the short term but the medium and long-term too, which is fantastic.
"I had a brief conversation with the new owner and he wants to drive the club forward in a really positive way."