Walsall v Wigan Athletic: A tough one to plan for
A few days after Southampton's '˜new manager bounce' might have helped them knock Latics out of the FA Cup, Paul Cook's men are faced with a similar problem tonight.
Published 21st Mar 2018, 14:35 BST

- 3 min read
Updated 21st Mar 2018, 15:35 BST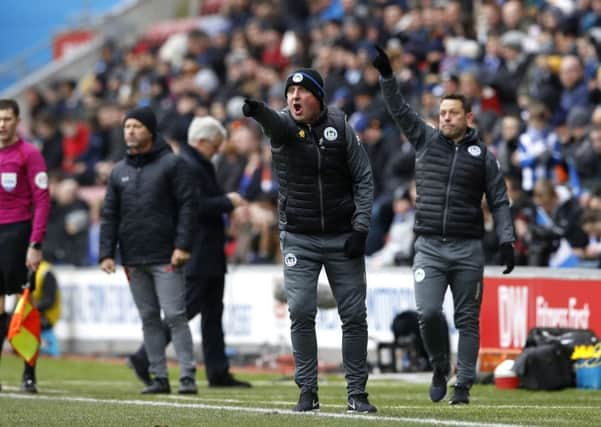 Walsall, struggling in 17th place in League One, host the promotion hunters with their own new manager at the helm in Dean Keates.
This will be Keats' first match in charge of his new club after he took over last Friday – and Latics assistant Leam Richardson admits the challenge of preparing for their opposition tonight will be as difficult.
"It's a little bit more difficult," acknowledged Richardson, who also had to help manager Cook prepare to face Southampton in Mark Hughes' first game in charge.
"Certainly Sunday, Mark Hughes goes in at Southampton, Dean's gone in at Walsall. There's certain aspects of the game where you can't prepare for the other team.
"But what you can do is concentrate on yourself and make sure you carry out your abilities and make sure you're productive in that."
And focusing on themselves, Latics have 12 games to play, packed into a 46-day spell which will decide if they go up to the Championship in the automatic places of face the play-off route.
And having helped Cook's Portsmouth to promotion last term, Richardson hopes the experience of the coaching team will work in Wigan's favour.
"Whether it's in work or life you draw on past experiences and thankfully we've had some good past experiences," he explained.
"Obviously we've had a few disappointments as well in play-offs as well so you want to put that into practice and make sure you attack everything in retrospect and treat every avenue on its merit and not get carried away.
"We won't look anywhere past Walsall at the minute and our full focus will be on that game."
Walsall's last win was a 3-0 success over Southend on March 3, but they have lost to Rochdale and Shrewsbury since then, leading to Jon Whitney losing his job.
The next time Latics will have the luxury of a full week to prepare for a match will be in the final week of the season when they host Doncaster on May 5.
In the meantime, they have games in hand on Blackburn and Shrewsbury to catch up on, and being just five points adrift of the leaders their fate is in their own hands.
And with spring supposedly just around our corner, this part of the season, in theory, should allow for more free-flowing football as weather becomes drier and pitches become firmer.
It's something Richrdson says has been prepared for in the summer pre-season schedule, as well as ensuring the squad is fit enough to cope with the demands of playing every few days.
"That's why you prepare quite a lot early on in the season," he said.
"You do all your hard work and your mundane work early on in the season to get you through these weeks."
It also comes with the added challenge of the management team knowing how to look after the players as they look to ensure their promotion abitions stay in the crosshairs.
"It's tough. You have to prepare, rest, go again," he said.
"That's our job as management, to get the travel right, get the days off right.
"It's part and parcel and lucky enough I've been there a few times, the manager's been there a few times and we've managed groups quite well so fingers crossed we can repeat that."