Wigan Athletic boss furious after 'ridiculous' refereeing
John Sheridan was left choking on a sense of injustice after Wigan Athletic were denied 'two stonewall penalties' and had what he felt was a perfectly good goal 'ridiculously' chalked off in the 1-0 defeat at Charlton.
Saturday, 17th October 2020, 6:28 pm
Updated
Sunday, 18th October 2020, 5:49 pm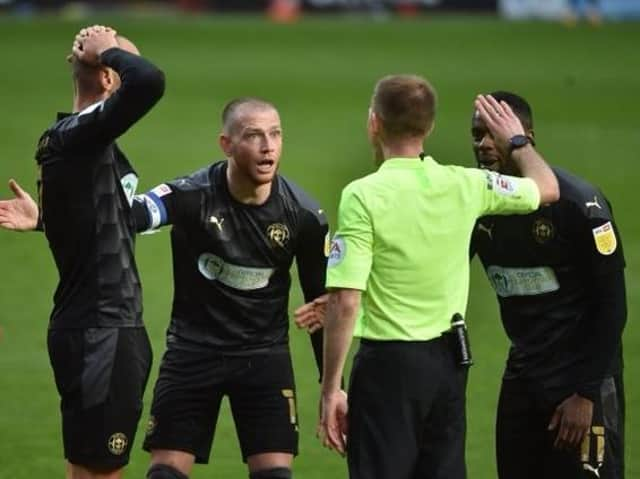 The Latics players remonstrate with referee Ollie Yates, to no avail
After back-to-back defeats against Crewe and Port Vale, Latics delivered a much improved performance at the Valley.
And on another day they might even have won, only to be denied even a point by referee Ollie Yates - who Sheridan made a beeline for at full-time.
The Wigan manager's ire was centred on second-half penalty shouts for fouls on Will Keane and Lee Evans that were waved away, while Joe Garner also saw a 'goal' chalked off for an apparent foul in the build-up by strike partner Keane.
"The performance was a lot better than at Crewe last week," acknowledged Sheridan.
"I thought the desire and will to try to get something from the game was evident throughout the game.
"And it's very disappointing to be going home with nothing, we deserved something.
"We've had two stonewall penalties turned down, absolutely ridiculous decisions.
"And the goal...why he's disallowed it, I will never know.
"The linesman was 10-15 yards away from Will competing for the ball, and doesn't raise his flag.
"The referee, who is 40 yards away, suddenly decides it's a foul and blows his whistle to disallow the goal.
"It's absolutely ridiculous, and I've tried to ask him about it.
"He tried to explain himself but he couldn't."
The only goal of the game, midway through the second period, was also unfortunate, with Jamie Jones appearing to believe Jake Forster-Caskey's 30-yard free-kick was going wide, and not diving full stretch, only for the ball to sneak in via the near post.
"Their goal as well...it's obviously a direct free-kick, but we just make ourselves vulnerable," was Sheridan's assessment.
"We're giving away too many dangerous free-kicks in too many dangerous areas.
"If we keep doing that, we'll keep getting punished, and it's ended up in the back of our net.
"I've not seen the goal again, but I certainly think the wall should be doing a little bit better."
Latics had other chances in the game to score, with Darnell Johnson sending a header straight at Charlton goalkeeper Ben Amos, before top scorer Garner fired wide from a great position.
"For DJ's header, their goalkeeper's made a magnificent save to be fair," added Sheridan.
"Then Garns does everything right, but unfortunately he doesn't hit the target when he usually would.
"To be fair, they've also created a couple of great chances, and I thought the first half was very evenly matched.
"In the second half we were the better team, we took the game to them and created the better chances."
Special offer: Get 15% off our digital sports subscription - read unlimited Wigan Athletic and Wigan Warriors stories for less than 60p a week! Click here