Wigan Athletic hero's family reasons behind wanting swift end to current misery
Wigan Athletic hero Mike Pollitt has added reason for hoping his former club come through their current predicament.
Published 24th Mar 2023, 08:53 BST

- 2 min read
The 51-year-old spent 11 years with Latics after joining them in time following their promotion to the then-Premiership in 2005.
After nine years as a player - during which time Latics reached the final of the Carling Cup and the FA Cup - Pollitt then spent two years as goalkeeping coach under Gary Caldwell.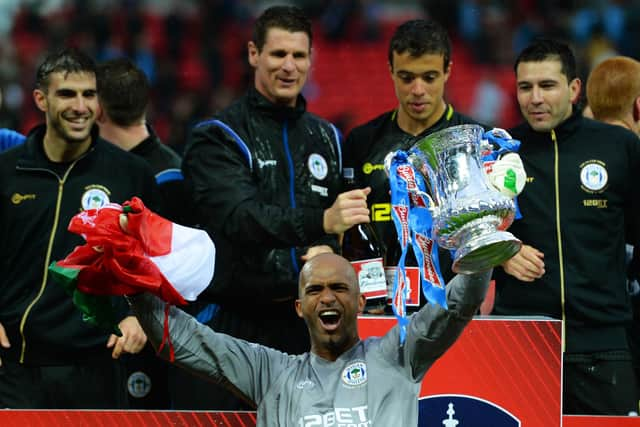 And the legacy of his time with Latics continues, with sons Robbie and Matt now season-ticket holders at the DW!
Which leaves all the Pollitts keeping their fingers crossed Latics can come out of another worrying situation off the field.
"It's awful," he said. "I spent 11 years there, most of them in the Premier League.
"And they'll always be the club that gave me a chance in the Premier League, at the age of 33.
"You probably think your chance to play in the Premier League has gone by then, and I'll always be thankful for that.
"I had some great times there, getting to two cup finals, last-day survivals, there was always something going on at the end of the season.
"I loved being at Wigan, it's such a great club, and my two sons are now season-ticket holders there!
"It's a bit weird for them, living in the Bolton area, but they always came to the games with me and became Wigan supporters.
"They're obviously getting a lot of stick at the moment from Bolton fans, with them in the play-offs and going to Wembley (in the Papa John's Trophy).
"There's always been that rivalry between Bolton and Wigan, and there'll always be that stick both ways.
"I just hope they can get sorted as a club, and either these owners take it on or let someone else come and take it on and bring some stability back."
Pollitt is also hoping his former colleagues still with Latics receive some good news before long.
"I've still got friends who work there, Graham Barrow's just gone back in, Jimmy Barrow, his son, is fitness coach there," he added.
"Just to see them not getting paid is a really sad situation. It's completely different now.
"I was obviously there when Mr Whelan owned and bankrolled the club, and made the club what it was.
"To see what's happened before with it going into administration and then now, I think it's the fourth time they've been unpaid and a points deduction...it's not good.
"I'm just hoping they can get something sorted, because we're all getting together at the end of the season for the 10th anniversary of the FA Cup.
"It'll be great to see everyone from 2013, but when you've also got people there not being paid...I just hope it all works out."