Wigan Athletic: The 12th Man - 'Even if it's not the kind of news everyone is hoping for, at least we'll know. And that's better than what we have now...'
Our panel of Latics experts assess another monumental week in the history of their beloved football club...and wonder what comes next...
Published 23rd Mar 2023, 19:06 BST

- 10 min read
Watch more of our videos on Shots!
and live on Freeview channel 276
Visit Shots! now
The more things change, the more they stay the same. If you believe the French flower mitherer Jean-Baptiste Karr. But, at least where Latics are concerned, he may have a point. It's now two weeks since the senior players in the squad were supposed to have been paid, and there's no sign of any money nor any meaningful statement regarding the state of the club and its owners. Talal, or at least someone on his Twitter account, put out a very non-statement on Tuesday, claiming things were changing and all would be revealed. Call me old fashioned, but I think people would rather be paid their wages than have to watch the worst made-for-telly mystery ever devised play out instead. I'm also not one for conspiracy theories, but I do have a theory of sorts that may not be a million miles from the truth. It's not difficult to see that Talal left Epic, the club's parent company, in November. That has been followed by Oliver Gottmann leaving Epic earlier this month, and then appearing to return in recent days. Mal Brannigan and Tom Markham were never employed directly by Epic, so their situation is somewhat less clear. However, both Talal and Gottmann are still employed by the club, so it looks like they haven't walked away altogether. So where does that leave Latics, the owners, the staff and everyone else? My guess - and it is a guess - is that there may be a management buy-out in the offing. This looks to involve Talal at the very least, Gottmann maybe, and possibly Brannigan and Markham. In other words, everyone except Al Jasmi/Epic. As Al Jasmi is the sole owner/funding source for the club, it's a big step. Maybe even too big. Talal has no easily verifiable personal fortune, so the other option then appears to be securing funding from elsewhere. But you have to ask who, in their right mind, would put money into Wigan Athletic at the present time? A club that is a perennial loss-maker, and that is almost nailed on for relegation to League One, does not scream 'come and get me'. The share issue last month looks like an exercise in hand-washing by Al Jasmi, and delays in the buyout/takeover likely means funding is as yet unavailable to settle outstanding wages. If I'm right, no doubt Al Jasmi is taking the stance that he's paid enough, and Talal and co can't gain access to the new funding. I know that, even if the above is anywhere close to the truth, it answers nothing, and actually raises more questions still. The ongoing funding of any football club is a considerable responsibility, especially one like Latics. The days of a Dave Whelan rocking up to keep the ship from sinking are long gone, and most of the money in football now comes from other, often unclear sources. So, two weeks into the latest depressing saga, we have nothing to show where the club is heading, and under whose stewardship. Unless, that is, you count lots of words saying absolutely nothing. Frankly, the whole 'trust us' line is getting very old, and someone needs to find some new material for the act. Even if it's not the kind of news everyone is hoping for, at least we'll know. And that's better than what we have now.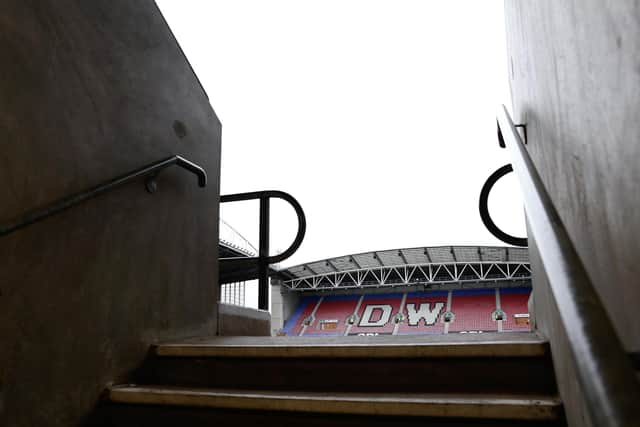 First attempt at a column as an observer from afar, usually only as far as Northamptonshire but these days, just south of Buenos Aires, Argentina! At times, I've thought to myself that we have quite a negative fanbase, but being part of another, equally as passionate fanbase of a club who isn't in a too dissimilar position as Wigan Athletic, Gimnasia Y Esgrima La Plata, as shown me that it's all too common, no matter the current situation. Gimnasia for example, beat its fierce rivals, Estudiantes (current team of Mauro Boselli, in fact) for the first time in 13 years, mixed in there was a 7-0 loss at home which as you'd expect, the fans of Estudiantes refuse to let us live down. The win had scenes on the streets of La Plata not too dissimilar to the World Cup-winning scenes, albeit on a smaller scale. And yet, the next day, negativity, asking to change the goalkeeper who is in fine form, complaints about the manager who is very similar to Shaun Maloney in that he played for the club, is a fan favorite and now has the job of righting the ship. I think it's easy for us to be negative, no more so than right now with great uncertainty. But also, I tip my hat to those who try to remain positive. Sure, the light at the end of the tunnel is getting further away, but the good times will come again. I don't think we are heading to a situation like we were a couple years back. But rightly, people are concerned, especially when it's people's livelihoods we are talking about. Gimnasia nearly won the league last season for the first time in forever but, due to them not being able to pay players on multiple occasions, the best players left, the manager left and we are left with the kids. The same may happen for Latics, only time will tell but, much like the kids of Gimnasia, they will do great things for us, and given the opportunity, send Wigan back in the right direction. Though honestly, who doesn't want just one year of being a mid-table, bang average team in League One! PS: With the Argentinian economy getting worse every day, let's see if we can pick up a quality player from here on the cheap ;) Check out Benjamin Dominguez if you have the time…
Just when you thought Wigan Athletics wretched season could not get any worse, the club have been deducted three points by the EFL for late payment (again!) of players' wages. Like so many others, I am asking what is going on behind the scenes? When Phoenix 21 took over the club, in its darkest hour, they were seen as the saviours of the club. They put in much-needed capital, gave the fans real hope and a sense of belief that they were over the worst, and that brighter days lay ahead. Promotion followed and everything looked rosy, with the expectant hope that more success would follow. Chairman Talal Al Hammad basked in the success of winning League One and was committed to building on it. During the summer break, Latics were hardly busy in the transfer market, for what was always going to be a more difficult challenge in the Championship. There was a distinct lack of activity, as well as the necessary investment from Phoenix 21. They were content to sit upon their laurels (and money) as they left the club to make do with the rump of Leam Richardson's squad. This policy worked at the beginning but, once the poor run of results set in, and Latics began to struggle, it was obvious the players were not good enough at Championship level. And without the depth of strength in quality and no plan B, Latics went into freefall, as the board were found out due to their lack of investment. Which makes me ask the question: Just what exactly are the long-term plans and intentions for Wigan Athletic under Phoenix 21? Talal's statements have the ring of a hollow resonance, akin to the boy who cried wolf, that sound like an election campaign, as he gives out yet more assurances about his assurances! The glory days of benevolence during Dave Whelan's tenure at the club are a distant memory. Without him, Latics would probably still be playing on a quagmire of pitch at Springfield Park, in the lower divisions, in front of about 1,500 fans. For Latics to sustain themselves, let alone think about further progress, they will need another Whelan-type figure to pump the money into the club. Any takers? I don't see Latics involved in a bidding war, like the one that is going on at Old Trafford. Maybe Latics were punching above their weight during the Whelan years? Maybe, at best, Latics really are at best a League One outfit? A club that would struggle to half-fill a 25,000 capacity stadium? The one thing that is sure right now is that relegation is a frightening reality. It was always going to be difficult to escape relegation but now, with the handicap of three points fewer, relegation is more or less assured. We will have to once again suffer the outrageous fortune of slings and arrows. Uncertain days lie ahead for the long-suffering Latics fans.
We've only got one owner, and soon we might have none. You'd think therefore that folk might think before going off on one. The owner's made a few mistakes, of that there is no doubt. But telling him to **** right off, what the hell is that about? See, none of us are happy, about not paying folk. But abuse and defamation? Well, it's gone beyond a joke. Cos what d' ya think'll happen? D' ya think that it might help? If all you do is shout and scream and rant and yell and yelp? He knows he's got a bridge to build, in fact, a damn great big un, if he wants get some trust back from the fans of Little Wigan. So Talal's just bought a drink, in the Tics last chance saloon. Will it work? We'll have to see, and we'll find out pretty soon. Cos things'll either get sorted, and it's a marathon, not a sprint. But the boss has either got the money, or else we'll see he's skint.
'Self harm on an industrial scale' – that's exactly what the last month and, if we're being truthful, the last few months have felt like for Wigan Athletic. The chargesheet from the EFL that we all knew was coming was damning, and this time I can't see any blame to be laid at any other door. This is our fault and our problem to solve. Of course when we say 'our', we mean Phoenix 21. But unfortunately, owner and club are intrinsically linked in this day and age. So what to gather from this week's events? Well, the players remain unpaid. Just the full two weeks since the wages were due. The club failed to comply with the EFL-agreed punishment from the last time we failed to pay salaries and, as a result, the club have been deducted three points immediately, with a further penalty to be issued by the independent disciplinary commission. That three-point penalty surely ends any remote chance of remaining in the Championship, and the expected penalty next season could have a cataclysmic effect beyond. Shaun Maloney and Mal Brannigan have been in Bahrain, seeking reassurances on the club's future, and the owners have sold an asset that we're told will resolve the wages issue. All of this has been so avoidable, it's difficult to believe it's happened. It was remarkable any of those lads took to the field at Watford, if you had been paid late on four occasions already this season, would you go out and fight for the cause? I think it shows the remarkable spirit instilled in the side by Maloney and Graham Barrow. It looks as though it won't be enough to save us, but this relegation is not on Maloney. It's on the ridiculous decisions that have taken place since that glorious day against Shrewsbury which feels like it was in a different universe, let alone a different season. Not much has been said about footballing decisions in us struggling to pay salaries, but maybe the fact we sacked a manager - who looking back now, seems to have been working wonders with a limited squad - a few weeks after offering him a new three-year contract. Then ignoring the number of out-of-work and experienced Championship managers to hire a novice from Leicester, whom we had to pay compensation for (along with his background staff). To then sack him less than nine weeks after appointing him has had a detrimental effect on being able to pay something as basic as salaries on time. A crazy idea, I realise. I've said it many times, and I've just had it confirmed this week, there is no malice in this ownership of Wigan Athletic. There's no one saddling the club with debt in the hope that plunging us into administration or liquidation would mean a big pay deal. But there is a board that unfortunately have shown themselves as the footballing novices they are. Numerous football clubs in the 92 operate as we do – relying on a rich benefactor. We have been the only one this season that has failed to pay salaries on time. Not once, not twice, but four times. It is an absolute basic necessity as custodians of a football club to be able to pay your staff and players on time. The faith Wiganers have in the current ownership will have taken an absolute battering this last few weeks. If Phoenix 21 are to remain in charge, there's a lot of bridge building to be done, and it will take a long time until the owners are trusted once again. They will always be thanked for saving us back in 2021, but the last few months have un-done so much good work that has taken place, it's difficult to know how to respond. There have been growing calls over the last few years for an independent voice for fans of Wigan Athletic. Those calls have only got louder in recent weeks and, although we're unsure where exactly we're heading over the coming weeks and months, it's been heartening to see a vast number of fans come together to call for that independent voice. This was shown in the twitter takeover on Tuesday afternoon, declaring that the silence had to end. Thankfully we did have a statement (of sorts) from the chairman after this event. Unfortunately the tweet (and not official statement) was full of warm platitudes again, but low on anything of real substance. The owners and in particular the chairman made 'actions, rather than words' their main focus, and currently it is definitely the other way around. That's the reason why an independent voice for us fans is so important. During the glorious 20 years under Dave Whelan, there was very little for the fanbase to grumble about. In fact, supporters who tried to launch an independent supporters group at that point were derided, which is fine. We as a fanbase had it so good for so long under Dave that it may well have felt like there was little reason to form a supporters group at that point. But with the experience of administration, and the unbelievable pain we went through three years ago, playing itself out on repeat over the last few weeks, I think it's time supporters came together to call for better. It is our club and it is our future. Phoenix 21 are just the current custodians, but there will be a club for as long as people fight for it.