Wigan Athletic: The 12th Man - 'Now isn't the time for sniping at each other...let's get behind whoever is playing on Saturday, and for the foreseeable...'
In the second part of week's 12th Man, our panel of Latics experts run the rule over another quite extraordinary week...including a flying visit from the chairman...
Published 31st Mar 2023, 09:47 BST

- 9 min read
A much-used phrase about watching Wigan is 'just one normal week is all we ask...well, surprise surprise, it's not this week yet again! On the latest episode, it's Talal fronting up to prominent fans - or 'happy clappers', depending on which Twitter camp you're in - for a fans' forum where a gang of ne'er do wells, reprobates and general shysters were invited to ask Talal anything...although 'curry or gravy on a fish?' seemed to be omitted from the questions. Firstly, the lads and girls that did go are all far from 'happy clappers' They've all got very strong opinions about our club and, between them, have spent years championing our club in various guises - Supporters Clubs, written press, podcasts, fanzines - no, it's not the programme, Mr Hodges - radio, TV and any other way possible to get our name out there, and do what's right for Wigan Athletic. Seeing folk moaning that 'such and such was there but I'm not' really shouldn't be an issue for me. These people have put in their time and effort over the years to the club, and deserved the right to 'ask the difficult questions' - and they did. Now we've all seen what was said, and what the answers were, and whether you believe Talal and the directors is up to yourself. By the way, no one could have a pop at anyone who doesn't trust the owner/chairman for now. THEY broke the trust, not us, and we are all rightly heavily guarded about our club. We've been burnt once and don't want it to ever happen again, so tempers are frayed. I will say fair play to Talal for putting his neck on the line, and answering every question that was asked of him. But, in his own words, 'actions speak louder than words', and we need action immediately. The time for words has well and truly passed. Many will be asking the same thing: 'Can we trust them again?' And there's one simple answer. We've no choice but to trust them again, at the minute. I don't see a queue of billionaires wanting to stump up £7million a year losses into any club, not just ours. And who could blame them, with the uncertainty of everyday life at the moment? What we 100 per cent do need now is a period of stability and let the owners regain the trust they've lost. Prove to the fans they're in it for the long haul. And cut our cloth accordingly which, as they alluded to, is already in place for next year. Tougher times are ahead for us all at the club, but so what? We've been through a lot worse, and we've seen a whole lot more than most will ever see. It's our time to take our medicine and see where we end up. So let's ALL get on board and back Shaun Maloney, who I'm hearing spoke brilliantly at the meeting with real passion and drive. If he believes in us, we should do the same in return. Now isn't the time for sniping at each other, blimey, there's enough in our own town for a start than can do that! Let's get behind whoever is playing on Saturday, and for the foreseeable, and let's see where we can go. Because one thing's for sure...we've all been there before, and we did all right! Right, I'm off for a meeting with Talal while he's in a good mood, and hopefully gonna get 'Bow back in the ground...we need it!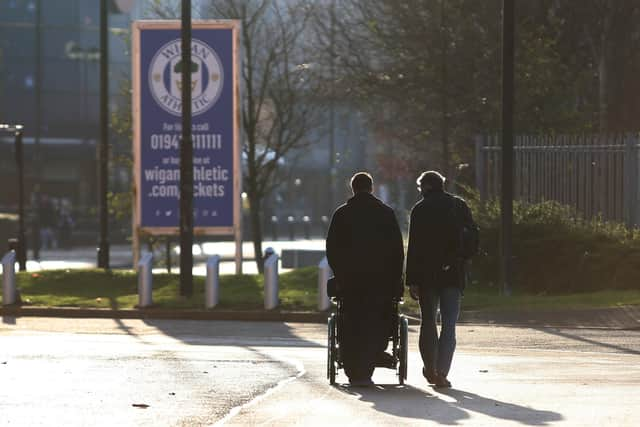 It's a funny old game, someone once said. Well it's not been very funny at the Latics these past few weeks, has it? From late wages, points deductions, players refusing to train (quite rightly imho), through to the departure of the CEO, it's been what can best be described as a farce at our beloved football club. At least now the wages have been paid, and there has at last been some engagement with supporter's groups over the last few days, in a bid to explain the recurring issues that have dogged the club all season. The Wigan Athletic Grievance Society gives a very cautious welcome to the reports submitted by various fans about the meeting that took place on Tuesday evening, at which all board members were present along with the manager. However, we do not yet have trust in the board and its ability to deliver on these promises. It is a case of once bitten (four times in reality), twice shy for us, and trust can only be regained over a long period and continued delivery of the stated commitments. Being realistic, we do not expect any owners to spend almost £8million pounds a year subsidising the club. We are fully on board with any plan that looks to slowly and sensibly grow the fanbase, develop the Academy and root the club in our community. This has to be the way forward for a club like Latics. We need a proper planned model of operation that is both innovative in terms of player recruitment and fan engagement, and also progressive in terms of the matchday experience. There's a glut of ideas that can be put forward, and it's important the board engages with fans to develop these ideas. To this end, the Grievance Society will be throwing its support behind a new initiative to build an independent organisation, representing Wigan Athletic supporters. This is long overdue at our club, and will hopefully offer fans a more democratic structure that will future proof our ability to get organised and hold present and future custodians of our wonderful football club to account, if and when needed. Like any group of people, if we are to progress and develop, we have to learn the lessons of our own history. Our recent history tells us we now need to organise more than ever, and this is what we must do going forwards. If anyone is interested in this idea, please subscribe at https://indielatics.uk/. Finally, I know the chairman likes a quote or two on Twitter, so here's a famous one for him, from us at the Grievance Society: "The revolution is not an apple that falls when ripe. You have to make it fall." Up the Latics.
After some turbulent days of not knowing what was going on with our club, it's nice to have a bit of clarity regarding the situation following on from chairman Talal's meeting with some 'high profile' fans. As someone who doesn't have that sort of clout in the fanbase, I'm grateful for the insight shared on Twitter from those who were present at the meeting. I still don't believe all of the questions regarding the ownership of the football club have been answered, and I'm not the biggest fan of the fact that they had to make a seemingly impromptu sale of an asset of theirs in order to continue financing the football club. I'm glad, though, that Talal has admitted the payment issues prior to the most recent one were internal issues. But it's not really okay to have made the mistake over and over again, given how much the club means to its supporters. I'm somewhat grateful for the apology from Talal, but I'd rather have a stable football club that hasn't been deducted three points, and I'm sure everyone is with me on that. It's also worth taking the time here to acknowledge the bravery of James McClean in the week. As a man who faces a lot of abuse due to his political views, it might not have been easy for him to share the fact he has autism. Good on you Jimmy, and hopefully this can be a step forward for football - which should be a sport that welcomes everyone with open arms. In terms of football, Latics absolutely have to beat QPR on Saturday. Not only are they a very beatable side who we could drag into the relegation dogfight, the clocks have changed and you can smell Easter in the air. That's when the football season begins to matter a lot. It's squeaky bum time now. We've got a manager who will fight for this club, so we can scrap for every point. Come on Tics, leave nothing in that changing room!
What's th' average age of those who support t' Tics? Wi' t' reactions this week, you'd have thought it were six! There's great big grown men going off on a rant, cos they hadn't got an invite (but th' IQ of a plant). Feet stomped and paddied, toys were chucked out of t' cot, an' all cos of an invite that they had not got. They weren't Cinderella, cos they didn't have t' shoe, the one that gets 'em invited to t' do. They shalln't go to the ball, they're not gooin' to t' meet, cos they aren't the special uns, the selected elite. They ha'n't got a ticket, cos they're not t' Chosen Few, (nah, not them as sang Footsee), so they're not off to t' do. But that just isn't reet, they've been gooin' for years, aye, since Adam were a lad (it'll all end in tears). Nay, it just isn't reet, and it stinks like a sewer, you can shove your 'high profile', cos you'll see em no moo-er!
Building bridges? Only time will tell, after the most dramatic (and stressful) three weeks that Wigan Athletic have experienced since administration comes to a close finally there was the chance this week to gain answers (of a sort). After near radio silence from the board for the last month or so the board of directors (minus Mal Brannigan) but including Shaun Maloney gathered along with fans representatives from the various fanzines, podcasts and supporter groups to discuss what had happened over the last few weeks – and try to provide answers to a if not raging lets say sceptical fan base. I said last week that this had been one of the most damaging spells in the history of Wigan Athletic, self-inflicted harm that has quite probably led to our relegation back to League One. The good news is from this meeting between supporters and board that the board realise that. Whether the steps that the board speak about taking to rectify the situation will work or indeed take place – well that's for us to judge, as Talal Al Hammad has said on numerous occasions – actions speak louder than words and more than ever that phrase needs to be used to hold the ownership group to account. A lot was revealed to the group present and those present will be able to go in to the finer details of what they were told and whether they took the board at their word. I think two things that have come out of this whole sorry episode that probably needed to happen regardless is a plan to cut costs, that doesn't mean we bob about at the bottom of League Two for ever and a day. It also doesn't mean that the facilities in the club are cut to the bone. It means that the ridiculous wage bill that was allowed to balloon after promotion is cut, it means utilising more of our own players from the youth academy and it means we're a bit more clever about the recruitment side utilising analysis and data to get ahead in the transfer market rather than the haphazard approach we've had over the last eighteen months. The second is the importance of Shaun Maloney to this football club and thankfully that he seems to actually have faith in the ownership group. If Maloney had walked in the aftermath of the shambles of the last few weeks no one could have blamed him. The fact that he seems committed to the club must be seen as a good thing. If what was said on Tuesday night is to come to fruition then Shaun Maloney is absolutely central to all of that. This season has been an unmitigated disaster and despite the mistakes (huge mistakes) of the owners over the last twelve months we have no option than to hold them to their words. There is no queue of people willing to sink their millions in to Wigan Athletic at the present time, it's not that Phoenix 21 are our best option they are currently our only option. That doesn't mean swallowing every sweet word whispered hook, line and sinker but holding them to those promises via the Indie Latics movement, the various supporter groups and every person young and old who puts money in to that football club of ours. The first big test comes next Thursday when the April salaries are due, once that has been paid we can look to the future with caution but as Talal said the salaries issue simply can't happen again. Once bitten twice shy for Wigan. If Talal means what he says he'll prove it, otherwise there'll be a few thousand angry Lancastrians wanting a word with him. Let's consider this week as an operation in building bridges, building trust will take time. I hope for all of our sakes the owners and board are genuine in what they've said to us.