Wigan Athletic: The 12th Man PART 1 - 'It's just going to take him time to get there, and we've got to give him and his team that time...'
Our panel of Latics experts run the rule over (yet another eventful week) at the DW...a new manager and three more additions to the squad before the transfer deadline...
Published 2nd Feb 2023, 13:29 BST

- 11 min read
Updated 2nd Feb 2023, 13:46 BST
Things you wish they would say but either can't or won't, a non-exhaustive list. Look, we went for a big name but we failed to understand anyone can make a good Powerpoint. We said we were running the club sustainably and we sure well meant it. But that's OK isn't it, Wigan Athletic fans? You don't want your football club to get into the mess it did last time, do you? Amen to that, I say for one. Sadly, the state of the ol' Wigan Athletic timeline on transfer deadline day was a sea of tantrums and hysterics. It's almost as if it was a day created solely with the intention of hyping up new age football fans into an absolute frenzy by Sky Sports, isn't it? While we're on the subject of things they should say...Shaun Maloney should say: I've not got a lot to work with here, I've had next to no money to sign any new players, other than short-term loans, but I'm going to give it a go at staying up, safe in the knowledge I've walked into a situation on day one that is pretty difficult to retrieve, and none of it was of my own making. Back to the board, and in addition to saying 'we have changed manager in order to give us the best possible chance of staying up in the Championship', they should also make it clear that, in the event of that not happening, Maloney will be around for next season, and the season after, to rebuild the club. Possibly not for the full three and a half years of his contract though, I mean let's not get too carried away here. But changing managers so hastily has done us no good whatsoever so far, so it is time to give someone a nice, prolonged crack of the whip. And who better to do it, than the man who gave us our one and only victory over Manchester United, and whipped that ball over at Wembley that made grown men cry and freeze in disbelief? I don't doubt it won't be easy, and there will be times when even the most calm of us might be wondering what on earth is going on. But we need to stick with it now and embrace the return of wee Shaun. As for those fans bemoaning Maloney's lack of experience and somewhat abject record at Hibs, well, yes, he is going to be learning on the job. But that is the position we find ourselves in. I'm sure some of those more experienced, Championship battle-hardened managers might have possibly touched us with a barge pole back in November. However, two months later, with us further entrenched in the mire and yet more noise around missed payroll, then only the brave and/or desperate are going to take on a job that is probably going to end up with a relegation on their CV - unless they can work some magic pretty darn quickly. I, for one, have accepted our demise, mainly because, if we do get out of it, it will feel like a huge achievement. Of course, some fans are already looking to July and a mass exodus of players, but again, it is a lot easier to build a competitive squad in League One than it is in the Championship. And who knows, we might start to see a bit more of that pretty possession football we've been promised? You see, it's win-win for me. I guess we're going to have to continue to have to put up with the noise from the permanently dissatisfied brigade over the coming months, many of whom have expressed outrage and threatened they're 'not coming again' already, following the appointment of Maloney. I notice some have even suggested he downed tools in the Championship in the year or two after we got relegated. Newsflash: I think half the squad did. I'm surprised it took so long. I remember the Charity Shield at Wembley, seeing Emmerson Boyce clobber a long ball down the line, 20 yards over and above Maloney's head, while he turned around as if to say 'what on earth' (polite version) as we were treated to our first dose of an Owen Coyle tactical masterclass. I mean, we were playing Manchester United, so probably had no chance of winning. Except it was Manchester United under David Moyes, when everyone beat them. Except us. Because we had made an even worse appointment. Anyway, angry folk, please get behind the man and stop looking for tenuous sticks to beat him with. Indeed, any chance you can plop those sticks in a nearby river, and perhaps focus your efforts on getting behind the team for the rest of the season instead of moaning about everything.
I digress. I know he is lacking in experience of management. But he is also hardly a failure. He did indeed struggle at Hibs, they just missed out on sixth, but don't they always finish sixth? Also, that doesn't mean he's going to fail everywhere else for the rest of his life. How would you like it, if you were going through a tough period at work or had taken a job that didn't work out and, on that basis, a load of experts on the internet decreed you deserved to be thrown on the scrapheap for the rest of your days? I even think Kolo Toure will re-emerge in football at some point, maybe in some other guise. This just wasn't his time, so back to the drawing board. Both Toure and Maloney have now probably got some positive experience as to 'how not to do it' under their belts now, and the one thing about Maloney which has impressed me, more than anything else, is his appetite for perpetual learning. For us, this means he's learning on the job, and I don't mind that. There's a certain arrogance about a manager, or human being, who thinks they are the finished article. There's undoubtedly going to be growing pains however. Football fans (or chairmen) aren't exactly known for patience, but I hope he gets the benefit of some, given all the turmoil of this season. He strikes me as a quiet, arms-folded, studious man, yes he's going to make mistakes, and sometimes might even to be too stubborn to correct them, putting his own self-belief first, you know, a bit like that other manager we had who went on to do all right. We'll have to be accepting of the limitations of a man learning on the job. What is it that the legendary investor Warren Buffet says about buying things that are worth less than the intrinsic value of their investment? We are taking a punt, but ideally a lot less of a punt than Toure was, which couldn't have been more of a punt if Jonny Wilkinson himself had booted it between the sticks from 60 yards. Whether you agree with it or not, can we at least agree we've gone beyond the point where we can afford to buy and employ the finished article, and we have to take a chance on someone with ideas and potential, rather than tried and trusted but maybe also a little outdated? It either works, or it doesn't. And if it does, then we end up in a far better place. And if it doesn't, then God help us, because we've been on the floor these past few months. My speculative guess is Maloney will turn into an excellent coach in time, it's just going to take him time to get there, and we've got to give him and his team that time. The fact he has brought Graham Barrow back can only serve us well. I can only imagine what his motivational style is like, but I suspect he doesn't suffer fools and shirkers. He also has an unbreakable connection with the club, stretching back over five decades. Again, I know that strangely makes him the bogeyman with that strange section of our support who can find fault with anything. But put the achievements of those coaches and managers who had a connection with the club (Jewell, Martinez, Cook etc) versus those who didn't (Coyle, Mackay, Joyce, Sheridan) and I don't think we even need to debate this any more.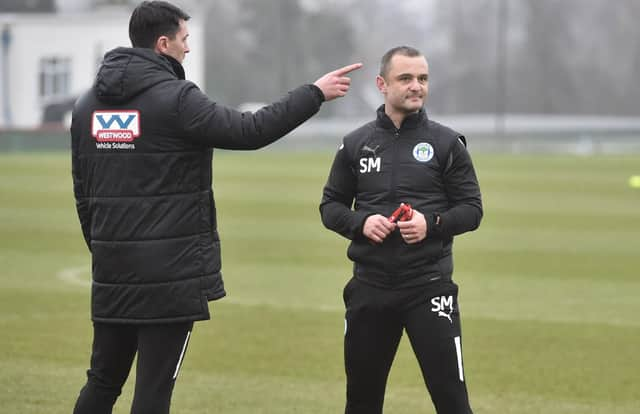 Never dull, is it, Wigan Athletic? The Kolo era is over...mistake, vanity appointment, who can say? But it's consigned to history now. Shaun Maloney is back at the club! Some say he was rubbish at Hibs, so what? He's here now, and initially talking well. I'd now say, whatever happens, give him the rest of the season and the summer to rebuild. The transfer window's shut and, if you look at social media, it's in meltdown for not having signed this player or covered that position. But six bodies through the door is not a bad window for me, and they can only be judged on performance from now on. So massive good luck to Shaun for the rest of the season. Stay safe.
The managerial merry-go-round at Wigan Athletic is turning once again. Their latest casualty, Kolo Toure, lasted for nine winless matches over the brief period of 59 days. This must be a club record for Latics? Not even Roman Abramovich was this ruthless! The board (despite being seen as inept and clueless) are acting more like assassins, rather than a responsible ownership, with the best interests of the club and its fans. I had reservations about Kolo's appointment. At the time, Latics were already in trouble, they needed a manager of proven calibre, experience and nous to turn their fortunes round. This was not the time, nor the place, to be breaking in 'newcomers' with no managerial experience. There are probably those who are already rejoicing about his dismissal and are dancing on his grave. I don't feel comfortable when a manager loses his job, but football is a results-based business and is ruthless when it comes to failure. There is no hiding place from the axe, when the results don't go your way. I cannot fathom why the Latics board firstly sacked Leam Richardson, after being given a renewed three-and-a-half-year contract and then, having gone to great trouble to replace him with Kolo Toure and his backroom staff - also with a three-and-a-half-year contract - get rid after 59 days! They really have taken over the DW asylum. Ex-player Maloney has been swiftly appointed on (wait for it) a three-and-a-half-year contract, which makes me think this had been planned before Toure was sacked. The club must have money to burn, if they can afford to offer lavish contracts to managers, only to dismiss them in the space of less than three months! I am also concerned about Maloney's CV as a manager. Sure, he has been involved at some big clubs, but his track record is hardly anything to boast about. His only managerial role was at Hibernian, which lasted four months, where they won six out of 19 games, then he too was given the boot. This hardly looks like the appointment of an experienced manager, who can be entrusted to guide Latics away from the prospect of another relegation from the Championship. I really hope I am wrong and this time the board has got the right man for the job. Former Latics players such as Paul Jewell, Roberto Martinez, Gary Caldwell and Paul Cook all enjoyed success during their time at the helm. The new manager needs to hit the ground running, in a way Toure failed to do. Latics have another 18 games left, so there are still plenty of points available to turn this round. Another important factor in our favour is the clubs directly above us are also struggling and have not yet opened up a gap and can still be caught. One of those teams, Huddersfield, arrive at the DW on Feb 11. A good time for the Latics to get off to a winning start, as well as three valuable points?
Aren't we a negative bunch! I've seen some drivel on social media over the years, but this past month has driven me absolutely insane. There's some strange characters around who seem to think they know better because they spend all their time in their bedrooms playing football manager! The abuse I've seen certain players receive is embarrassing, by all means have a moan but don't get personal. Mention to PK, he can only go off what he's told, he's no doubt been working silly hours over deadline day and beyond while also supporting a family. Again,.don't get personal (he's not paid me to write this BTW! ) The transfer window may not have gone as we hoped, but it's done,i t's over, it is what it is. The depressing Kolo era is over, the Maloney era begins, already from socials I'm sensing morale is improving. Let's get behind Shaun and his staff, let's back the team, Blackburn away looks to be getting a good following, as per, and that doesn't surprise me. We moan and rant but give a good away following. Safe travels to you all going, good luck to the Tics, welcome back Shaun!
January was actually an okay window, we are certainly a left-back short, but whatever will be will be. I can't help but think we definitely went up too early, shot our shot too quickly. If we'd come, say, eighth last season, and were now near the top of League One this season, the feel-good factor would be here, we would be targeting the correct players and, most importantly, in the summer our best players would certainly extend deals. Moreover, we could also release all the players who aren't at the level required, and come into the Championship much better prepared. All hindsight, but still an annoying thing us fans think about. I'm pretty content with the January signings but, most intriguing in Danel Sinani, he's an inverted winger, which seems like his only position. So given his ability, you would assume he will be played at right wing, so where does this leave Callum Lang? Sinani was a last-minute 'Maloney signing', meaning the manager must fancy a 4-2-3-1 or variation with two inverted wingers. So may see Lang move up front or from the left, and we may even see Anthony Scully as, from the little I've seen of him, he is in the mould of Sinani. Those two on either flank could work wonders. Oh, and, HUGHES FIVE-YEAR DEAL, GET IT SORTED!
The memories of goldfish have some of our fans, by the way they would spend all our dosh. They forget that we very nearly didn't exist, when they come out with all of their tosh. '£350k's peanuts' is a novel kind of view, when it comes down to buying a new player. 'If we can't afford that, then we shouldn't be in t' league', is the view of a blinkered non-payer! Not two years have passed since we nearly went bust, before rising from t' flames so to say. And now some are back to berating the owner for how much is too much to pay. It's the natural reaction for some Latics fans to have someone to point at and blame. But some of 'em favver a windmill wi' t' way that they wave their arms every damn game. The players, the manager(s), the owner, the board, aye all of 'em cop for some stick. But twas ever thus and forever will be, the 'eternally miserable Tic'.