Wigan Athletic: The 12th Man - 'The dark clouds haven't completely cleared from above the DW, but the torrential downpour has ceased. A little bit of sunlight would go a long way for a lot of us...'
In the first part of this week's 12th Man, our panel of Latics experts run the rule over another quite extraordinary week...including a flying visit from the chairman...
Published 30th Mar 2023, 11:48 BST

- 9 min read
Updated 30th Mar 2023, 12:48 BST
I was fortunate to be invited to the meeting this week, between the Latics board and several fans' groups. This will be a brief(ish) summary of what I took away from the meeting. Others, I am sure, may have slightly different views or heard things in slightly different ways, but I think most got the same basic message from it. It's important to point out that at no time did Talal or other board members seek to blame anybody but themselves for the unfolding fiasco that we've had to sit by and watch during most of this month. They accept that significant mistakes were made, and that there was a level of naivety shown all round, in failing to recognise the very nature of running a Championship football club, and how different it is to 'normal' business. Talal also reiterated the ongoing commitment to the club from Mr Al Jasmi, pointing out a five-year plan is being finalised. One that will take the club much closer to self-sustainability. To allow this to happen, funding from the sale of a property asset has been ringfenced to offset losses during the five years, and ensure there are no funding mishaps, especially surrounding wage payments to staff and players. There are also big hopes for the Academy, and the talent coming through.
This is an important point, as we have an aging squad, and money will clearly be limited if we really do want to be self- sufficient. Not just for buying players, but for paying those good enough to demand high signing-on fees or wages. It was said we won't be a selling club, exactly, but that we may need to be practical from time to time. Ticketing problems were acknowledged, and plans are in place to replace the current system as soon as the contract expires. On a purely practical level, this has been a massive problem for two years, so it does need to be done sooner rather than later. Shaun Maloney was hugely impressive. His passion for the club, and his commitment to make us better at every level, is obvious. There are short-term problems because of the things mentioned above, but there is a plan in place to get past those and start to move on. He acknowledged what we all know, about areas of the pitch that need improvement, but also said he is happy to work with the current squad for as long as is necessary to start the new building phase. Overall - and let's be clear, and say promises need to be seen to be fulfilled - things feel a lot more optimistic now. There won't be a lot of money to spend, especially until the finances are stabilised. But I'm fairly happy that the owner is fully committed to Latics. Only time will tell me if I'm right or wrong..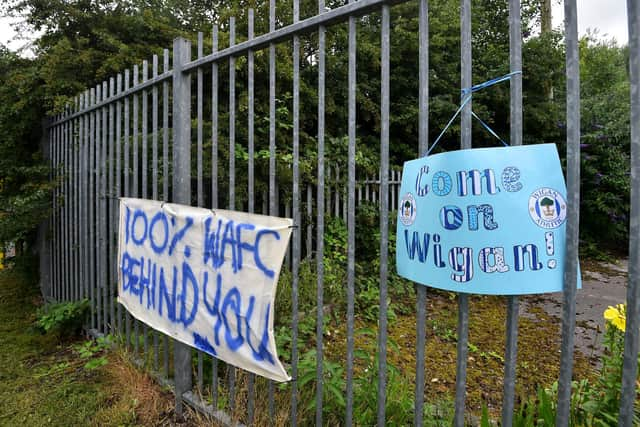 Players down tools, wages finally paid, chief executive gone, and fans' groups meeting with chairman. Well, that was a nice and relaxed international break, even by Latics standards. So what I can gather from the people I know and trust from the meeting is that massive mistakes have been made, naivety coming into English football and how to run a football club, and hopefully lessons learned the hard way. Going forward, looks more positive than this time last week although, again, actions will speak louder than words, so wait and see. Talal looks totally committed to the club and, with money in the bank from a property sale, there should be no issue with wages for the rest of the season. Directors and manager look to be singing from the same hymn sheet, with Shaun Maloney looking to go back to developing young players to sell on for profit, which can only be a good thing. Now hopefully we can give a good account of ourselves on Saturday against QPR. I'm cautiously optimistic Talal can deliver a stable football club going forward at whatever level we play. Stay safe.
If a week is a long time in football, it's an absolute age where Latics are concerned. I feel like I've just jumped off the roundabout in Mesnes Park while it was going at top speed*. As hinted at in last week's 12th Man, Independent Latics launched a 'No Plan/No Ticket' campaign last Thursday, again to overwhelming support. The players then stated they weren't prepared to train with the club until they were paid. Friday had everyone on tenterhooks, waiting to see if the players' wages went through, which they did, and an open letter from the chairman also appeared on the club website. The sigh of relief from Latics supporters was audible at least two bus rides away but, while the chairman's message was welcomed, it had precious little detail – particularly around what the future held. Talk of 'new models' is all well and good, but what about the next set of wages, due in less than a fortnight? Looking towards next season is brilliant, but how is the club going to get to the end of this one? We wondered what reaction it would get, and expected a few 'well they've been paid now, what are you moaning about?' type comments, but our decision to press on with 'No Plan/No Ticket' was justified. In the first couple of days, we had 500 season tickets pledged to the idea that supporters weren't prepared to hand over the hard-earned cash until we understood how the club was going to be run, and assured that the owners were prepared to back that plan. While we would never claim our campaigns had led to the wages being paid, they had made supporters' voices heard, and were 100 per cent behind us being invited - along with other representatives of fan groups - to meet the chairman on Tuesday evening. There are a lot of accounts online, so I won't go over the details (Paul Kendrick's article in this publication is probably the most detailed and the best starting point if you haven't read anything yet). But suffice to say, everyone who was in the room came away more certain that our club had a future in the hands of Talal.
Equally, the board knows, in no uncertain terms, they will be judged on their actions - and that the road back to them having supporter's trust may be a long one. While Independent Latics are cautiously optimistic about what was said during the meeting, we know supporters will want us to remain vigilant as those plans are implemented. We also need to make the most of the momentum and support we've received over the last week or so, and are putting plans in place that will hopefully see a democratically organised Independent Supporters Organisation formed in the near future. Tuesday's meeting clearly demonstrated the club's willingness to work with an organisation like that and to listen to the supporters' voice. You achieved that, so well done. The other real positive to come out of Tuesday's meeting was listening to Shaun Maloney's vision for the club. His backing of the academy gave the impression Latics have had Mr Whelan's Bentley sitting in the garage while we've been driving around in Roman Golobart's VW Golf. The work Gregor Rioch and team have done there is amazing, given the turmoil at the club, and the idea it will now, finally, be the cornerstone of moving the club forward is something everyone will be able to get behind. Shaun has got exciting ideas for the next few years, let's hope we get to see them come to fruition. Keep the faith*it's probably not advisable to try this at home kids, even with all health and safety you have these days.
We've reached the end of a tumultuous month and, to our relief, we haven't seen the absolute worst-case scenario play itself out. Wages have been paid, Talal is back in Wigan putting out fires, and actual football will return to action this weekend. Tuesday night offered an opportunity for select fans to have a Q&A with Talal, Shaun Maloney, and other board members.. The reports that were shared afterwards, coupled with the positive sentiments from the attendees, provided a bit of good energy that was long overdue. Let's make no mistake - all has not been completely forgiven from the past 10 months. Critical responsibilities have been neglected and the fall-out from our shortcomings has agitated the playing squad, fractured the fanbase, and significantly reduced our chances of finishing this season on a successful note. There was obviously a large learning curve for our owner and board when they took on a new venture of this magnitude. The prospect of immediate glory took priority over long-term sustainability. We've been punished in multiple ways for essentially moving too fast while en route to our destination. However, after Tuesday's conversation, we finally have some clarity on how and why things went wrong, and accountability has been taken by the appropriate parties. The open responses were greatly appreciated after a long period of radio silence while things were falling apart. We are still very much in a period where the club needs to 'show, not tell' how they will deliver on promises for the future.
Some fans will take longer than others to regain trust with the club, and that is okay. However, if you look at some of the alternatives of where we could be at this point in time, most notably in administration, you'd have to acknowledge that the short-term prognosis is far from catastrophic. We have a manager and core group of players who are committed to the club should we stay up or go down. The board has communicated a philosophy for slashing the wage bill, better integrating our academy players into the first team, and creating a younger squad where more players can be sold for a profit down the line. We are at the point where just 'getting to the Championship' has not proven to be the grand solution to all problems that ensures our upward trajectory towards sustained success. We may need to take a few steps backward from a wins-losses standpoint to allow younger players the opportunity to develop at the senior level. But the long-term pay-off could be far greater than what our current operating model allows. The season is not over, though. Eight cup finals remain and our next opponents, QPR, are as vulnerable to defeat as any other side we've faced this season. The lads still deserve our full support regardless of whether there's a 5 per cent or 95 per cent chance we stay up. The dark clouds haven't completely cleared from above the DW, but the torrential downpour has ceased. A little bit of sunlight would go a long way for a lot of us.
How do we even begin to round up the last couple of weeks? Help yourself to a strong beverage, it's another bumpy ride… Once again the fanbase displayed a united front similar to that of the administration period when a call to arms was requested in solidarity with the players downing tools at Christopher Park last week. The lads collectively decided to opt out of regular training until their wages - two weeks late, and for the fourth time this season - had been paid. A joint statement to the fans was released as the squad thanked us for our support during what they described as a 'difficult period'. The same day the players were indeed paid their outstanding salaries with another promise this would be the last time that it happened… Oh, and CEO Mal Brannigan got the boot. Chairman Talal Al Hammad arrived in Wigan earlier this week to address the issues with representatives of fan groups in attendance. Overall, the feedback seems to be mostly positive. By all accounts, Talal was very open and answered some difficult questions as honestly as he could. He confessed that a property in London had been sold for a decent sum in the region of £33million in order to cover the costs for the rest of this campaign, and plans have now been put in place to make the club more financially stable going forwards. He reiterated the club is absolutely not for sale, and Phoenix 2021 Ltd are completely committed to Wigan Athletic. Admittedly, fans will remain cautious at least for the time being, but overall I'm quite happy with what he's said, and willing to give the ownership group a second chance to make things right. He's said a lot of positive things and I'm now, finally, optimistic about the future of this club. That's not to say everything is forgiven and forgotten, but I'm willing to give the benefit of the doubt for the time being. After all, actions do indeed speak louder than words. With the off-field issues seemingly on their way to being rectified and the lads back in training, we can focus on the actual football, and welcoming QPR to the DW on Saturday. In all honesty, I just want these last eight games done and dusted and this season to be over. I'm past caring where we finish in the table. And I'll happily take two or three seasons back in League One if it means a stable and steady rebuild. But whatever squad, whatever division, whatever the situation and whatever the weather, as always and forever...Up the Tics!