Wigan Athletic: The 12th Man - 'The longer this goes on, the more we seem to be turning on each other, while the real perpetrators of this crisis have mostly walked off into the sunset...'
Our panel of Latics 12th Men are struggling to comprehend what's happened to their club - but include a call for an end to the friendly fire among the fanbase...
Published 18th Sep 2020, 10:36 BST

- 15 min read
Updated 18th Sep 2020, 10:40 BST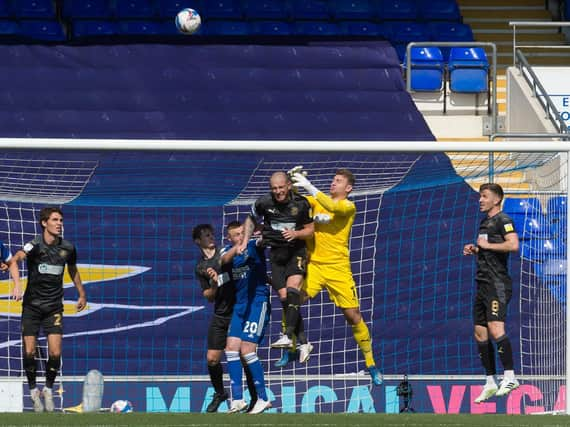 May I make a small request via this column to some of the fans of Wigan Athletic at this stage? I will call it a request as I am going to try and get through this piece without provoking anyone whom the request may be aimed at. My request is a simple one: Can Wigan Athletic fans on social media please stop putting the boot into other fans, groups or individuals who are trying to do something to help save this football club? In some senses, I am in a fortunate position. I have been one of the editors of a Wigan Athletic fanzine for 20 years and just occasionally it has its perks. I don't take a penny out of the currently defunct sales we make and I must put in up to 30 hours a month of my own free time to do it. Trust me when I say the effort far outweighs the benefits in general. Nor am I soliciting for thanks here. To be honest, I am no different than anyone else who blogs or does stuff online, and I am no different from the very many Supporters Club committee members, who generally give up time for free in normal circumstances. I know for a fact a few of them are working all the hours available to try and find a solution and save the club. Coming at it from a different angle, I know some fans are unhappy with the more direct approach taken by the Wigan Athletic Grievance Society. But they were unhappy with the actions of the administrators, they took action and held a peaceful demonstration to highlight this. More power to them. They are doing something to bring media attention to our situation which needs resolving urgently. The latest episode happened on Thursday night and concerned popular Wigan band the Lathums and their bid to "do something" to help the club. This was met by lots of praise, but also a fair sized helping of criticism. "They're just bandwagon jumping"..."why has it taken them so long"..."they're just doing it because another band (the Stanleys) are doing a gig at the DW". All this was said before it was even announced what they were doing. Now around SIX WEEKS ago, a chap from Manchester – who I know from the fanzine scene – got in touch and told me the Lathums wanted to do something to help the club. Due to the fact they have a record label, a camera team, a press agency and, oh yes, there's a global pandemic going on, it took a few weeks to organise. So there you go. I appreciate those cynical voices on the internet will now say "well I didn't know that", but why are we so quick to leap to negative assumptions? Why can't we just be grateful people want to help us instead of flinging wide of the mark criticism? There's no bigger sarcastic cynic than me, but some things going on right now are much bigger than that, and sadly the early days of being 100 per cent supportive and proud of each other and our collective fundraising seem a far way back. The longer this goes on, the more we seem to be turning on each other, while the real perpetrators of this crisis have mostly walked off into the sunset. It somehow needs reversing as it is helping nobody.
Back to the Supporters Club, and I have had my differences with them myself in the past, as I occasionally have with the club itself over the years. The fact I have to make this disclaimer first to try and absolve myself of accusations of being a "club puppet" or someone of limited intelligence, who is easily manipulated, is itself a sad state of affairs. I've been giving up my time to write about the club, total independently from the fans' perspective for decades, and take no reward from it*. It is generally a thankless task, much like being a Supporters Club committee member I imagine. (*OK, maybe I had the odd stadium tour recently with a local band as per above, but I had to make all the phone calls, liaise with record labels, ring pubs in Wigan, organise fellow fans.) In short, like everything going on right now, doing a lot of work which nobody sees. Of course, as nobody can see visible progress, then the assumption is that nothing is happening. Even if it does happen and you don't agree, then you should perhaps get involved and see how you can help, or change things, rather than sitting on the sidelines and criticise. Regardless of how this pans out, we will need a stronger voice, and the Supporters Club are the biggest single group we have to deliver that and would no doubt welcome new voices and ideas. Maybe that is the problem. Because information is sparse, speculation and finger pointing is rife. And I completely get that. Your average fan on the street sees £850k of money raised and nothing happening with it, with the only information we are getting being drip fed by a Sun journalist and contradicted by the administrators. Nobody can see how much time and effort many parties associated with the club are putting into the process. And trust me the difficult questions ARE being asked and the Supporters' Club representatives AREN'T giving away that large sum of money everyone worked so hard to raise. It is just…difficult….for all parties involved. Somebody is hopefully be going to buy a football club, they are not buying a pint of milk. If it seems painfully prolonged and difficult, that is because it is. I've been involved with takeovers and buy-outs in the past, and there is no unrequited love and no absence of egos getting in the way of common sense, and we are in the eye of that particular storm right now. Turning on each other and accusing people of having other motives won't solve anything.
Here we go again: We all knew it was coming didn't we? As soon as it was announced that a measly 1,000 fans would be allowed in to watch football again, another round of arguments and one-upmanship as to who is more deserving. In many ways, I'd rather not get a lucky ticket, purely as I might face accusations that I was a chosen one. Plus, personally, I really have little interest in watching my football club until a new owner gets put in place. We are treading water and still may sink. The more immediate goal of saving the football club is a million times more important than watching us in the flesh play the odd game. We are on life support and I want to look 12 months down the line, when the ground is full again (well, full-er!) and we as fans can gather and celebrate once more. So with that in mind, and with newly-available spleen to be vented somewhere, can I point out that if there are fingers to be pointed, then there are only three groups responsible whom they should be aimed at: 1. Stanley Choi and Au Yeung for putting us in this position; 2. The EFL, for letting them do it; and 3. The administrators, who appear to be making a right hash of things to put it politely, given the many contradictory statements we as fans have been faced with over the past weeks. With any luck, there will be good news by this time next week (copy and paste ad infinitum until there actually is)...
Writing this the day after the sad news that Macclesfield have been wound up, and the interview with Paul Stanley in the Guardian newspaper. It doesn't fill me with hope of an optimistic outcome. Now on the pitch, what a great performance from the team at Ipswic. A bit more composure in front of goal we could have won it on another day. These young lads need time to gel with the experienced lads in the team. Playing behind closed doors could actually help this with no one to get on their backs. Stay Safe.
The losing feeling had become unfamiliar as a Latics fan. Aside from our humbling trip at Brentford in early July, we hadn't lost another league match in over seven months. Looking back on the Ipswich match last Sunday, the closing minutes could not have gone by fast enough. The losing result was in place and it would've been very easy to sink into a position of self-pity reflecting on the ever 'unforgiving' nature of our club's situation. Yet, a glimmer of hope remained inside of me and slowly grew as the week went on. We've re-entered League One at the best and worst of times. Every advantage we had during our last two campaigns – on the pitch, in the stands, in the boardroom and with our backroom staff – has seemingly escaped us. However, we are also in a division where no chairman will likely predict again that their club will 'smash the league with 100 points'. The playing field has levelled like never before – and that is why we can still have a successful season. Ipswich Town, despite their most threatening moments, did not wow me. They grew increasingly dominant in their attacking third as the match went on, but that should come as no surprise given the makeshift set-up of our defence. I would argue that if you added one more senior player to that Latics line-up, and slotted them into a key position, our chances of getting a result out of that match would've dramatically increased. Sunday was a welcome reminder that there are plenty of points to be had in this league – even while playing against established sides away from home. We have a balanced squad in some aspects. Every position group features at least one senior player who is not only an established talent at this level, but can serve as a mentor for an emerging newcomer. Players in this squad have proven goals in them, have exhibited the ability to put a string of clean sheets together, and have put in many resilient performances when faced with adversity. Now it's on John Sheridan and these senior players to integrate our first-team rookies into a team culture that promotes pride, unity, and fight. Hopefully on Saturday, Danny Fox and Josh Clarke are both fit to steady the right side of the defenc,e and Kal Naismith can move forward to a natural attacking position. With the rest of our first starting XI having that extra little experience under their belts, the expectation should be to start off our new home campaign with three points against Gillingham.
"You can't win anything with kids"……. Alan Hansen 19.08.1995. That famous quote came back to haunt him when on May 4, 1996 Manchester United went on to win the Premier League. On that August day in the Match of the day studio, host Des Lynam,, opened with comments of "Well Manchester United were scarcely recognizable from the team we have known over the last couple of seasons, what's going on?" Fast-forward 25 years and these words could have be repeated on the EFL show on Quest. The Wigan Athletic team that went out on to the pitch at Portman Road on Sunday had one sole survivor from the team that faced Fulham on July 22 – Kal Naismith. The rest of the squad was made up of seasoned professionals such as Joe Garner and Gary Roberts, free signings, and juniors. The Academy has come a long way in recent years, producing great talents such as Joe Gelhardt, Jensen Weir and Alfie Devine. All of whom have now moved on to pastures new to try and help save the club by bringing in a fee for them. Sunday saw league debuts for a number of players from our academy, a proud moment for them and their coach Gregor Rioch, who must have been like a proud dad, Much like Sir Alex Ferguson did the day he handed debuts to the class of '92. Did the first match of that season go well for United? No. Were they written off straight away? Yes. Do I think our kids are ready? No (four foul throw-ins proved that point). Do we have a choice?. Not really. Do I think we will go on to be crowned champions of League One? Probably not. However, I do believe we are where we are for reasons beyond our control, and we have to move on from what's happened. We cannot become a hard luck story. We can not continue to be poor little Wigan, we have to start digging in. So let's forget about off-field politics for a bit and concentrate on the task in hand – winning football games. This squad is hurting and is heartbroken as much as us fans. It is wounded, but you know what they say about a wounded heart: "A wounded heart is like a wounded lion, it is stronger than ever" – Joysha Mohan. That could be said about the football club. We will come back from this stronger than ever. We will stand united on the terraces once again. AND WE WILL support our club, because you know what, Sam Morsy was right: 'We are the club's biggest strength and we will keep fighting to ensure our club enjoys better times soon'. In the words of Roberto Martinez, 'Sin Miedo'.
Football is broken. It's a view that's been shared among fans at the lower levels of football for some time and something needs to change. Clubs entering administration has almost been accepted as normal behaviour, especially when you consider that 40-plus clubs have been in administration in the past 20 years. With Macclesfield being wound up on Wednesday, it's a disgrace it got such little attention in the national media. I had to scroll down maybe 3-4 times on the football page of the Sky Sports mobile app just to find their article on the subject, and even that was a short piece which brushed over the issue as though it was a non-story. This is a club that had been playing football since 1874, and suddenly they're gone. Frankly, it's a joke how the mainstream media seemed to not even care, so long as the focus on Jadon Sancho and Gareth Bale ensures they maintain their viewing figures. I'm certain more clubs will follow in Macclesfield's path and something needs to stop this from happening, otherwise clubs being wound up will become the new norm that administration has become. Football can be fixed, but personally, it would need to look completely different from what it does now. Fan ownership, with the aim of long-term club sustainability, needs to be a huge focus in the future and clubs being reliant on wealthy owners needs to stop. It's wishful thinking though, the sport is all about money at the top and the greed of the Premier League will drive more community clubs out of business. What is it going to take for the FA, Premier League and EFL to all get together to sort out this crisis? Two, five, 10, 20 clubs to go out of business? While the power is with the Premier League clubs and the television companies offering multi-million pound contracts for TV rights, it's going to take something very big to really turn the tide on the subject. I'm hoping it's not Latics that end up in court like Macclesfield and now Southend. I don't think it will be but, when you see that one of the administrators has spoken out in a national newspaper suggesting it may be possible, it makes me more frustrated and angry at the whole sorry situation we find ourselves in. It seems as though the administrators enjoy having the spotlight on them, which makes me question whether they are in any real rush to sell the club? Their fees continue to rise day-by-day, so why would they prioritise a sale when they can continue to profit from being at the club, and drag the process out for as long as possible? I don't think we'll see the club sold until the administrators feel they've gotten as much money out of the situation as they can, and I'm really worried this mess is going to drag on for months. It's starting to feel like a nightmare that will never end.
We started the EFL season. That is the first bit of decent news for a while and, while we are still deep in the mire, at least there are now some games to take away some of the weekly pain. I thought the team performed quite well last week given all the upheaval and, on a better day, we might have scored a couple of goals and nicked something. But in the end, we came away from Ipswich with no points, apart from a bit more experience in the legs of the younger players...got to take all the positives we can right now. I don't even know where to begin with Krasner, Stanley, and Watson over at Begbies, and the way they have conducted themselves over recent weeks. They are a team of individuals with mixed messages, stock answers, and general statements that don't inspire hope for a successful outcome for the football club at the end of this. Not that I expected much more – they are here to do a financial job, nothing more. They have no interest in Wigan Athletic or the town – emotions and sympathy don't come into it. It's stark, it's ruthless and ultimately it will either save us or finish us. It has become tiresome and it makes you weary, but you have to keep getting involved, in whatever ways you can. As a group of fans, we need to make sure we have done everything we can to try and save this club. For another week at least, we fight on.
Another week passes by, another week full of conjecture and misinformation surrounding the future of Wigan Athletic. Late on Friday evening, confirmation we could indeed begin the season was announced after the EFL had granted the administrators' request. Thanks Rick, we're truly humbled you're letting us play again (roll eyes emoji). Later that evening, John Sheridan was confirmed as our new manager, with Leam Richardson staying on in the assistant manager role he took under Paul Cook. The summer to end all summers was complete as Cook joined the pundits in the Sky studio to preview and report on Latics opening match at Ipswich. If we felt it strange seeing Cook reporting on Latics while John Sherdian stood in the dug-out, spare a thought for the manager who had finally got us to click in the Championship, and still couldn't help but refer to his former club as 'us' and 'we'. Before the match, we finally heard from Dean Watson, the seemingly silent partner in the trio of administrators from Begbies Traynor. This despite the Supporters Club being informed no administrator would be travelling to Ipswich. In fairness, Sky's line of questioning was excellent and showed a decent level of knowledge of what has happened at Latics throughout the summer, Sky showed the player departures through the summer and asked Watson whether the firesale was 'absolutely necessary?' Watson managed to trot out the same line Krasner has for the last eight weeks, saying 'four or five bidders are interested' and we could be in a position to exchange contracts this week or they could all walk away. Some fantastic clarity there, eh? The waters were further muddied this week as MBuzz Sport – a Saudi linked investment firm – were set to conclude a deal for the club...and then 24 hours later weren't. He also said he 'didn't expect any movement for the club this week, but they could sign contracts on Friday'. Once again, some startling clarity there, and if hearing from two administrators wasn't enough, we got the whole trio on Wednesday evening as Paul Stanley spoke to the Guardian. Managed to imply Latics could go the way of Macclesfield. Stanley also explained he meant there would be no firesale if we remained in the Championship. I mean, of course, who would have thought that (Stanley also said it would be easier to sell the club in League One back in July so, y'know).
Once again, confusion reigns supreme at the DW Stadium – we all know it's a game, but it's a game that I've tired off. A game that needs to end as soon as possible to allow us to have any chance this season. On the pitch on Sunday, literally a shadow of the side that finished the season against Fulham just seven weeks before performed admirably at Ipswich. With seven full debutants it was never going to be easy but, apart from two defensive slip-ups, Latics could well have earned a point. That won't be enough across the season but, if we manage to bring in some players soon and resolve the ownership saga, we may have a chance of at least staying up. But like everything, time is of the essence, and we've very little of it left. Michael Jacobs along with Sam Morsy became the latest players to head for the exit door, and as disappointing as it was to see Morsy go I feel the departure of Jacobs is even more damaging. Morsy was always going to leave once we were relegated, there was no way he would play in League One. But Michael Jacobs is perfect for League One and, after being part of two title-winning sides previously, he could have been so important for us this season. The fact he's moved to a rival in our division makes it that more frustrating. It's five years since we signed Jacobs and his departure, along with Morsy, feels like we've closed that chapter in the club's history now. So it's on to Gillingham on Saturday, a still supporter-less DW will welcome John Sheridan for the first time as manager. With a full week on the training pitch with his new players it'll be interesting to see what kind of style we play on Saturday. Sadly until the ownership situation is resolved, it just feels like we're sat in limbo on all fronts.