Wigan Athletic: The 12th Man - 'We are at the mercy of the EFL once more...so we are probably best to consider the decision from a win-win perspective, rather than lose-lose...'
Our panel of Wigan Athletic fans have their say as the EFL decide whether the give the green light to the Spanish bid - and Latics slump to the bottom of League One...
Published 6th Nov 2020, 08:56 BST

- 14 min read
Updated 6th Nov 2020, 10:14 BST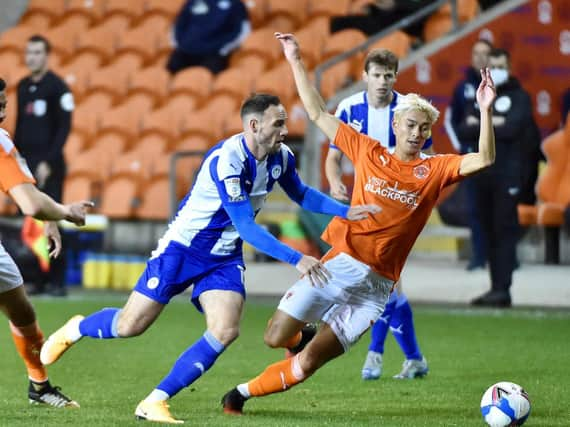 On the field, things are going about as well as anybody with an ounce of realism might have expected. As it happens, I do think we're better than bottom four, but a small squad full of kids and loanees was always going to struggle. I don't think John Sheridan is the man to lead us, if I'm honest, but our hands are still very much tied in every practical way by the snail's pace of the takeover. We found out this week the papers have now been submitted to the EFL for their consideration. The odd thing is we were told – by Begbies, over a month ago – it would all take no more than three-to-four weeks. That there has been no real outcry about yet another delay is telling, and says a lot about the current slightly worn-out mood around the state of the club at the moment. Another possible reason for the delay is that the prospective owners have been in some sort of Dragon's Den type of negotiation with the Supporters Club. Despite nearly £900,000 being on the table, the Spanish team offered just four per cent ownership in return. That would value the club at about six times the actual buying price just a few weeks ago. Now I might be more Milton Keynes than Maynard, but even I know a club which has no means of regular, sustainable income, and which is stuck at the bottom of League One, doesn't appreciate in value. Fair play to the SC for sticking to their guns and walking away from what is about as insulting an offer as would be possible in the circumstances. Every time I make one of these contributions, I talk about hoping for a swift end to the takeover shenanigans. And yet, week after week, the shenaniganing just rolls on relentlessly. The day it does become finalised, we might all be too fed up to even notice. But, until that day, all we can do is hope for the team to try and stay in touch with the rest of the division until Christmas. Assuming we do have new owners by then, we can at least look to strengthen the squad. There won't be any money to spend, but we'll at least be free of the restrictions placed on us by being in administration, and we can try and get decent loan players and free agents. All this is easier said than done, I know, and the EFL aren't helping anyone – especially Latics – by appearing to want to get all 46 games in before Christmas. With the squad we have, it was always going to hurt us much more than other clubs. But we are where we are, and we're stuck there for now. There is light at the end of the tunnel, albeit a fairly low wattage one for the time being, but giving up isn't an option. We insist defying the odds is in our DNA. We've beaten the bookies before, so let's not surrender just yet.
I have tried to stay out of commenting on the ongoing ownership saga, because a little knowledge is a dangerous thing, and the ongoing rumours which keep blowing up, do nobody's health or sanity any good whatsoever. Can we call it a 'saga' at this stage? Well, yes and no. Yes, because of the length of time it has dragged on, and the very public disagreements between the administrators and a certain national journalist. Yes, because of the reaction that this provokes among the fans. Yes, because a football club is unlike any other business. You not only have employees and shareholders whom you are accountable to, you also have thousands of passionate "customers" demanding constant updates too. I hate describing fans as customers because they are not that. For example, if Asda were rubbish, customers would go to Tesco instead or even a different supermarket. You might be a customer of Amazon, but you don't walk around wearing an Amazon employee's replica shirt and bobble hat. You might use Google as your preferred search engine, but you don't go around social media making fun out of Bing or Yahoo fans. Might start doing that, just for the LOL's mind you. It is good and bad that football fans are not passive consumers. It means we demand constant information and refuse to accept second best. However, we are relatively powerless in modern day football, precisely because football clubs ARE multi-million pound businesses, and it is impossible to have influence without money. Of course, the combined effort of fans can affect this, in normal circumstances. By boycotting support or merchandise, like they do on the continent, but it requires consensus and mobilisation, and has been proved time and time again, when you've got two Wigan Athletic fans in the room, you've often got an argument. Every fan sees it as their football club, and they want it run their way. Yet to contradict my opening gambit: this is not a saga, when you make a parallel to any other normal business. Takeovers take time, egos are involved, different parties come and go, then there are difficult negotiations and endless scrutiny and judgement. And rightly so, where large sums of money are available. It just doesn't happen in the public eye, and in most takeovers, even financially listed ones, there simply isn't the clamour from their customers demanding it. Otherwise, this is perfectly normal in a major business transaction and even for an administration. As damaging as it is, we haven't even been in administration for half as long as many other clubs. I have a lot of sympathy for the handful of the unpaid volunteers of the Supporters Club committee, who have also taken untold stick from the fans for their lack of disclosure. That disclosure simply can't happen until anything is formal, even though it becomes a bit more precarious, as they are representing fans' money. There appears to be a few fans on social media who are intent on creating a 'them and us' mentality and stating they are acting in their own interests. All I'd say is that if you feel that strongly about the way they are operating, then I suggest you enquire about joining the committee and help to influence and improve YOUR Supporters Club, rather than continually throwing stones at them from the outside. In summary, though, I suspect they'd have been hung out to dry if they had accepted a four per cent share for the £870,000, at least without a member vote.
I also believe it is the right thing to do for Miguel Garrido and backers to take the EFL test on their own in the first instance, rather than using supporter-raised monies to boost their proof of funds. I don't know whether the Spanish group will get the go ahead or not, and like everything else this year, it has been completely out of the fans' hands. We are at the mercy of the EFL once more. So, as it is out of our control, we are probably best to consider the decision from a win-win perspective, rather than lose-lose. The clear win, if it gets approved, is we will be out of administration within the next few days, and can start to strengthen the squad to get us back up the table. We can also get some form of season tickets on sale and start to become a normal football club again, in these very not-normal times. If it fails, then let us assume there are significant concerns to suggest this group would not be proper custodians for our football club and we are therefore better off without them. There is also a high degree of confidence there are other potential owners waiting in the wings to take over if so. And I don't mean the late arrivals of the Double R Mafia. Don't get me wrong, I always found Darren Royle very decent. But once bitten, twice shy and all that. Of course, the major issue here is we would have to go back to an earlier stage in the process and it may be another month before we get another owner. It would be a very precarious state to be in, but a bit more short-term pain would ideally be offset by a more, stable long-term future. All the real action to rebuild the club is going to take place in January, and until then we are going to be languishing somewhat, regardless of who the owner is. And I think most reasonable fans accept that and are actually enjoying watching our young players find their feet, while accepting of their growing pains on the field. In some senses, it might be depressing to be bottom of the league. Yet, the performances give us hope, as each week this team is improving and getting closer to turning defeats into draws and then ideally victories. The real story of the season could be the emergence of a young crop of footballers. Kids who are proud to wear the shirt and are playing every bit of a part our history and future as the many, much more established names that went before them.
So to the Northampton game – terrible first half, two awful goals to give away, and I think John Sheridan should take some of the blame for setting his defence up wrong at the start. Needing to make a tactical sub after 20 minutes showed that. Spirited fightback in the second half, but we have big mountains to climb as it is, without giving teams a two-goal start. Blackpool was better apart from the Jamie Jones error for the goal. And we hear the Supporters Club won't be in with the Spanish bid just yet, which I think is fair enough. If these people are serious, they should have the finances in place on their own. There's plenty of time to come together once the process has gone through the EFL test. FA Cup first round this weekend – always one of the great days of the season (if we could go). Would have been a tad upset if it was Chorley away, potential banana skin. But would it be that much of a shock if we did lose? I doubt it. Stay safe.
The first quarter of the League One season has unofficially passed us by, and it would be hard to argue that an 11-day break from the competition could not come at a better time. Seven consecutive winless league matches has left us at the very bottom of thetable on goal difference. To make matters worse, we barely have enough healthy senior players to form a five-a-side team. Like many Latics fans, I have become more numb to losing matches over this past month. However, my spirits have been reinvigorated by the play of our academy players – seven of whom have featured in each of our past two matches against Northampton and Blackpool. While all of these players have had their stand-out moments recently, the performances of 19-year-old striker Kyle Joseph have been particularly noteworthy. His poise and composure in front of goal has been welcomed in a team that has lacked a consistent goal threat, and it seems likely the Scottish youth international will open his first-team scoring account within a very short time period. Despite all of the challenges Latics have faced trying to build a tactical identity with such an unestablished group, the scoring chances our young striker has created have provided genuine excitement as well as a growing sense of optimism towards our long-term future. On the topic of our future, we unfortunately did not exit administration by the end of October as Gerald Krasner suggested we would, but are hopefully much closer to securing the official approval of our Spanish ownership contingent than we are to restarting the process with a new group-in-waiting. On the bright side, as an American, waiting four months for Latics to exit administration has made waiting a few extra days for votes to be counted in our presidential election an absolute breeze. The first two months of our season has produced more low moments than high ones, but that's not to say things cannot change for the better this Sunday in our first round FA Cup match against Chorley. While no one is expecting another 14-0 drubbing, Latics should surely go into the match expecting to win – especially given the first-team experience gained by our young players over the past week. Another winnable match follows on Wednesday against Tranmere, and we could very well go into next Saturday's league fixture at Wimbledon in a much more positive headspace than we possess now. Many may consider our league form, our table position, our injury situation, and our ownership debacle, and say we have hit rock bottom as a club. Regardless of whether you agree or not, our reality is we still have ground to stand on. That surface could've very easily collapsed below us over these past few months – but it hasn't – and I personally believe it is time for us to start our ascent. We've survived what I expect to be the roughest quarter of the season. There is still more than enough time to turn things around.
Seeing how much of our senior team is regularly filled up with Academy players nowadays gives me a lot of mixed feelings. There is a truly special moment in football for all fans when starlets who have dominated the Under-18s scene for some time get their debuts for the senior team. Getting to watch Kyle Joseph start in a league match this week, and also see the way players like Ollie Crankshaw have slotted into the squad, is a wonder to behold. But looking at the established, experienced players among other League One teams is a little worrying. We aren't winning matches right now, and maybe that comes down to the amount of players we rely on who are new to senior football rather than EFL regulars. The way we lost the majority of our players before this season started is something you can't really blame our former men for. And the loyal players who stuck around should be practically walking on red carpets in front of us, not leaving Twitter because we're funneling frustration to the wrong places. Players older than 20 are needed as soon as possible, and complaining about every little mistake that is made in a match isn't going to help. The fact is, there isn't a stream of top talent itching to play for the club at the moment given our circumstances, and it's going to take some time for us to get that. For now, all the club's past and present commitment to young players is shining on us. Future legends and game-changers are right under our noses and are pulling their weight reasonably. We will get back to where we deserve to be in due time, but we need to support the club we have in front of us today and trust that all our players – both experienced and new – will take us to victory. The Spanish bidders' commitment to getting those contracts in place not only for the senior squad but for the younger lads as well is proof of how good those boys have performed for us lately. For the time being, and as it always has, investment in youth will pull Latics through.
Another week passes, another week without any firm update on the takeover and another week without any points for Wigan Athletic. I feel like a broken record but I imagine no so more than John Sheridan does. Saturday's match with Northampton was supposed to be when the tide turned. But having a look at Saturday's squad, once again decimated by injury, that favourites tag would soon disappear. We were completely overrun by a strong Northampton side and it could well have been three or four before the half-time break. The mismatched defence with full-backs playing at centre-back struggled to deal with the Cobblers' frontline, and it wasn't until Emeka Obi came off the bench to join Adam Long in the middle that Latics settled down. The second half was a completely different story, we attacked with purpose and could and should have been level. Kyle Joseph joining Joe Garner up front and was extremely impressive, hitting a post with a shot that could have earned us a valuable point. As it was, once again Latics failed to take anything from the game and it's now a worrying five weeks since a win. The injury list is clearly hampering us at the moment, the lads were facing an uphill struggle to compete with a fully-fit squad after the summer we've had, but now it's virtually last season's Under 23 side and they're finding it tough at the moment. Certainly in terms of results. But we have no alternative, until the takeover is completed at least. This is where we are and this is the squad we have. We simply have to make the best of it. A trip up the M55 and Bloomfield Road beckoned on Tuesday night. The most famous of all away days for Wiganers was reduced to a bottle of San Miguel on the couch while I turned my laptop on, and I've got to say it does not match up in anyway shape or form. How different would it have been with 3,500 Wigan fans imploring the lads forward? We'll never know, but what we do know is Tuesday was a fantastic performance from our young charges. With the only senior representation coming from the improving Dan Gardner, the really impressive Matty Palmer, the two Tom's of James and Pearce, along with Joe Garner. Everyone else in that side had come through the Academy and, despite failing to beat Blackpool, those same young lads put in one of the most impressive performances of the season.
We're now bottom of the league and that's clearly worrying, but again we have to take this in context of where we are as a club. We may well have been favourites in the 2015/16 and 2017/18 seasons, but we were also among the league's biggest spenders with plenty of existing Championship talent making up our sides. Now we're unable to sign players due to an embargo, and the few senior players that have stuck with us are currently in the physio's room. Add in to all that a reduced pre-season due to the pandemic, and a manager taking over on the first day of the season, and that position shouldn't be surprising. I think we're better than that, and I think we're only a couple of returning players from showing that. Yes, it's dispiriting every week. Yes, it's worrying the longer it goes on. And yes, it's truly heartbreaking if we think back to the position we could be in right now if Choi and Yeung hadn't pulled the plug. But in that really irritating phrase: we are where we are. Now how do we get out of that bottom three? Well, we've a week off from league action now, which could be the ideal time to get a few of those senior players off the treatment table and back on to the pitch. As well as giving those lads who've played every match for the last few weeks a break. No-one was ever relegated in November and, as worrying as our current position is, our only aim this season is survival, and that goes for both the club and our status as a League One club. We've heard more this week from the potential new owners and, on face value, it all sounds good. I hold no real opinion on our prospective new owners, mainly because I've heard very little about them and don't know who they are yet. I feel I wouldn't be able to comment either way. If we take them at their word, we can see the squad being strengthened and stability coming via the way of new contracts to the Academy graduates and the manager. But actions speak louder than words and, until the EFL sign the takeover off and we see their real intentions, things could well change. I hope and pray what Miguel Garrido Cristo has said this week is true, and we can once again find owners who will support us. It was disappointing the Supporters Club felt they couldn't yet take a share in the club with the new owners. Whether this changes in the future, we don't know. It's over to the EFL. All we ask is they do the checks properly this time. And if that takes longer as a result...so be it.
Special offer: Get 15% off our digital sports subscription - read unlimited Wigan Athletic and Wigan Warriors stories for less than 60p a week! Click here