Wigan Athletic: The 12th Man - 'Welcome to football, and indeed society in 2020. A society which demonise victims, and kicks them when they are down...'
Our panel of Wigan Athletic experts reflect on the unfolding carnage at the DW Stadium - and dare to dream that Friday's appeal against a 12-point deduction might be the first step on the road to recovery...
Published 30th Jul 2020, 14:44 BST

- 12 min read
Updated 30th Jul 2020, 14:48 BST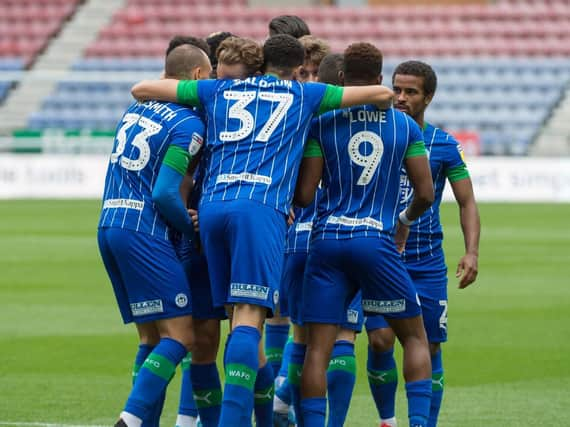 Martin Tarbuck: So let's look at the evidence, shall we? It started as a domestic, whereby the owners of a property, who claimed they cared about their dependants, promptly and suddenly plunged a knife into the victim's back. The victim was reeling, but fought back bravely from a critical condition, despite having one hand tied behind its back and crawled to the nearest official to ask for help. The official walked away, but not before twisting that knife even further into the victim's bruised torso, which was still losing a lot of blood and energy by the day. The victim has one last shot at life, despite everything stacked against them. They sell off their belongings to pay a skilled man money to fight on their behalf, just to give them a glimmer of hope they can recover and get back to something close to a normal life in future. Problem No.1 is attempted murderer No.1 has fled, though there are questions as to whether he was even in the country in the first place. Problem No.2 is the one good man has to convince the judge the board of bad men, who actually perpetrated attempted murder No.2, were in the wrong and need to show remorse to their actions. The usual reward for showing remorse would be to reduce the punishment. But in this case, there is no punishment for the aggressors in the first place, they are the ones doing the punishing, and are stonewalling any suggestion their actions may have been a bit harsh on the victim. Having two organisations trying to kill a harmless, well run football club, er...I mean victim, would be bad enough. But there is a third party coming along to Friday's court appeal. A victim who has also suffered serious injuries at the hands of similar people over the years. Great news! Surely they know more than anyone what it is like to suffer in this way and will provide valuable evidence in support of the victim? Well, no, they're not actually. Attempted murderer No.3 is solely turning up to grab that knife and plunge it in a little deeper. They want to ensure the victim is kicked out of its home, which it was safe and comfortable in before the assaults started, purely in order to ensure they feel a little bit better about themselves. Their logic seems to be "well, there's lot of murdering going on and, even though we were nearly killed ourselves in this way, we need to turn up and make sure others get killed, because it leaves more room for us". Maybe they could even aid their victim's demise by starting gossip on the side, implying the victim owed money to people and got what was coming to them. Their attitude is such that who cares if that victim ends up homeless or even ceases to exist, so long as we are okay? Surely all of the above is just a ridiculous situation that could never, ever happen in real life? Welcome to football, and indeed society in 2020. A society which demonise victims, and kicks them when they are down. Even when good people can see it is wrong, they are powerless to stop it, and victims continue to get their lives destroyed and ravaged because it is either in the rules, or there are no rules to stop it. The sad thing is there will be change after this. The perpetrators will show remorse and reform their ways at no cost or punishment to themselves. Yet it will be too late to save their victims, who lose their jobs, whose lives are devastated, who lose everything they have spent years building up, all because nobody saw a problem with the rules. Let us not be victims, let us not feel sorry for ourselves, no matter how tempting it is to do so. Let us use this to define our future and drive us forward, even if we have to go backwards first. Wigan Athletic must never die. We fight to the end.
Statto: Well let me start by saying how proud I have been to be a Latics fan these last few weeks...Paul Cook and Sam Morsy leading the team and backroom staff when it would have been easier to down tools, and the way the Supporters' Club have rallied round. Now comes news Cook is about to quit – and he won't be out of work for long. But in the short term, this will be a good thing having him off the wage bill. Thanks for the job you did, Paul. So the appeal is this Friday, and news Barnsley will be represented for me is totally wrong, Barnsley are defending their position, but that should be completely separate from our appeal. With that, I have no confidence in winning this appeal. And I see things getting a whole lot worse before any light at the end of a long dark tunnel. Stay Safe.
Caddy from the 5: All roads lead to Friday and the appeal, and I think the bidders for the club are waiting, obviously, for the outcome before showing their hands. The difference in wages, salary, revenue etc will be a massive part in discussions, and offers will be dependant on what division we're in. Personally I don't think we'll get the 12 points back, the clowns at the EFL won't want to admit they basically messed this one up on a massive scale. After Friday, I'd love for a new owner to come forward and move on. Whichever division we're in, let's just start again,we'll have to. Stanley Choi has destroyed our club and everything we've been working towards, from the crop of youth players we'll never see mature, to the players and manager moving on to pastures new from this team. I won't blame ANY player, or Paul Cook, for moving on,they all have families to look after. Also remember they were taking a pay cut due to Covid-19 even before Choi threw us under the bus and reduced them to 20 per cent of their wage. Every single one of them are heroes. Yes, they get very good money, we know that, but their attitude and genuine belief we'd get out of the mess we were put in – through no fault of their own – was remarkable and should never been forgotten. I wish nothing but good luck on them all. Let's just have a club to support after Friday, that's all that matters at the moment. The rest will look after itself from there. We've been set back years, no doubt about that, but at least we'll have a club (hopefully) to support. Think of Bury, they're just about getting going again from right at the bottom, through no fault of their own, again. We MUSTN'T let all the hard work of EVERYONE connected to WAFC – especially the Supporters Club – go to waste. We must KEEP banging on the door of the EFL, demanding changes there. They are complicit in this whole sorry show and must be held accountable at some point. They're supposed to be the custodians after all and, it's quite simple,they're not fit for purpose – rotten to the core. It's all on David Phillips QC now to pull a blue and white rabbit out the hat on Friday. If he does, he's on 'Bow for life next time he's in the Slime Bar. Good luck, Dave and UP THE TICS! Right, 'Bow time...
Mike: In four weeks we've gone from looking to end the season with a comfortable mid-table finish (the highest since the first season outside the Premier League) with a squad ready to build on the good form of the second half of the season to administration, relegation, redundancies, players being sold to pay the bills and now the manager is apparently leaving. I can't thank the manager and players enough for everything they have done to try and get us out of the situation in the last few weeks, they'll be remembered fondly in the future for their efforts. I wish those that leave either through choice or necessity well for the future. It now looks like a complete rebuild job with a currently unknown owner, a new manager and not knowing what league we will be in (or even if we are in a league if we don't find an owner) and under a transfer embargo. The common misconception around getting here (from fans of other clubs) is we were run in a poor way financially and struggling to pay our bills. What happened appears to be that the company that owned us and agreed a budget wanted us off their books because they're a listed entity and our cost impacted their share price. They didn't (publicly) try and sell the club by traditional means. Instead they allegedly created another company to buy the club on favourable terms (for the listed company) and the day Au Yeung took complete control he tried to liquidate the club to get "his money" back, soon to be followed by administration after stacking the board in his favour. This wasn't a new owner who ran out of money, or someone who had other business issues impact their finances. Is it fair? No. Will it be the same? No. Will we still be there in whatever capacity we're allowed to be? Yes. We've paid the price for a former owner (IEC) that didn't care for the club, the people that worked there or the fans and local community, they 'sold' it to someone who never intended to run it. We can only hope for (and demand) better next time around.
Mike Goodman: I think it was inevitable Paul Cook was going to leave the club sooner rather than later given what's gone on in the past month, and I completely understand why he's feeling the need to move on. All the hard work that's gone into building a squad capable of challenging in the top half of the Championship has been carelessly swept away in a flash and he must feel devastated, as we all do. Regardless of whether the club wins the appeal on the points deduction or not, it's going to be an incredibly hard slog next season, and Cook must have considered if he has the energy to stay and rebuild the squad, which realistically is going to take years if the predicted exodus of players takes place, especially with a two-year transfer ban hanging over our heads. Cook's stock has definitely risen in 2020 with the turnaround in form we saw after a slow start to the season. He's gained a lot of praise from those outside of the club for pulling the squad together after administration was announced and leading the team on a fantastic run of form to finish 13th. I don't imagine he will stay out of work for long, but I do hope he doesn't jump into a new job straight away. If this were to happen, and we missed out on receiving a compensation fee given our current circumstances, it would be disappointing. I doubt this will be the case, though, and he may well take time to evaluate his options. I'm sure all fans will look back on Cook's time with the club as a period of success, despite there being a few difficult moments along the way. The key highlights for me are breaking the record for our highest ever league win, twice, the latter coming while the club was in administration. Winning League One in style by playing some fantastic football and giving very little away in defence, reaching the quarter-finals of the FA Cup beating Bournemouth, West Ham and a Manchester City side the year they achieved their record 100-point haul, signing an unknown Reece James and persuading him to stay in January 2019 to aid our survival battle when he could have gone to bigger clubs, winning at Elland Road – again something he achieved twice – keeping us in the Championship last year and then achieving a mid-table finish this year in the midst of uncertainty regarding the future of the club. They say hindsight is a wonderful thing, and you don't appreciate something until it's gone. I think we all fully appreciated Cook for the vast majority of his time at the club and he's definitely going to be missed. I was in the group of fans who felt a change of manager was needed in 2019 following the poor run of form we experienced, but he proved me wrong and I'm glad he did. He will undoubtedly go down as one of the best managers we've had in recent history and I wish him all the best for the future. It would be great to see him managing in the Premier League one day and, if he carries on the way he's going, that will happen sooner rather than later.
Sean Livesey: What a truly horrific month July has been. In a year that keeps on kicking you long after the referee has rung the bell at the side of the ring. To be honest, Wednesday night against Fulham followed much the same path as I had expected. But where I thought we would probably get the win, I expected both Luton and Charlton to win as well, thus meaning our relegation would have been confirmed that way. Instead, it was a stubborn Fulham defensive line, atrocious refereeing and poor finishing that did for us in the end. But of course, that makes it sound like our relegation was confirmed on the pitch, and we all know it wasn't. Let's not forget this team secured the highest place finish of any Latics side since 2014. They and the management at the club have fought manfully and truly don't deserve to be in this position. The last week, much like the last month, has been a bit of a daze. It took me until the weekend to even get my head around that relegation, so unjust is it in its circumstances. That was compounded by news the preferred bidder had failed to move forward with the exclusivity arrangements put in place by the administrators. And it sounds very much like they're all waiting to find out what happens at our appeal on Friday. The inherent unfairness of clubs being penalised for the decisions of absentee owners is laid bare right there. The club is slowly dying thanks to the decisions of two people in Hong Kong who have never stepped foot in Wigan. As a result, whatever is left of the carcass (and it won't be much) is punished again by a 12-point deduction that could lead to new owners not taking us on, and going someway to killing off what's left of the club. Administration is a brutal process, and it's laughable this wasn't even the nuclear option from Choi and Wai Key. No, they preferred liquidation. We wouldn't even be here now if they'd got what they wanted, we would have simply ceased to exist. Meanwhile, more bad news has come with news of Paul Cook's expected departure. There's a lot of people to be angry at at the moment but he isn't one of those. A former player from a golden age of scousers, he came back and gave us three very good seasons. The stand-out for me is still the League One title-winning campaign, that night against Manchester City and the wins at Fleetwood and Doncaster. It made us believe again after the horrors of Warren Joyce. The Championship has been difficult, and many were well within their rights to question why he was still in charge in January after a very poor set of results (if not performances). But that was turned around, and we were only two points away from pulling off something remarkable. Indeed, Cook and the players shouldn't have a relegation on their CV's after this season. They finished 13th, and never let anyone tell you otherwise. Especially those jumped up types from across the border in South Yorkshire. I've never really had any issues with Barnsley fans before, but the last seven days has shown them to be some of the most ungracious, gloating football fans I've ever witnessed. Luckily for us they won't be present at our appeal against administration on Friday...(CHECKS NOTES)...oh wait, no, Barnsley will be present, the EFL's ability to contradict itself in every waking hour of the day continues as it was announced the Tykes will be present at our appeal hearing. This despite Stevenage, who were relegated from League Two, being denied the same rights when they requested to be present at Macclesfield's hearing. Once again one rule for one club, another for Latics. I am interested in what Barnsley – those protectors of fine and upstanding football morals – can bring to the table. "Yes sir we have been in the bottom three since September 14, and we only escaped thanks to Wigan's point deduction, but we see no reason why you should relegate us." If you couldn't laugh, you would cry. So it's to our final match of the season on Friday, which could well shape our future – or lack of it. Everyone says we haven't a chance, but they said that before we beat Manchester City in 2013, 2014 and 2018. We'll know what the future holds more in a week or so but there's no understating how important the next few days are. Normal football questions like 'Who will take over from Cook' are for another time, there's a battle for the soul of the club raging at the moment. There's no point having a manager if you don't have a football club to manage. Over to you, David Phillips Q C.