Why support of Wigan was "so special" to WWE Hall of Famer Davey Boy Smith
The daughter of Wigan's Davey Boy Smith has described his induction into the WWE Hall of Fame as the "missing piece of his legacy".
Thursday, 8th April 2021, 10:07 am
Updated
Thursday, 8th April 2021, 10:24 am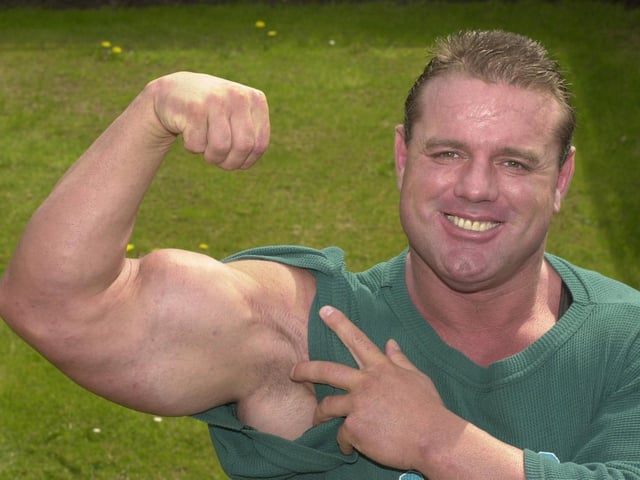 Davey Boy Smith on a trip home to Wigan
Smith, who wrestled as The British Bulldog, was formally honoured this week.
"I feel like this was the puzzle piece missing in his legacy and career," said Georgia Smith, Davey Boy's proud daughter. "I couldn't be happier."
Smith achieved international fame during his stellar career, but he never forgot his roots.
And ex-wife Diane Hart, mother of their two children, admits the support of his hometown made his greatest achievement at Summerslam '92 - when he beat Bret Hart to win the Intercontinental Championship in front of 80,000 fans at Wembley - so special.
She told the WWE: "What was so special to Davey... when he went out there he knew his mum and dad were there, his brother and sisters, and lots of people from his hometown Golborne - it meant so much to have them there."
Smith was due to be inducted 12 months ago, only for Covid-19 to force the event to be cancelled, which meant this year's event honoured inductees from 2020 as well as 2021, meaning Davey Boy joined the likes of Bret 'Hitman' Hart – his brother in law – in the legends lounge.
Son Harry, who competes as Davey Boy Smith Jnr, told WWE: "It's been long overdue, it didn't happen last year (due to Covid) and we were so thankful and happy he's now in the Hall of Fame."
Smith died in 2002 from a heart attack, aged 39. Last year, during the first lockdown, Florida-based Georgia launched a website and social media channels in her dad's name and is now selling official merchandise to help keep his legacy alive.
She told the Wigan Observer last October: ""He loved going back to Wigan, he loved talking about it. Believe it or not, he loved the nightclubs in Wigan. He was quite the dancer.
"When he moved to Canada, at one point he was ready to go home, because it didn't feel like home. But it worked out, he met my mum and they had Harry and I.
"It's funny, now I hear and read fans saying things like, 'He's not from Wigan, he's from Leeds'. 'No he's not, he's from Warrington'. So they get very territorial... he actually did a promo in the 90s and said, 'I'm going to my hometown of London', and everyone's like, 'What? That's not a London accent!'. I know a lot of people take pride in the fact he was a northern lad.
"My dad's dad, Sid, lives in Golborne as well as my dad's sister, Joanne, and his brother Terence is over there, too."
Smith's cousin and former tag-team partner Tom Billington, who wrestled as The Dynamite Kid, died on his 60th birthday in 2018.