Adrian Lam reflects on Leigh Leopards' defeat to Wigan Warriors- and states the video ref should've been used for Bevan French's try
Adrian Lam says there were a number of frustrating moments in Leigh Leopards' defeat to Wigan Warriors.
Published 31st Mar 2023, 12:00 BST

- 2 min read
Jai Field and Abbas Miski were among the scorers for Matty Peet's side, with the pair going over for braces.
Wigan's first try of the evening came from Bevan French, but Lam believes a check from the video referee would've seen it disallowed.
"We got the start we wanted but a couple of lucky bounces from kicks down their left side got them a few repeat sets, and that was a bit frustrating," he said.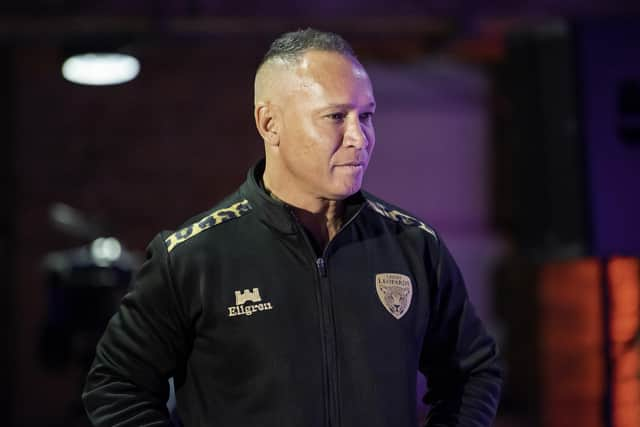 "We didn't defend the first try.
"I was a bit frustrated with that because it was definitely a lead outside our three defender, which if it had gone up to a video it would've been disallowed.
"I knew we needed to keep their first try away for as long as we could for a chance but they awarded that without going up to the video ref.
"From where I was sitting it was definitely a no try.
"I don't know why they didn't use the video ref when it's there, but that's not the reason we lost.
"When you're playing teams like Wigan you've got to get those lucky moments.
"It was hard to watch the last 20 minutes, there were four tries from kicks I believe.
"Smith's kicking game played a big part in the result tonight, but with the speed Bevan (French) and Jai (Field) have got, they are always going to cause trouble.
"The first try in the second half broke our back.
"It was a big turning point.
"Apart from that we didn't really build pressure through our attack on the tryline.
"You don't get many chances against this type of team, and we got down there, we made three errors with the ball.
"We haven't done that for the last month so that really hurt us.
"That's going to help us tonight- just understanding where we need to be.
"As part of this journey for us, there's different levels of improvement and understanding.
"If we're aspiring to be top four then that's the level we need to play at for 80 minutes."