Bevan French talks Hull FC, Challenge Cup, and not dwelling on Grand Final loss
Bevan French hopes Wigan's victory against Hull FC gives them the advantage as they prepare to clash again in the Challenge Cup.
Saturday, 8th May 2021, 7:02 am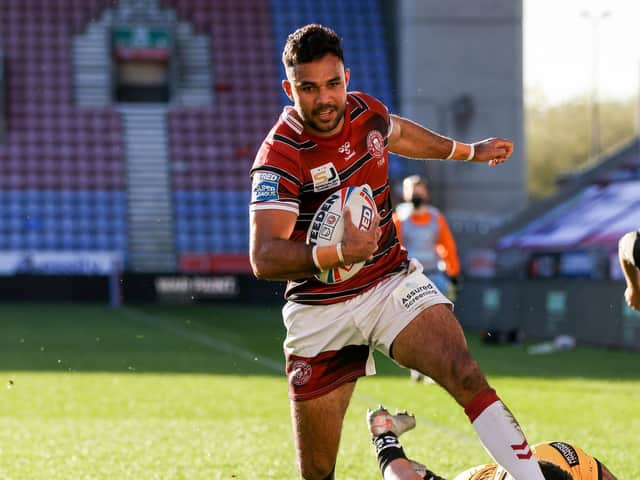 Bevan French scored two tries in his first game this year
They meet at Headingley this afternoon (2.30pm) with a place in the semi-final at stake.
French played a week last Thursday as the Warriors edged a tense contest 16-14 in the league.
"I think it probably does give us an advantage but more in terms from knowing we've got so much to improve on, we had a few missed opportunities and got the win," said the electric Australian.
"We weren't at our best and got the win, but then we expect they will pick it up a level as well."
French admits it is "a bit weird" to play the same opponents two weeks running, though the FC line-up will have some notably differences.
Props Brad Fash and Scott Taylor, as well as full-back Jake Connor, are missing while their star-signing Josh Reynolds is set to return - which makes them a more dangerous prospect, according to French.
He's not the typical, organising half, it's more his running game that will really benefit then, he's got good reaction skills and good energy," said French.
"He's very competitive and that's why he played Origin. He will definitely be on our radar and if we can keep him under wraps it'll probably go someway towards helping us achieve our goal."
French's focus is on today's BBC-televised match but he has allowed himself to consider the prospect of reach the final, as Wigan aim to land their first Challenge Cup triumph since 2013.
"It would means a lot, I'm from the other side of the world and Wembley is just one of those places everyone knows," said the 25-year-old. "I moved here to try new experiences and that would certainly be one.
"Being at Wigan, it's expected that you'll be competing for these trophies and winning them."
Wigan couldn't have gone much closer to winning in last November's Grand Final, with St Helens' Jack Welsby grounding a match-winning try in an epic Grand FInal.
"It hurt a lot, and I dwelled on it a little bit, but it didn't take too long to get over," added French. "Last year was a real learning curve for me, not so much in footy but in life and one thing I tried to focus on was my own development and trying to move on from things. In the past I was hold onto things whereas now I don't dwell on things."