Challenge Cup: Matty Peet reflects on Wigan Warriors' victory over Leeds Rhinos- and shares praise for Junior Nsemba
Matty Peet says Wigan's commitment was key in their Challenge Cup sixth round victory over Leeds Rhinos at Headingley.
Published 20th May 2023, 18:03 BST

- 2 min read
Bevan French went over for a brace in the 18-14 win against the team that beat the Warriors comfortably in Super League last week.
Peet states his players stuck to the game plan, even when things weren't going their way.
"I'm proud of the team," he said.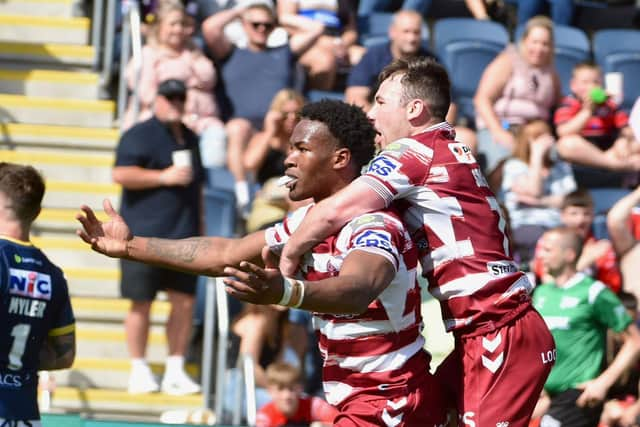 "I'm proud of the group- the players and the staff, it's obviously been a long week.
"At the start of the game I didn't think we were good enough, but in the end our desire and the commitment shone through- and that the main thing we ask for.
"There were mistakes both ways, with moments where I was left scratching my head- we were pushed off a scrum, the short kick offs, some errors in the play the ball.
"You've got to be committed enough to turn up for each other in those moments and enjoy those periods where everything seems to be going against you.
"Just stick to the plan and trust each other, and that's what we did.
"I always thought this game would ebb and flow, like other matches with Leeds in the past.
"Every time you watch them, they never go away.
"When it sticks for them, they've got so many talented players, you know you're not going to get it all your own way.
"We spoke all week about the psychology of the game and dealing with their good spells, and I suppose you can say we did that okay."
Junior Nsemba was also on the scoresheet in the victory over Leeds, with the 18-year-old claiming his first try in cherry and white.
"I made up for him," Peet added.
"I made a mistake a few weeks ago when I had him on the bench but didn't get him on early enough.
"Since then the plan has been to get him into the game sooner and give him an opportunity to showcase what he is capable of.
"He got that try, but as soon as he came into the game he stood out.
"He probably led us for a little bit and the other lads followed him.
"I'm really proud of him.
"It has worked out great for him and for us."