England 'turned down' offer to play Wales in mid-season
Wales chief executive Gareth Kear is urging organisers of the international game not to ignore the rest of the home nations after a request to play England in mid-season fell on deaf ears.
Published 4th Feb 2021, 11:48 BST

- 3 min read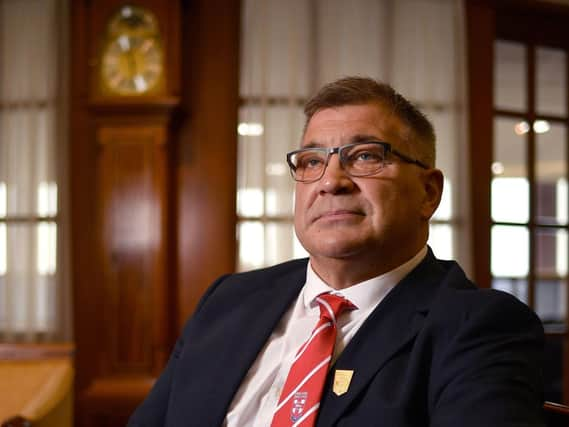 Kear, one of two full-time officials with the Wales governing body, says he is close to unveiling opponents for a World Cup warm-up match in June after failing to secure a clash for John Kear's men with Shaun Wane's England.
The Rugby Football League is expected to confirm the return of the Exiles, a Super League-based team of expatriates, for a fixture with England during the international window on the weekend of June 26, which is a disappointment to Kear.
"On the one hand, I understand why England want to play the Exiles because Shaun Wane is looking at it from a performance point of view," he said.
"I've spoken to him personally about it and I know John Kear (who is no relation to Gareth) did as well to say we feel we're at the point now where we're going through a transition and getting stronger and we feel we can give them a meaningful game."
After the coronavirus pandemic wiped out virtually all international rugby league last year, including the 2020 European Championship, a mid-season programme is imperative ahead of the World Cup but Kear insists it should become an annual event.
With the strengthening of the international game in the southern hemisphere due to the growing depth of the Tonga and Samoa teams, Kear is worried the northern hemisphere is in danger of being left behind.
"We'll fight tooth and nail to maintain the international weekend," he said.
"If we're going to grow the game in the northern hemisphere, then we have to have meaningful games for England against Wales, Scotland, Ireland and France and the only way you do that is by playing these games.
"I think the RFL and Super League are starting to realise that a strong Wales - and a strong Scotland - means a stronger England."
Wales, who have not played since 2018, will face the might of the southern hemisphere in the World Cup, having been drawn in a group with Tonga, Papua New Guinea and the Cook Islands, and Kear is confident they will be competitive.
He estimates between 70 and 80 per cent of the team will comprise players born and bred in Wales or heritage players who are already in the UK but also expects to have an NRL presence.
John Kear has already sounded out Newcastle centre Bradman Best, 19, who took the NRL by storm in 2020, and full-back Caleb Aekins, 23, who moved from Penrith to Canberra for the 2021 season. Both qualify through the grandparent rule.
"A number of players are making us aware they qualify by heritage and, as per the international rules, we go through all the protocols to make sure they are," Gareth Kear said.
Wales lost St Helens forward Morgan Knowles after he switched his allegiance to England and Kear would like to see the rules changed to prevent a repeat.
"Morgan came through our pathway but, at the end of the day, competition rules allowed him to do what he did," he said.
"Our view, as a governing body, is that we would like to see those rules changed.
"Heritage players are important to growing the game but, once you decide to play for a nation, at the very least it should be a four-year cycle.
"And my personal view is that that is your team and you don't get to change, regardless of whether that's tier one or tier two."