Family of missing ex-Wigan Warriors, St Helens and Bradford Bulls prop on huge 'stumbling block'
The family of missing former Wigan Warriors, St Helens and Bradford Bulls prop Bryn Hargreaves fear he may never be found because 'nobody really cares' about foreigners in America.
Published 7th Feb 2023, 16:26 BST

- 2 min read
Updated 7th Feb 2023, 16:40 BST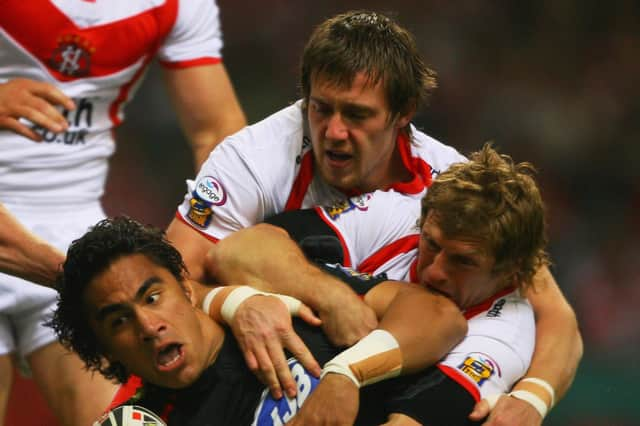 Wigan-born Hargreaves was reported missing at the beginning of last year after he failed to arrive for work in West Virginia, where he'd relocated after retiring from rugby league.
Repeated attempts to track him down drew a blank, and his family set up a GoFundMe page to raise funds for a private detective to take on the role.
Now, 12 months on, his uncle, John Fieldhouse – the former Great Britain international - has spoken of their frustration at the lack of progress, believing Hargreaves' nationality has not helped with the case.
"We do want to push and try and find him, but it would have been so much easier if it had been in this country," said Fieldhouse. "It's on American soil in a place nobody really cares about overseas people.
"They are all within themselves and looking after themselves.
"When you are a foreign person in a vast area with small amounts of people, you just wonder how tough it was to be in that situation.
"Knowing what's gone on, it's getting very hard to build a story because one person will say something and the other 10 will say nothing.
"Over here, you'd have a good community if something happened in an area. A lot of people would try and do something or find something out and that's the stumbling block."
Hargreaves' mother, Maria Andrews, encountered a number of issues once the private investigator had been hired.
"She did get hold of someone but he said he couldn't do it for a few months and then she got in touch with someone else about doing a dive in the lake but when they could do it, the lake froze up and then it got to winter time," explained Fieldhouse.
"At the moment in time, we are waiting for the weather. Once that recedes a bit then my sister will be in touch with the divers or investigators to take up the challenge and see what they can find.
"It's 12 months now and it is so frustrating. It's in a vast foreign country and when you think about it, hundreds of people go missing every week and it makes your mind boggle and question: why is that happening?"
Not that the family will ever give up hope of a successful ending to the story.
"We just hope, we are hanging on a piece of thread, hoping that something turns up," added Fieldhouse, in League Express. "We could fly tomorrow to America, and my sister and nephews did for three months, and couldn't find anything.
"People were saying he was in one shop or another but it wasn't Bryn. You get a lot of false hope and false leads.
"That hurts even more, when you get told he's been seen, it lifts your spirits but then when you see it's not him it drops you back down to the floor."
Hargreaves played for Wigan before joining St Helens, whom he helped win the 2008 Challenge Cup at Wembley.
He later joined Bradford but quit the game at the age of 26 and moved to the States.