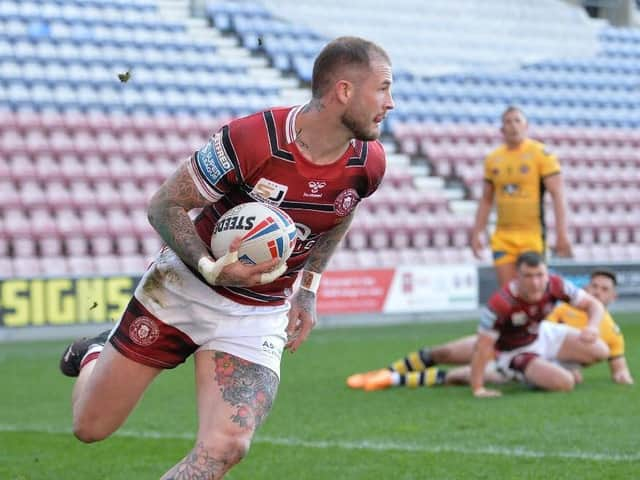 Zak Hardaker
And the 29-year-old has no intention of surrendering the position at Wigan without a fight now that Bevan French is back in the mix.
Hardaker, who switched to centre last season, said: "Lammy is the coach, it's up to him but at the moment I'm not moving from full-back.
"Last year I was happy to do what's best for the team and I want to win at all costs, but at the minute I'm not moving. It's an England World Cup year for me, I don't want to be too selfish - if I play poor and he sits me in the office and says he's putting Bevan there, I'll say, 'fair dos'.
"But until I play bad I'm not moving mate."
England and ex-Wigan coach Shaun Wane has already revealed Catalans' former Warrior Sam Tomkins would be his No.1 if he was naming his World Cup side now.
Hardaker believes he should be in pole position in the race for the coveted spot which includes Hull FC's Jake Connor, his likely opponent in Wigan's next two matches.
"I've always been modest but I've seen a few of the boys' interviews, backing themselves for the No.1, and I'm backing myself 100 per cent," he said. "I know Shaun Wane said if he was picking his England team tomorrow he'd pick Sam, but if you look at the stats and everything I'm the best full-back, so I've just got to keep that going.
"At first I was being a bit modest, saying there's going to be four or five people (players going for it), but I'm getting to that point I'm that confident in myself there's not a full-back near me. I'm pretty confident in that, and I can back that up."
He continued: "I saw something (Sky Sports') Phil Clarke said about Sam Tomkins being one of the best defensive full-backs, but if I had to put my hat on something it would be being the best full-back defensively - certainly in the last 10 years."