'Joe Burgess is the best winger on his day' - Oliver Gildart on their left-side reunion
Oliver Gildart is thrilled to be back alongside Joe Burgess  – and predicted the winger will show just why he is the best in the business.
By Phil Wilkinson
Published 25th Sep 2020, 10:00 BST- 2 min read
Updated 25th Sep 2020, 10:06 BST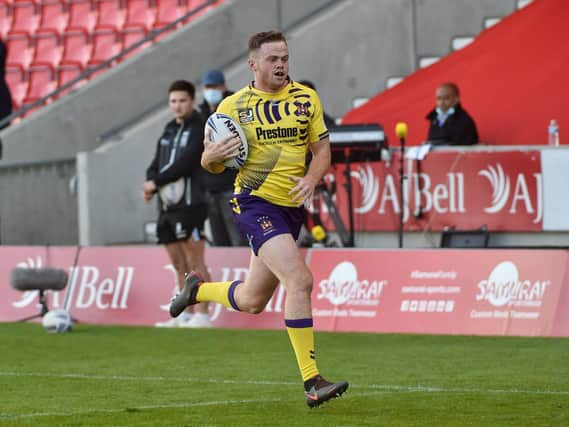 Their left-edge partnership has been in lethal form since the pair were reunited two weeks ago.
They have scored five tries between them in impressive victories over Catalans and Hull FC, as well as carving out chances for those around them, and are both set to face Wakefield tonight.
Gildart and Burgess first played alongside each other in the school team at St Edmund Arrowsmith High – interestingly, England prop Luke Thompson was another team-mate – and their partnership has frequently impressed over the years.
They are back together in Adrian Lam's side following Gildart's return from shoulder surgery, while Burgess was recalled after Liam Marshall suffered a season-ending knee injury.
And with Burgess set for a move to Salford next season, a move which has still not been confirmed, Gildart is hoping there are more good times ahead over the next two months.
"It's been class being alongside Budgie again," said Gildart.
"If you speak to him, he'd be the first to admit he probably wasn't playing at his best at the back end of last season and you can't take anything away from Marshy, he's been really good for us.
"But now Budge has got his chance again and on the day there is no one better in my view. He probably just needed a bit of confidence and I think the best is yet to come from him.
"Hopefully we can make the most of it and we win a couple of trophies this year."
Tonight's Super League encounter with Wakefield, in a televised behind-closed-doors clash at Warrington, will be followed with another league match with St Helens on Tuesday.
And they won't have too long to recover from the first derby showdown of the year – the Warriors are in action against Leeds in a Challenge Cup semi-final three days later.
"It's definitely a tough period," said Gildart. "But we traditionally do well in the Easter period, when it's a similar kind of schedule. We seem to get it right with recovery and rotating a couple of players, and we'll take the same approach this week and next."
Gildart celebrated his effort against FC with a celebration in which he mimicked a referee by blowing 'a whistle' and pointing to the spot – and hasn't ruled out another celebration next time he gets over the whitewash.
"It just happened, I didn't plan it or anything," he smiled.
"With what's happened with Covid and not being able to celebrate, it's a bit strange, you get up and there's nothing – so that one just came out of nowhere.
"I think I may just stick to that one and try and make it my own."
Kick-off tonight is 8.15pm.