Liam Marshall copped a roasting while he was scoring a wonder try for Wigan Warriors
Liam Marshall revealed he got a "roasting" from a team-mate during his wonder solo try at Huddersfield.
Monday, 2nd March 2020, 3:53 pm - 2 min read
Updated
Monday, 2nd March 2020, 3:53 pm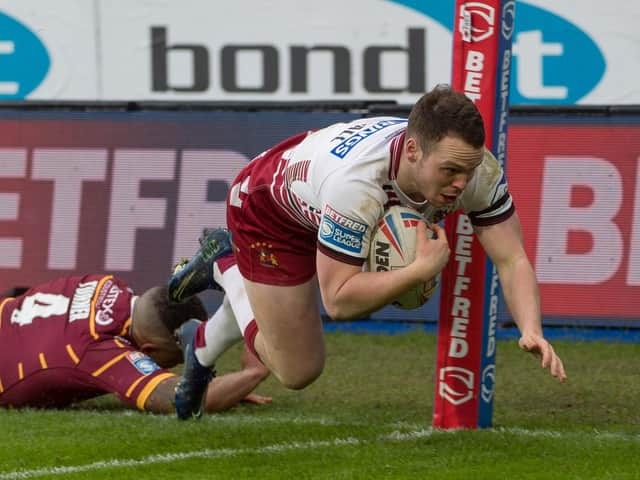 Liam Marshall goes over
A clip of his long-range effort on Sunday has been widely shared on social media and Super League have labelled it an early contender for 'try of the season'.
Marshall fielded a restart and kicked the ball on from inside his own 20m, chased, regathered and beat the covering defence to touch down in the corner.
And the winger said: "Luckily it came off.
"Liam Farrell gave me a roasting as I was kicking the ball, but he came and apologised when I scored!
"If it hadn't come off I think he'd have had a quiet word.
""Lammy does like us to play what we see, but that's usually a halfback doing something off the cuff rather than a kick-chase from the restart.
"It was a bit of a rarity and I don't think I'd have done it at any other stage of the game.
"I spotted they didn't have a full-back drop back from the kick-off, there was only about 20 seconds left until half-time so I thought, 'There's nothing to lose'."
Marshall finished with a hat-trick in an ultimately comfortable 42-10 win which sent them top of the Super League ladder.
"We were lucky, when we scored early in the second-half it probably knocked their confidence a bit and we kicked on," said the winger.
"There were some positive signs. They were No.1 in defence going into this and we probably didn't expect to post as many points as we did.
"Huddersfield had been going well and they showed that in the first 20 minutes.
"But we stuck in the grind and in the second-half we were very clinical, and it was good to get the two points."