Matty Peet looks ahead to Wigan Warriors' Challenge Cup tie against Leeds Rhinos
Matty Peet says the Wigan Warriors squad have addressed the factors behind last week's 40-18 defeat to Leeds Rhinos.
Published 18th May 2023, 16:00 BST

- 2 min read
His side conceded 34 second half points against 12-men in the game at the DW Stadium.
The Warriors face Leeds again this Saturday, as they travel to Headingley in the sixth round of the Challenge Cup.
"This week has been good," Peet said.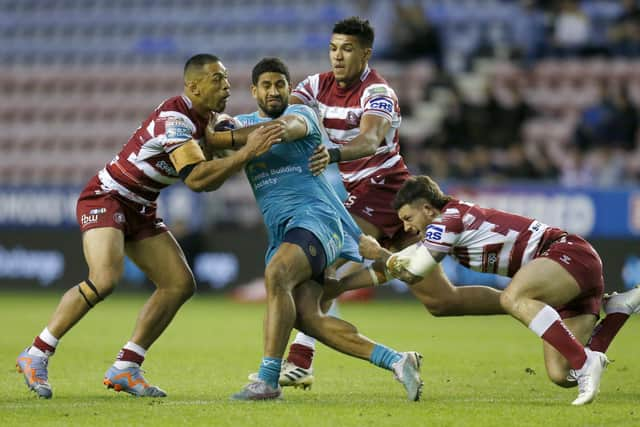 "Saturday was honest, as you'd expect, the players did a lot of the talking.
"We try to keep our reaction to victory and defeat the same, but it was important that we addressed the game and the dip in performance during that second half.
"We've got an honest group and we're all aligned in our thinking so it was pretty straight forward.
"It was a tough one to take, but we're now getting back to what we do.
"Playing Leeds again provides the challenge that we don't over do it with the footage and keep staring at the same games.
"We've just picked out a few things, so there's been a little less video.
"We got the best lesson of what they are capable of last week. The Challenge Cup is an exciting competition, but after that we'd be itching for whatever game we had.
"We have to improve by taking out a few bits that we did okay and eradicating the things we did poorly.
"I'm always learning. If we want our players to have that attitude, then it's essential that I do too.
"Last week was a harsh lesson. As a coach I was reflecting back on my messaging, particularly around half time. I didn't communicate what I wanted to- clearly.
"I'll look at myself first on how we could've handled it differently.
"Out of the game and dealing with the loss, you try your best to communicate your frustration with the team and make sure they know you're very much with them in how much they're hurting.
"You get some things right and some things wrong, but if you don't overreact in one way or the other then you can be strong and keep moving forward."
Wigan are the reigning champions of the Challenge Cup, and are hoping to enjoy another successful run in the competition.
"It's a great opportunity," Peet added.
"It's a fantastic tie- exactly what the cup is all about.
"These are the ones you want to be involved in- it's why we do our jobs and why spectators watch the game.
"We've spoken briefly about winning it, but it's been more about what we can create this year, and how we have to perform to do it.
"We've talked a little about what's at stake, but more importantly that we play well for our fans.
"There's a fantastic occasion at the end of this journey in Wembley. Every player in Super League and the Championship will all dream about being there."