'Rugby league needs to get its own house in order'
Three clubs have now called for Super League and the RFL to reunite - less than two years after a high-profile split.
Monday, 4th May 2020, 1:35 pm
Updated
Monday, 4th May 2020, 2:08 pm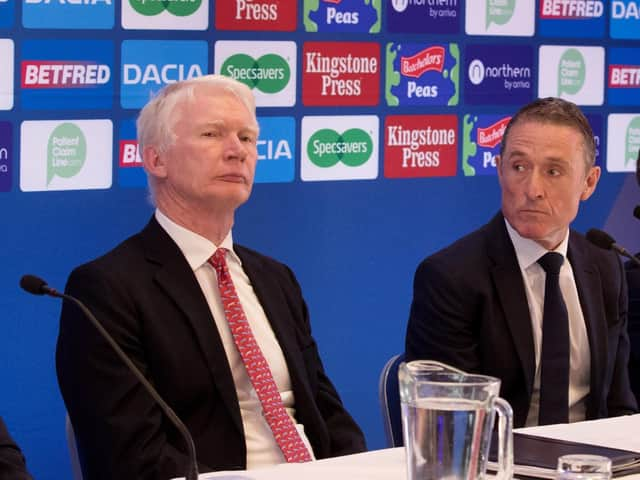 St Helens boss Eamonn McManus sat with Super League executive chairman Robert Elstone at his unveiling less than two years ago
They have publicly called for the two separate bodies to merge to save costs following the coronavirus pandemic.
It was seen as a seismic shift when Super League took control of its own matters ahead of the 2019 campaign, under the guidance of executive chairman Robert Elstone.
Wigan chairman Ian Lenagan played a key role in the breakaway from the RFL, which as the sport's governing body is still in control of such issues as refereeing, disciplinary and policing the salary cap.
But with the Covid-19 crisis wreaking havoc through rugby league, St Helens, Wakefield and Hull KR - a quarter of the top-flight - believe it is time for change again.
"The rules of engagement have changed from two years ago," Robins owner Neil Hudgell told Talk Sport 2. "Then, a decision was made to move to a separate executive and I was a supporter of that.
"Nobody foresaw what has happened in the last few months and therefore the duplication in central resources is no longer sustainable or justified.
"And ultimately if we want to say to the Government and broadcasters and other partners, that we're looking for financial assistance, I think we need to be seen as a game getting our own house in order as well and making some cuts."
Saints boss Eamonn McManus and Wakefield's Michael Carter also believe there could be some sort of 'realignment' to save money.
"Two months ago, Super League viewing figures were up dramatically, we had good reports back from Sky, we were pleased with the start, and then something like this comes along and it knocks you," Carter told the Forty20Live podcast.
"Undoubtedly you have to look at where your business is. I used to run buses, we had two separate companies, two separate sets of overheads, we wanted to save money and so we cut one of the overheads out. That's simple economics.
"Naturally, we have got to save costs. We are all doing it at our clubs. Equally, at the same time, we have to look to the centre and ask, how can we save costs there?
"Being draconian about it, we have two governing bodies and if you want to save money, cut one of them out. Now what I'm not looking to do is throw one camp under the bus and say 'you're all losing your jobs'."
McManus sat alongside Elstone, Lenagan and Warrington owner Simon Moran when the breakaway was formally announced.
"Anywhere there's duplicate costs which are unnecessary has to be analysed," he told The Sun.
"I've been impressed with how the RFL has gone about things, in relation to other sports too.
"A form of realignment with the RFL to rationalise, restructure and save unnecessary expenditure and to be more efficient going forward is necessary.
"Super League can't go back to where we were a couple of years ago, the RFL knows that, but a realignment and to be seen as a single sport can only be a good thing."
RFL chief executive Ralph Rimmer last week secured a £16 loan from the Government to safeguard the sport's immediate future.
A message from the Editorial Director, Gillian Parkinson:
Thank you for reading this story on our website.
But I also have an urgent plea to make of you.
In order for us to continue to provide high quality local news on this free-to-read site and in print, please purchase a copy of our newspaper as well.
With the coronavirus lockdown having a major impact on our town centres and many of our valued advertisers - and consequently the advertising that we receive - we are more reliant than ever on you buying a copy when you pop out for your essential shop or subscribing for delivery.
Our journalists are highly trained by the National Council for the Training of Journalists (NCTJ) and our content is independently regulated by IPSO to some of the most rigorous standards anywhere in the world. Our content is universally trusted - as all independent research proves.
As Baroness Barran said in a House of Lords debate this week on the importance of journalists: "Not only are they a trusted source of facts, but they will have a role to play in rallying communities and getting the message across about how we can keep ourselves and our families safe, and protect our NHS. Undoubtedly, they have a critical role."
But being your eyes and ears comes at a price. So we need your support more than ever to buy our newspapers during this crisis. In return we will continue to forensically cover the local news - not only the impact of the virus but all the positive and uplifting news happening in these dark days.
We thank all our readers and advertisers for their understanding and support - and we wish YOU all the best in the coming weeks. Keep safe, and follow the Government advice. Thank you.
HOW TO SUBSCRIBE: You can subscribe for delivery by contacting us at [email protected] or calling us on 0330 4033004 for details of a participating newsagent near you.