Wigan Warriors chairman Ian Lenagan hails 'one of the best days for Wigan for a long, long time'
Wigan Warriors chairman Ian Lenagan has described unveiling Adrian and Lam and Shaun Edwards as the club's next two coaches as 'one of the best days for Wigan for a long, long time.'
Published 9th Aug 2018, 12:24 BST

- 2 min read
Updated 13th Aug 2018, 11:32 BST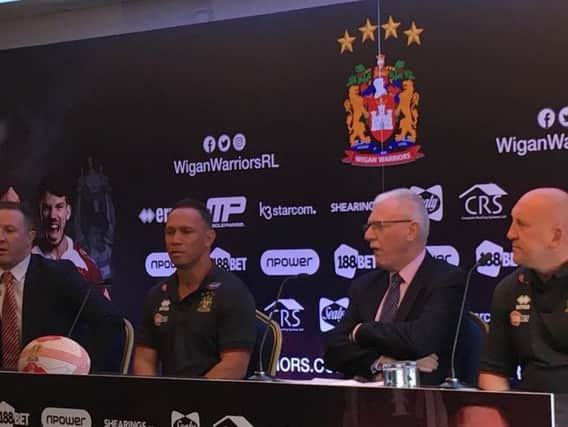 The pair were presented to the media this morning after it was announced last night Lam would take over from Shaun Wane as head coach for 2019 before Edwards starts in 2020.
During the press conference, it was revealed:
- Edwards was always his first choice for the job
- Lam says there is a possibility of his son, Lachlan, following him to Wigan
- Lam's 12 months in the role will enable him to land the job he wants in the NRL
- Assistant coach John Winder has a big role to play, with Lenagan tipping him to be a future Super League coach
- Appointments 'symbolise a refresh of Wigan, there is a complete change in approach'
"This is one of the club's best and important days," said Lenagan.
"This is significant and it marks a change moving forward. It's a mark of respect for rugby union in bringing Shaun back here.
"I remember Shaun Edwards as a Wigan fan. Manly 1987, we still talk about, but my most special memory as a Wigan fan was at Brisbane in 1994 in front of 54,000 people.
"I remember watching him coaching in the warm-up before recording one of the greatest wins Wigan ever had."
Edwards acknowledged it was 'a risk' to come back to rugby league, given there are more available jobs in rugby union, and said it would have been 'untoward' to leave Wales before next year's World Cup.
"Wigan is in my bones," Edwards said.
"I'm looking forward to the challenge. I'm coming back for one thing - the challenge of rugby league.
"I've had a pretty successful career in rugby union but now I want a challenge in rugby league.
"But it would have been untoward of me to breakaway before the World Cup. I've never known support like I've had from the Welsh people."