Wigan Warriors: Matty Peet explains the changes he made during the victory over Salford Red Devils
Wigan Warriors head coach Matty Peet says it is important for his players to be adaptable.
Published 25th Mar 2023, 14:00 BST

- 2 min read
Toby King scored a late winner with just over five minutes remaining in the 20-16 victory over Salford Red Devils, while Bevan French was also on the scoresheet with a brace.
During the second half, Peet made a number of positional changes to his side, which prompted the Warriors' comeback.
He said: "We lacked fluency with the ball, and there were certain players not at their best.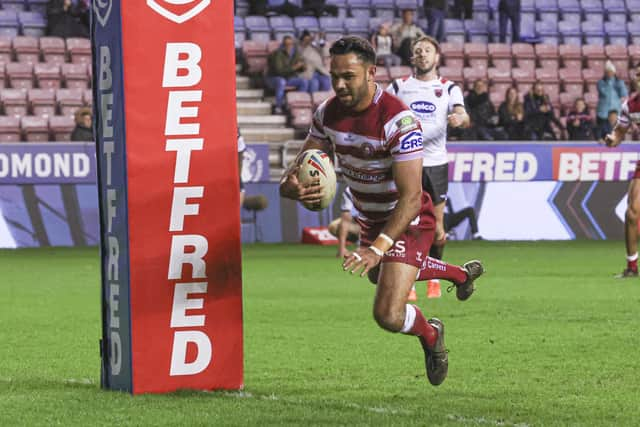 "It was clear we needed to get Bevan (French) into the game, and I thought that change would allow us to do that.
"It clicked pretty quickly.
"At that point Salford were fatigued, they've had a tough few weeks, and we were getting some dominance through the middle so it was important that we could take advantage of that.
"The combination between Harry (Smith), Jai (Field) and Bevan allowed us to do that.
"It's a mentality (to be adaptable) as well as a skill set.
"You've got to be willing to play in different positions, and lads can click in a range of positions.
"It's the way we practice and hopefully it pays off."
Cade Cust was the man who dropped to the interchange bench during the second half to allow the changes to be made.
"It's team first, he'll be pleased we got the win," Peet added.
"We've all got to put our egos to one side sometimes to do what's best for the team.
"We've got no qualms about making those decisions when they have to be made.
"The players here have to respond in the right way, and that's by working hard to make sure the next time you're on the field you nail it.
"I'm sure Cade would rather us win than perform well and lose.
"He'll have games where he kills it, and has had games where he's killed it in the past.
"For whatever reason we weren't threatening enough and it was clear to see we needed certain people on the ball more."
The Warriors are back in action on Thursday night as they travel to Leigh Sports Village to take on the Leopards (K.O. 8pm).