Wigan Warriors: Matty Peet provides further injury update on Ethan Havard
Wigan Warriors are set to be without Ethan Havard for the next six weeks.
Published 26th May 2023, 09:00 BST

- 2 min read
The prop went off with a dislocated elbow in the early stages of last week's Challenge Cup tie against Leeds Rhinos at Headingley.
Following the 26-22 golden point victory over Hull KR on Thursday night, Peet confirmed the expected timeframe of Havard's injury.
"It's going to be six weeks from when he did it, which is probably the best case scenario," he said.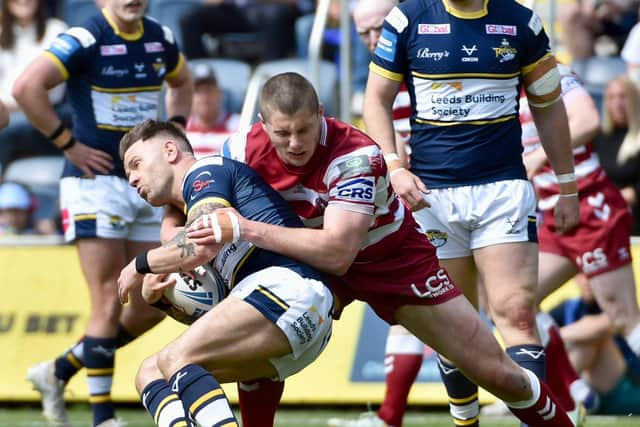 "He doesn't need an operation.
"He's dislocated his elbow so there's a bit of damage around there.
"It's six weeks for him to rehab that."
Earlier in the week, Peet had already discussed the different options Wigan had to call upon.
"We started the season with a squad close to 30 men, and we expected them all to play a part- that's why they train so hard through pre-season," he stated.
"It's also why John Duffy's job is so important with the reserves and the lads out on loan, because that's where we'll be looking.
"It's exciting. Everyone puts their squad together knowing the challenges of the season.
"There's a reason why clubs have a certain amount of players in some positions, and you're almost expecting these things to come.
"I know at the end of last year that we had an easy ride with injuries, so knew we would get a different test.
"That's why it's important for the likes of Junior (Nsemba) and Harvie (Hill) to be ready.
"Tom Forber is another one who has worked hard since day one of pre-season.
"You look forward to the days where you can give them a game.
"If you look at our senior players, they all got their opportunities from something like this, so you look at as a start of a new era for an individual."
Kai Pearce-Paul has also recently been added to Wigan's injury list, alongside the likes of Willie Isa, Brad Singleton and Mike Cooper.
The second-rower has been ruled out for around eight weeks after suffering a leg injury in training.
On Twitter, he wrote: "Gutted to miss out for a while through injury but that's rugby."