Wigan Warriors owner Ian Lenagan believes rugby league will be in a good place under the guidance of IMG
Wigan Warriors owner Ian Lenagan believes rugby league will make the most of its opportunities under the leadership of IMG.
Published 28th Jan 2023, 12:00 BST

- 2 min read
The global media company have agreed a 12-year deal where they will aim to revolutionise the game on and off the field, with their early recommendations including a licensing system that will replace conventional promotion and relegation in Super League.
Lenagan is positive about the future of the sport and hopes Wigan can play a big role by setting the standard.
He said: "With IMG there objectively leading things, there's no danger of us going off track, that's the nice thing about the strong new commercial board of rugby league.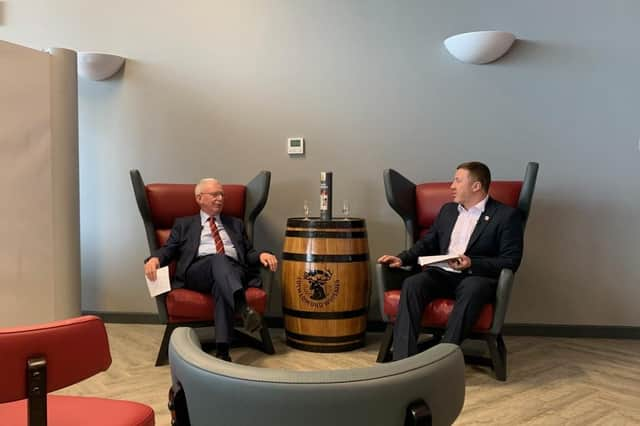 "They are world renowned for that they do, and in particular the vice president running this project, who is a fanatical NRL fan.
"With them actively leading the way, I think we are in a good place.
"We have always had the product, but we've not made the most of it, but now we can.
"I think this is a new birth and a new era in rugby league, and Wigan are leading in that as well, which is good for everyone.
"We are quite important in that respect and we are happy to take that responsibility.
"The grading system will ensure others will follow."
Lenagan discussed the relationship with IMG further in a recording for Wigan Warriors' Loch Lomond's Legends series.
In the interview with Kris Radlinski, he stated: "With its power, it just gives us the right basis for rugby league going forward.
"They bring an objective independent view on arguments like whether or not France should have a place in Super League, or if London have an important part.
"It's nice to have a worldwide professional leader in sports consultancy, who will give us the right advisors of how to develop rugby league.
"They also bring the high level capability of a managing director from five different divisions.
"It's 12 year contract, so we are not talking about the short-term, and they will only get paid anything significant if rugby league grows in its size and scale.
"It's a win-win as far as I'm concerned."