Band's online success with nostalgic Wigan song
Tom Jones and Michael Frost from alt-folk group the Quaintest Show on Earth have produced Good Old Days, celebrating the way things used to be in the borough.
4th Aug 2020, 12:30pm
- 2 min read
Updated
5th Aug 2020, 11:06am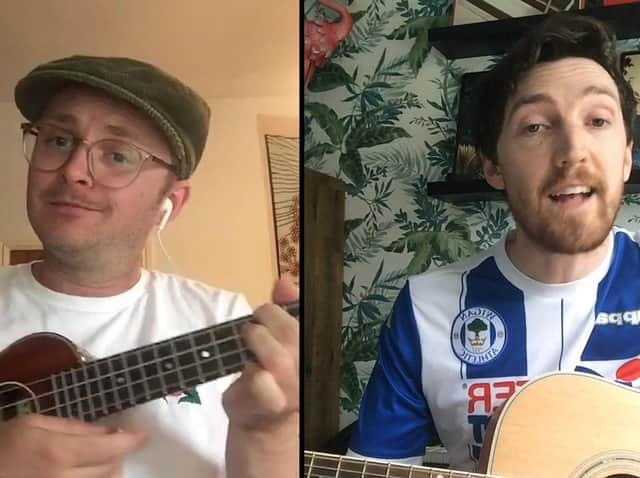 The humorous lyrics will doubtless raise a few laughs and bring back some memories as the duo pay homage to now-gone features of the town such as The Way We Were with its Victorian classroom at Wigan Pier and the iconic Wigan Casino nightclub.
Avid Latics fan Michael even reflects on how times have changed for football supporters, wearing a Latics shirt in the video in a nod to the club' current financial difficulties.
The video itself, which has proved a hit online, also reflects the current situation as it was filmed by the two musicians at home under lockdown conditions.
Tom, from Standish, said: "The song was written as a love letter to a simpler time. A lot has changed in the last 20 years in Wigan and Wiganers love things the way they were.
"Some parts of the town have improved, others have declined,but the spirit of the town remains as strong as ever.
"Some of the lyrics, like the canal being cleaner than Wigan Baths, are tongue-in-cheek.
"We were working on this song when the lockdown measures changed and we had to cancel our studio sessions and weren't allowed to meet in person. It's a lockdown recording which works well.
"Michael is a big fan of Latics and the club is going through a tough time. He wants to go back to the time when they were doing well and won the FA Cup."
Like many musical acts Quaintest Show on Earth have been hit hard by the pandemic, with studios and live venues forced to shut.
Although some groups are now tentatively rearranging gigs Tom says the band has decided to wait until the outlook becomes clearer.
In the mean time the group has chosen to raise morale by writing some funny songs about local life, including one based on Wigan Food Reviews.
Tom said: "We're just trying to add some cheer while people are in this situation and make them smile.
"A lot of people can't go out and about if they are shielding or have underlying health conditions so we're bringing music to them.
"It's about using nostalgia to create a positive vibe."
The video for Good Old Days can be viewed at www.facebook.com/qsoearth/
Alternatively, search for Quaintest Show on Earth on YouTube.