Here are Elton John's rescheduled Manchester Arena dates
Elton John's rescheduled Manchester Arena gigs will take place in October, November and December 2021.
Published 23rd Jul 2020, 15:23 BST

- 4 min read
Updated 23rd Jul 2020, 15:26 BST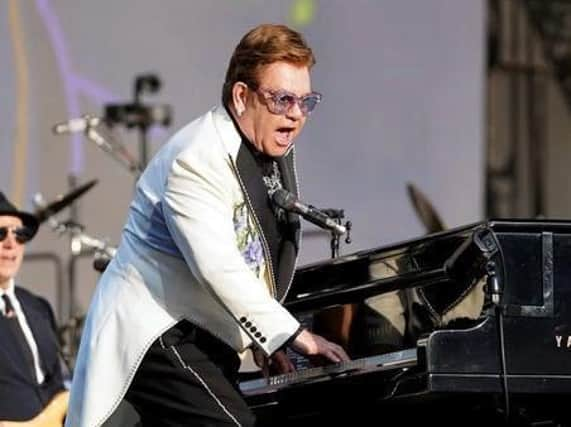 The global superstar had been due to perform in the city centre this year, but was forced to move the dates back as a result of the coronavirus pandemic.
The concerts will now take place on October 30, November 19 and December 1 2021. All tickets that were purchased before the rescheduling will remain valid, the Arena said.
In a statement on the Manchester Arena website, Elton said: "Rescheduling my concerts is never a decision taken lightly, but my priority is always the safety of all parties including my tour crew, the venue staff and of course you, my amazing fans.
"It breaks my heart that we have had to reschedule the 2020 dates we were all looking forward to so much, but my team and I have been working diligently on rescheduled plans for 2021.
"As you can imagine, touring is a huge undertaking so we have needed time to sort through all the details to make sure we can visit every city and play every show we already have on sale. Thank you for your patience whilst we have been doing this.
"I look forward to continuing the Farewell Yellow Brick Road tour next year and seeing you by my side once again, as you have been for so many years throughout my blessed career.
"Stay safe and healthy everyone.
Speaking of the UK dates, he went on: "The Farewell Yellow Brick Road tour will take us to many places that have meant a lot to me over the last fifty years, but these UK shows will be incredibly special. The UK is home, and where my heart will always be. To celebrate some of the incredible moments we've shared with my British fans over the years will be wonderful. These homecoming shows will be very emotional, and a lot of fun."
Kicking off in the U.S. in September, the 'Farewell Yellow Brick Road' tour has already been greeted with a wealth of praise from critics and fans alike. The three-year tour will consist of more than 300 shows across five continents, hitting North America, Europe, Asia, South America and Australasia before reaching its conclusion in 2021. By the end of this week, over half a million fans will already have witnessed the tour.
These dates mark the superstar's last-ever tour and the end of half a century on the road for one of pop culture's most enduring performers, who was recently named as the most successful male solo artist in Billboard Hot 100 chart history, having logged 67 entries, including nine No. 1s and 27 Top 10s. Elton's new stage production will take his fans on a musical and highly visual journey spanning a 50-year career of hits like no one has ever seen before.
Elton's career achievements to date are unsurpassed in their breadth and longevity. Elton is one of the top-selling solo artists of all time, with 38 gold records and 31 platinum and multi-platinum albums, over 50 Top 40 hits, and he has sold more than 300 million records worldwide. He holds the record for the biggest-selling single of all time, "Candle in the Wind 1997," which sold over 33 million copies. 'Diamonds' the Ultimate Greatest Hits album, reached the Top 5 of the UK album charts on its release in November 2017, becoming Elton's 40th UK Top 40 album in the process, reaching Gold status before the end of the year.
This release celebrated 50 years of his songwriting partnership with Bernie Taupin. August 2018 saw Elton named as the most successful male solo artist in Billboard Hot 100 chart history, having logged 67 entries, including nine No. 1s and 27 Top 10s.
He has also written the music for stage and screen successes Billy Elliot: The Musical, Elton John and Tim Rice's Aida, and The Lion King, which was named the highest-grossing stage show or film release in the world. Elton announced the 'Farewell Yellow Brick Road' tour at New York's Gotham Hall earlier this year. Encompassing 5 continents, and over 300 dates, this 3-year-long tour started in September and marks his retirement from touring after more than 50 years on the road. To date, Elton has delivered more than 4,000 performances in more than 80 countries since launching his first tour in 1970. April 2018 saw the release of 'Revamp', an album of the world's biggest musical stars covering some of Elton's best loved Songs.
Among the many awards and honours bestowed upon him are five GRAMMYs including a GRAMMY Legend award, a Tony and an Oscar, a Best British Male Artist BRIT Award, induction into the Rock and Roll Hall of Fame and the Songwriters Hall of Fame, the Kennedy Center Honor, Legend of Live Award, 13 Ivor Novello Awards and a knighthood from HM Queen Elizabeth II for "services to music and charitable services."
In 1992, Elton established the Elton John AIDS Foundation, which today is one of the leading non-profit HIV/AIDS organisations and has raised over $400 million to date in the global fight against HIV/AIDS. In January 2018, he received the Crystal Award for this long- standing fight against HIV/AIDS at the World Economic Forum in Davos. At the 2018 International AIDS Conference in Amsterdam, Sir Elton John and Prince Harry, Duke of Sussex, announced the launch of the MenStar Coalition; an over $1.2 billion global partnership, that seeks to engage men in new and innovative ways to break the cycle of HIV transmission and ultimately end the AIDS epidemic by 2030.