Music stars rally round efforts to help Wigan venue
A star-studded list of names has responded to musician Sarah Hardman's fund-raiser to support The Boulevard in Wigan town centre.
Friday, 12th March 2021, 5:00 pm
Updated
Friday, 12th March 2021, 5:02 pm
Sarah, from Beech Hill, has put together a music-themed raffle to raise money for the Wallgate venue.
The Boulevard was moved off a red list of places at imminent risk of closure last year but remains on the amber list and Sarah is anxious to help as it is not out of the woods yet.
Her efforts have had a remarkable response from the music community, with prizes being donated by the likes of Queen guitarist Brian May, Limahl, Chesney Hawkes, Paul Heaton and pianist Jamie Cullum.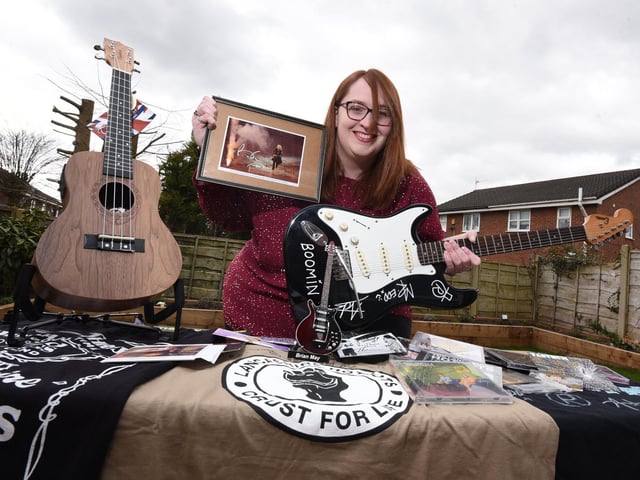 Sarah Hardman with some of the items in the music-themed raffle
Local talent has also rallied round her campaign, with prizes donated by Wigan rockers Boomin and the Lancashire Hotpots.
Sarah, who plays solo gigs as well as appearing in a duo with her dad and in the band Playing 4 Time, spoke of the importance of keeping music venues open and how The Boulevard had helped her become established on the Wigan scene.
She said: "The Boulevard is one of a number of venues in the area I play at. It has allowed me to meet new people and introduce my music to people I didn't anticipate would enjoy it.
"I've made a lot of friends there because it's not just a music venue. They do quizzes, they've got pool tables, they book both smaller and bigger bands.
"It's such an important step for people to get their first foothold in performing. You need to be able to get those opportunities.
"When I heard the venue was at risk I was absolutely gutted. It didn't make me feel happy that any venue for music would be at risk of closing but the staff at The Boulevard are so friendly and I didn't want them to lose their jobs.
"I've had a great response to the raffle, I'm really pleased with people's generosity. I'm quite surprised how many high-profile musicians have responded and sent messages saying they hope it succeeds and the venue stays open."
Sarah is hoping to raise £1,500 from the raffle, with tickets priced at £2 to encourage as many music fans as possible to enter.
The impressive prize list includes an autographed, framed photograph of Brian May, a Tanglewood ukulele, a personalised video message from Chesney Hawkes, Paul Heaton's persona l CD copy of What Have we Become which he has signed, a signed CD and card from Limahl, a personalised video message from Jamie Cullum, and bundles from Boomin and the Lancashire Hotpots.
Sarah said organising the fund-raiser was also a good way to keep herself occupied while on furlough.
To find out more or enter the raffle, visit www.crowdfunder.co.uk/boulevardwigan#start
If you value what we do and are able to support us, a digital subscription is just £1 for your first month. Try us today by clicking here and viewing our offers.