Music venues turn to public fund-raising to secure their future
A place which runs gigs in the borough is one of hundreds across the country which have launched crowd-funding pages.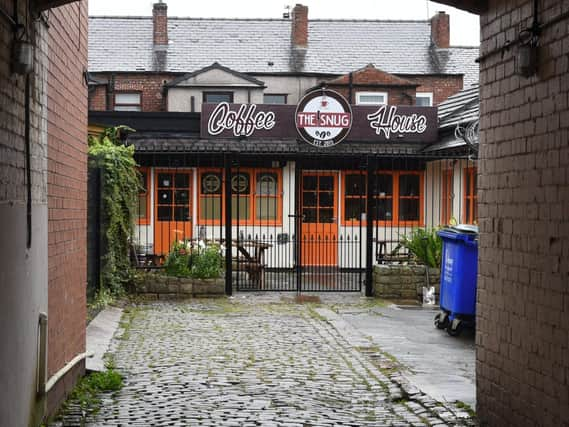 The Snug Coffee House in Atherton has been appealing for donations as part of the Music Venues Trust's initiative Save Our Venues.
However, the place remains some way off the amount it is looking for, with just over £700 donated towards a target of £5,000.
Analysis by the BBC Shared Data Unit shows how 228 places where live gigs were played prior to lockdown have joined the campaign, with close to £3m raised for grassroots venues since April.
Some live music haunts are warning they will be reliant on the generosity of public donations and other fund-raising activities just to make it through the winter.
And a charity leader has warned that the 10pm curfew imposed by the Government on September 24 will leave businesses trading on one-eighth of their usual income.
The Music Venues Trust (MVT) said the mix of social distancing rules in place, coupled with early closing times, means many of its members are looking at an extremely difficult winter.
On their crowd-funding page, The Snug explained that the regulations to prevent the spread of coronavirus made staging intimate gigs in a small venue practically impossible.
The coffee house is also seeking public help to replace thousands of pounds of beer which went out of date and had to be thrown away while the venue was shut.
Donations are also being sought for repairs the venue's owners were working on while it was closed, and improvements to the sound and lighting.
The page said: "We built our venue on being social, and with social distancing enforced we can't bring you any more events like we know how to for the foreseeable future."
The BBC Shared Data Unit's work on the threat to live venues shows The Snug's experience is by no means unique.
Venues currently need to ensure groups of six people, or visitors from more than two households, do not mix.
This means audiences must be seated, with a recommended two-metre gap between the tables, or seats have to be blocked out if they are set out in rows.
Audiences raising their voices to each other, which could include singing, shouting and chanting, also has to be considered as a transmission risk.
Alcohol cannot be bought after 10pm, though if a musical act has started its performance before then it can finish.
MVT chief executive Mark Davys said: "The Government restrictions have reduced capacity in venues down to 25 per cent.
"Then restrictions on hours, we estimate, has removed something like 50 per cent of their income.
"The venue now has half of its available trading hours and a quarter of its usual audience. By that marker they are getting 12.5 per cent of their income."
The MVT launched Save Our Venues in April and has been able to prevent all but two at-risk venues shutting.
However, with 62 per cent of the £2.9m raised spent on rent arrears alone Mr Davys says more support will be needed to see the sector through the winter, especially with the furlough scheme coming to a close.
Only 55 per cent of venues had plans to reopen before Christmas with social distancing in place, the MVT's latest survey found.
To find out more about The Snug's fund-raising efforts, visit crowdfunder.co.uk/snuglife