Medals revealed for half marathon and 5k at Run Wigan Festival
Organisers of the Run Wigan Festival have revealed the medals set to be handed out at the finish line for this year's races.
Published 1st Feb 2023, 12:30 BST

- 1 min read
The popular running event returns on Sunday, March 19, with a 5k race, half marathon and family mile, all starting and finishing at Mesnes Park in Wigan.
Organising charity Joining Jack has now shared pictures of the medals that will be given to the runners and walkers to celebrate completing the main races.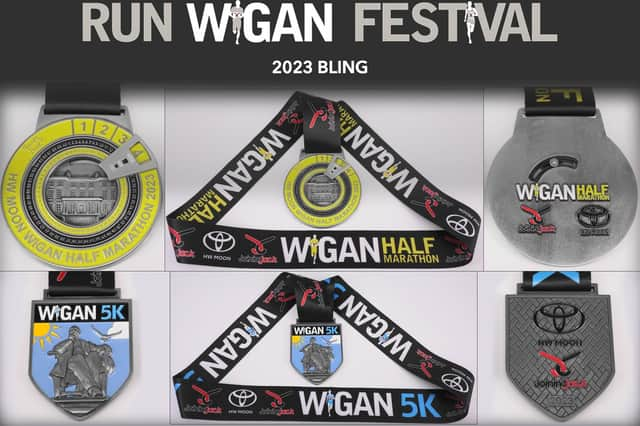 For the first time, the half marathon medal includes a dial and timings for participants to record their finishing time, along with an image of Haigh Hall, which they will pass on the course.
The 5k medal features the famous Sir Francis Powell statue at Mesnes Park, which runners can touch for good luck.
The medals will be presented to runners and walkers at the end of the races, while those completing the half marathon will also receive a T-shirt.
So far more than 350 people have entered the half marathon and 140 people have registered for the 5k, with places still available for anyone wishing to take part.
The festival raises money for Wigan-based charity Joining Jack, which funds research into Duchenne muscular dystrophy, and participants can raise money for other good causes close to their hearts if they wish.