10 questions with author Elizabeth Morton
10 questions with actress-turned author Elizabeth Morton
Published 6th Nov 2020, 12:30 BST

- 5 min read
Updated 6th Nov 2020, 14:36 BST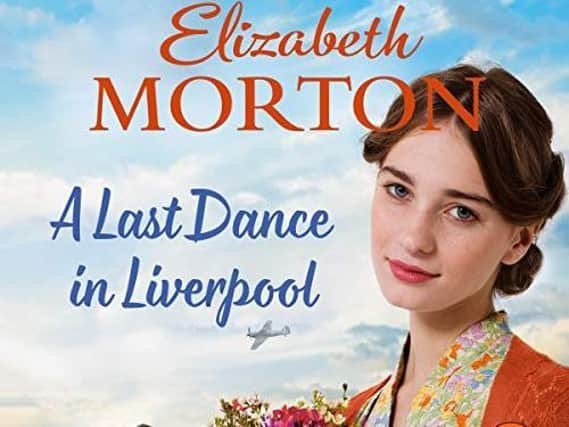 Elizabeth Morton doesn't do things by halves.
As an actress she was best known for starring as Madeline Bassett in 'Jeeves and Wooster' and Lucinda Stoneway in 'Watching' and she's an accomplished playwright and author. Now with her second novel 'A last dance in Liverpool' under her belt, she has just announced she has been awarded a two book deal with Pan McMillan for two more sagas.
I'm slightly suspicious she has a timelord in the house because I don't know how she fits it all in – and she does!
In fact she is married to former Dr Who actor Peter Davison, with whom she has two sons.
She has another Dr Who as a son-in-law – David Tennant – who is married to her step-daughter Georgia. But I can confirm there in no Daleks in her novels, they are instead inspired by her Merseyside start in life, as she explains.
1. Who are you and where do you come from?
My name is Elizabeth Heery, I started off life as an actress working under the name Elizabeth Morton, Morton is my Mum's maiden name, and I write my Liverpool sagas under that name. I am from Formby, which is on the coast 12 miles north of Liverpool. My father's family is Liverpool Catholic Irish and my books are all set in Liverpool.
2. Do you write fact or fiction?
I write fiction and my books usually have a young female protagonist. They are sagas full of drama, I think probably because of my theatre background as an actress. I am heavily influenced by the time I spent in Willy Russell's Blood Brothers in the West End. Night after night seeing the audience moved and thrilled, I know what it feels to be at the heart of a good story and I want my readers to experience that. My stories are challenging, and quite gritty, and I try to go to the very edge of despair with my characters but I will always give you an uplifting ending
3. Are you traditionally or self published and what route do you think is best?
I'm traditionally published and it took me many years of trying, but once I got it right in terms of genre, I was amazed at how things fell into place so quickly. I'm a big believer in entering short story competitions. That's how I got my agent. after receiving a runner up prize in The Trisha Ashley Most Humorous Story Award. I always point out that I didn't actually win it! But it can set you off on a journey. I certainly think I would've considered self publishing if I had reached the end of the road with traditional publishing.
4. What is your work schedule like when you are writing?
When I started writing I also started having children, so I learned how to write whenever I had a window based on their lives, usually when they were sleeping. Again, as an actor we have little routine as we rarely know what we're doing one month to the next, anything can happen, so I'm not used to set hours. I'm also married to an actor (Peter Davison), so that doesn't help! As a result my work schedule remains – quiet house, head down. However, if I need to make time for a deadline, I can be quite brutal!
5.What advice would you give to budding writers?
Write, write, write. And try and read as much as you can, different genres, male and female, diverse, authors from different countries, read out of your comfort zone. Competitions are great as well for giving you confidence in your writing. Listen to those who you respect or have experience in the profession, when they give you advice. Listen and observe people around you. Reach out into the world instead of looking inwards. There are great stories out there and you don't need to make stories up. Just take the time to sit down with someone, have a cup of tea and just listen and let them talk! The most unassuming people I find, often will tell you the most incredible stories. Don't give up, and don't ever take rejection personally.
6. Who/what are YOUR favourite authors/ books?
So as a child I devoured Mallory Towers, Enid Blyton's Naughtiest Girl in the School series, Noel Streatfields' Ballet Shoes series, Five Children and It, then at school fell in love with Thomas Hardy and Jane Austen, then when I was a student I discovered Zola. I think my favourite book is L'Assommoir. I love, love, his Nana series.
7. Are you a plotter or a pantster? (i.e do you plan out your work or fly by the seat of your pants?)
Definitely a pantster!! I think I would feel too restricted by charts and storylines. I did a bursary at ITV which involved spending time briefly in the Coronation Street storylining office. The storyliners were amazing the way they plotted everything out, but I wasn't very good at it. I think I enjoy not knowing where my characters will take me. It's like we are on a journey together. My historical research is what leads me to my plots.
Walking the dog. Shutting the door. A good night's sleep! Cup of tea and a biscuit.
9. How long did it take you to write your book/books?
I still consider myself new to novel writing. I have just finished my third book. I always say about six months with twenty years prep. I have twenty years of ideas, jottings, stories, some scribbled down, some in my head, in all forms, short films, plays, monologues, scripts. Not one sentence of those twenty years wasted.
10. Where can we find your book/s?
At the moment my new book A Last Dance in Liverpool is in Waterstones, Smiths, Independents, and selling at Tesco's and Asda, and in libraries, but you can also order it online. That's the great thing about how publishing has changed, there's not really a book shop, either the Independents or the big bookshops, that can't order you the book you want. Shout out to WriteBlend in Crosby, Liverpool. You can buy a signed copy there right now! I also narrate my books, which are available on Audible.