An Orphan's Journey by Rosie Goodwin: A gritty, emotional and drama-packed tale - book review -
Featuring two 19th century sisters who sail to Canada in search of a new life delivering a blend of romance, intrigue, fascinating characters, and richly detailed, authentic and atmospheric settings.
Published 1st Mar 2021, 12:30 BST

- 3 min read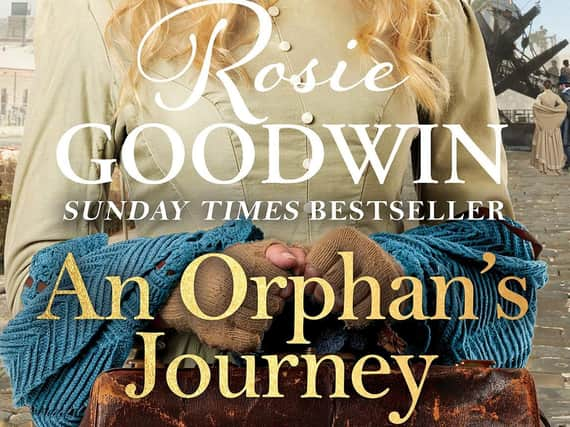 There's an extra sparkle to the first days of spring as Rosie Goodwin, one of Britain's best-loved saga queens, returns with more storytelling magic in the second book of her Precious Stones series.
The star of each standalone story in this glittering collection is named after a gemstone and follows on from Goodwin's enchanting Days of the Week series which won her an army of readers and a fistful of accolades.
A former social worker and foster mother, Goodwin has penned a veritable library of beautiful, heartwarming novels exploring life and love in days gone by, and was awarded the rights to follow three of the late, great Tyneside writer Catherine Cookson's trilogies with her own sequels.
And now, An Orphan's Journey – a gritty, emotional and drama-packed tale featuring two 19th century sisters who sail to Canada in search of a new life – delivers the same winning blend of romance, intrigue, fascinating characters, and richly detailed, authentic and atmospheric settings.
The story was inspired by the real-life Annie MacPherson who began shipping orphans abroad in the 1860s despite many falling ill and some dying on the long, harsh voyages, and whose lives in the new country were often worse than the conditions they endured in the workhouse at home.
Our new gemstone star is the beautiful but disabled Pearl Parker who, along with her vulnerable younger sister Eliza, is cruelly dumped by their pregnant, alcoholic mother in a workhouse in one of the poorest areas of London in 1874.
Growing up in extreme poverty in Whitechapel, and with both her parents spending their small amount of income on drink, twelve-year-old Pearl – the oldest child of the family who was born with one leg slightly shorter than the other – thinks life can get no worse.
But when her mother Molly discovers that there is yet another baby on the way, the decision is made to send Polly and her 11-year-old sister Eliza – a girl who likes to live in a world of her own – to the workhouse where they are forced into a new life of hardship and struggle.
Pearl's hopes are raised when the workhouse offers the sisters a new life in Canada and as they board an orphan ship transporting unwanted children across the seas, she vows that if she ever comes back to England, it will be after she has made something of her life.
And she believes their luck has finally changed when she and Eliza are hired to work in service in the very grand home of kindly Mrs Forbes who hails from one of the richest families in this corner of the New World.
But when Pearl crosses their mistress's jealous, bullying son Monty, he reveals that he will stop at nothing to make her life a misery. Will she ever find the home she so craves?
It is no surprise to learn that Goodwin is one of the top 50 most borrowed authors from UK libraries and here she packs in all those beautifully drawn characters, events and dramas – births and deaths, loves and losses, good people and bad people – which have made her novels so beloved by readers over the decades.
Pearl's battle to find happiness for both herself and her beloved sister is a true emotional rollercoaster with plot twists aplenty and a story that stretches from the dark wintertime slums of Whitechapel in London to the up-and-coming colonial communities by the Grand River in Ontario.
Full of Goodwin's wisdom, warmth and wonderful storytelling, and with the author's own recipe for traditional Roast Pork Dinner to tickle the taste buds, this is a rich, captivating but sometimes harrowing story, perfectly steeped in its time and place, and guaranteed to leave readers hungry for the next book in the series.
(Zaffre, hardback, £12.99)