Escape to Darling Cove by Holly Hepburn: Packed with the romance, drama, humour and the strong sense of community – book review -
Celebrity photographer Logan Silk has escaped London for the anonymity of a holiday cottage on the tiny island of Ennisfarne just off the Northumberland coast.
Published 11th Jan 2023, 12:30 GMT

- 3 min read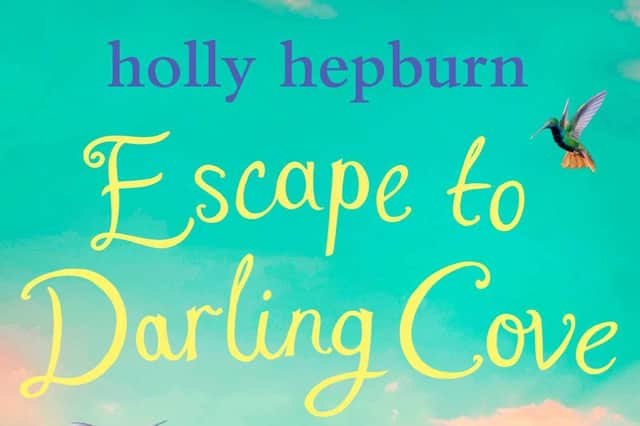 It's his chance to stay 'under the radar' for a few months to avoid unwelcome press pack publicity over the split with his girlfriend... but he hadn't reckoned on an unfortunate first meeting with his cottage's owner. Will Logan's 'escape' be over almost before it's begun?
Think tide-rippled sands, silvery seas and the diverse wildlife of this untamed and beautiful coastal region, and you have the glorious setting for an irresistible 'getaway' with Holly Hepburn, author of a raft of feel-good fiction like Coming Home to Brightwater Bay and the Star and Sixpence series.
Originally published as four e-book novellas, and now brought together in one bright and beautiful book, Escape to Darling Cove is a joyful, heartwarming and romance-filled treat which is ideal for sweeping away the worries and woes of winter.
Eve Darling has always lived on Ennisfarne, an idyllic island just off the coast of Northumberland with a population of just 250 people and only accessible when tides are low. And it's here she runs a bar overlooking Darling Cove, a heavenly horseshoe-shaped beach named after her seafaring ancestors whose links to the Farne Islands stretch back centuries.
Logan Silk, meanwhile, is a famous photographer who is glad to leave behind the bright lights of London after a difficult break-up with his celebrity girlfriend Suki... a story that the tabloid press would love to learn more about.
Desperate to evade the limelight, he has rented a cottage at Darling Cove under a false name in the hope of anonymity but, as a photographer, Logan is immediately spellbound by its natural, unspoilt beauty and the feeling of 'stepping back in time.'
Unaware who Logan is, Eve doesn't get off to the best start with her tenant. On his first walk along the beach, Eve's over-exuberant chocolate Labrador Huxley knocks him clean off his feet, along with his large and very expensive camera.
Assuming he is a day-tripper 'thinking he was David Bailey,' Eve immediately crosses swords with the angry, truculent Logan, convinced that despite his dark good looks, he's the type who is used to other people jumping to his commands.
It's only when Logan's true identity is revealed, and his cover blown, that Eve realises her new tenant isn't quite the man she thought he was... is it too late to start again?
There are so many star roles in this gorgeous tale of misunderstandings, mishaps, friendship and community that readers will be hard pushed to select a favourite, but the turbulent blossoming of the relationship between lovely Eve and hard-to-read Logan undoubtedly takes centre stage.
And waiting in the wings are a host of other beautifully imagined and entertaining characters, from Huxley the over-exuberant Labrador to 'pungent' local fisherman George and kindly village shopkeeper Freda who makes it her business to know everyone else's business, and guards the people of the island she loves with kindness and a firm hand.
Packed with the romance, drama, humour and the strong sense of community that we have come to expect from Hepburn's novels, and all set against the stormy seas, wild beauty and coastal charms of Northumberland, Escape to Darling Cove is a happy reading getaway from start to finish.
(Simon & Schuster, paperback, £8.99)