Eye of the Storm by Hilary Jones: Enthralling, enlightening and poignant – book review –
The war might be over but the painful legacies live on as a young couple – both medics and both driven by a desire to help others – return home to England from the killing fields of France in 1919.
Published 1st Dec 2022, 12:31 BST

- 3 min read
Updated 5th Dec 2022, 12:10 BST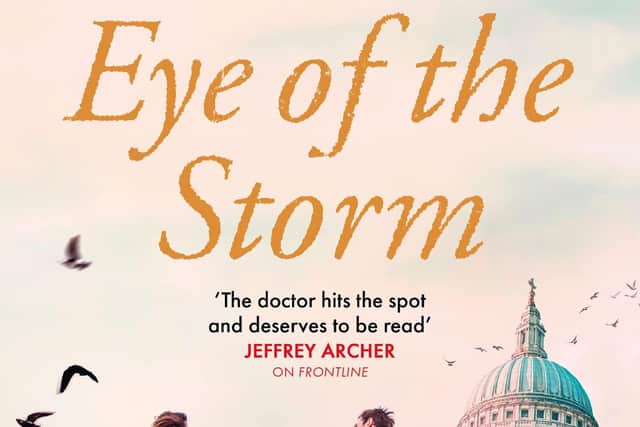 The instant connection that was forged between the dedicated nurse and the handsome and sensitive young soldier in the carnage and chaos of a field hospital has set in motion a family dynasty that will be at the forefront of medical advances in the 20th century, from dealing with the aftermath of war right through to the discovery of penicillin and the birth of the NHS.
Doctor Hilary Jones, a GP and regular contributor to newspapers and television shows, has dug deep into his medical experience, knowledge and imagination for this epic series charting the rise of a prominent medical family through decades of war, unrest and great change.
With fascinating facts on caring for the sick, the special treatments and inventions devised specifically for healing the mental and physical scars of warfare, and some of the last century's life-saving developments in medicine, Eye of the Storm is the second book in the series and comes packed with drama, high emotion and real history.
When the Great War broke out in 1914, Grace Tustin-Pennington, who was born into the landed gentry in rural Gloucestershire, was the first of her family to volunteer, joining the mounted First Aid Nursing Yeomanry (FANY) and heading off to France with the British Expeditionary Force.
And it was there that she met and fell in love with Will Burnett, the studious teenage son of a London dockworker who was an apprentice porter at a local hospital but dreamed of studying medicine and who was now serving as a stretcher bearer with the Royal Medical Corps.
Despite Grace being seriously injured by a German shell and Will's almost daily sorties amidst the bullets and bombs of the battlefield, their love survived the conflict and they married and honeymooned in northern France at the end of the war.
But as the 1920s roar into life, it quickly turns into an age of social change, excess, shellshock and ghosts. In London, we find Grace is now pregnant, and both her and Will are working at the cutting edge of modern medicine.
Will is training to be a doctor and spends a few days a week at a rehabilitation hospital where the work 'was about restoring men back to some sense of purpose, even joy' and Grace is making a reputation for herself as one of the best operating theatre nurses in the city, particularly with her exemplary post-infection achievements.
But at every turn they see a country in flux. Many of their contemporaries are following serious paths, committing to causes of the day like workers' rights, votes for women and an independent Ireland.
Others are seeking refuge in more earthly and bohemian pleasures but Will and Grace, whose war experiences have taught them that 'life was short and unpredictable,' will soon be young parents and practising medics and that means they have – more than anything – duties of care and compassion that cannot be ignored.
In many ways, Eye of the Storm is an eye-opening and disturbing read as Jones makes clear the true devastation of war and its aftermath and the life-changing impact on those who lost limbs, suffered other terrible injuries, and were racked by nightmares and mental breakdown.
But we also witness how necessity became the mother of invention as new procedures, new treatments, the development of prosthetic limbs and a growing knowledge of hitherto unrecognised conditions like shell-shock become part of the medical armoury.
And alongside his exploration of pioneering medicine – including Grace's concentration on the early concept of microbiology and the critical importance of post-operative infection and the spread of disease – Jones brings us a powerful and emotive story full of rich, authentic social and historical detail.
Will and Grace's experiences, both at home and at work, prove to be a moving and revealing reflection of this interwar period of massive upheaval as the bright young things partied, the suffragettes marched, workers struggled to feed their families, and the poor died in their thousands from malnutrition, infection, disease and neglect.
And as the couple try in their own small way to make a difference, the world watches with bated breath the slow but insidious build-up to another war, a devastating conflict that will once more bring death and destruction... but on a hitherto unknown scale.
Enthralling, enlightening and poignant, this is a series written with passion, knowledge, heart, and a far-reaching and fascinating medical insight.
(Welbeck, hardback, £16.99)