Great Walks on the England Coast Path by Andrew McCloy: Dynamic walks that will take you on a journey of exhilarating discovery – book review –
If you're looking for a new year fresh air fix, or already making plans for your next summer holiday, step into the pages of a glorious, illustrated guide featuring thirty classic England coastal walks.
Published 5th Jan 2023, 15:45 GMT

- 2 min read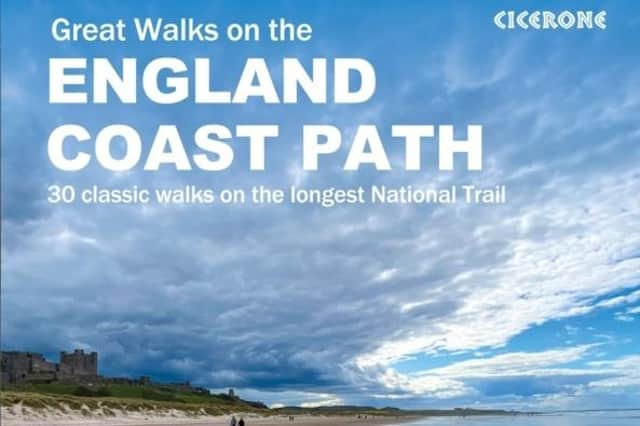 Great Walks on the England Coast Path is just the latest guide from Kendal-based Cicerone Press which specialises in outdoor activities guidebooks and has a range of nearly 400 books for walking, trekking, climbing, mountaineering and cycling, covering the UK, Europe and other regions of the world.
Written by Andrew McCloy, a writer and journalist specialising in walking and the outdoors and an experienced long-distance walker, this large format, glossy guide celebrates the best day and weekend walks on the England Coast Path, England's newest National Trail, and celebrates the nation's stunning and diverse shoreline.
These hand-picked and varied walks are selected from the best of the 2,800-mile trail along soaring cliff paths, wildlife-filled estuaries, huge golden beaches and atmospheric saltmarshes, and capture the rich heritage and amazing contrasts of England's coastline.
Locations include Northumberland with its string of coastal castles, the rollercoaster chalk cliffs above the English Channel, East Anglia's wildlife-rich shores, smugglers' coves in Cornwall and the vast sandy beaches and dunes of north-west England.
Routes range from 5.5 to over 27 miles, spanning between three hours and two days, and with options for all ages and abilities. They can be accessed by public transport and are walkable year round (weather permitting).
All the route descriptions are also accompanied by 1:50,000 OS map extracts and included in each walk are comprehensive listings of public transport, toilets and places to eat and drink, which highlight the excellent walking infrastructure available in many areas.
Overview information on the terrain, distance and timing helps to make planning easier, a route summary table allows walkers to choose the right route and GPX files are available for free download. And to make the walk even more enjoyable, fascinating snippets of history and geology are interspersed throughout, with useful websites and further reading in the appendices.
Capturing the rich heritage and glorious contrasts of England's coast, and incorporating beautiful photography of the coastline, the guide offers something for everyone and encourages us to explore both well-loved and less well-known parts of the English shoreline.
The sea has defined England's history and the coast is a dynamic and exciting place to walk so whether your passion is for escape or adventure, geology or nature, castles or culture, these dynamic walks take you on a journey of exhilarating discovery whatever the season.
(Cicerone Press, paperback, £20)